'Nine Perfect Strangers' Ep. 4 – 'Brave New World' Review
Posted On August 26, 2021
---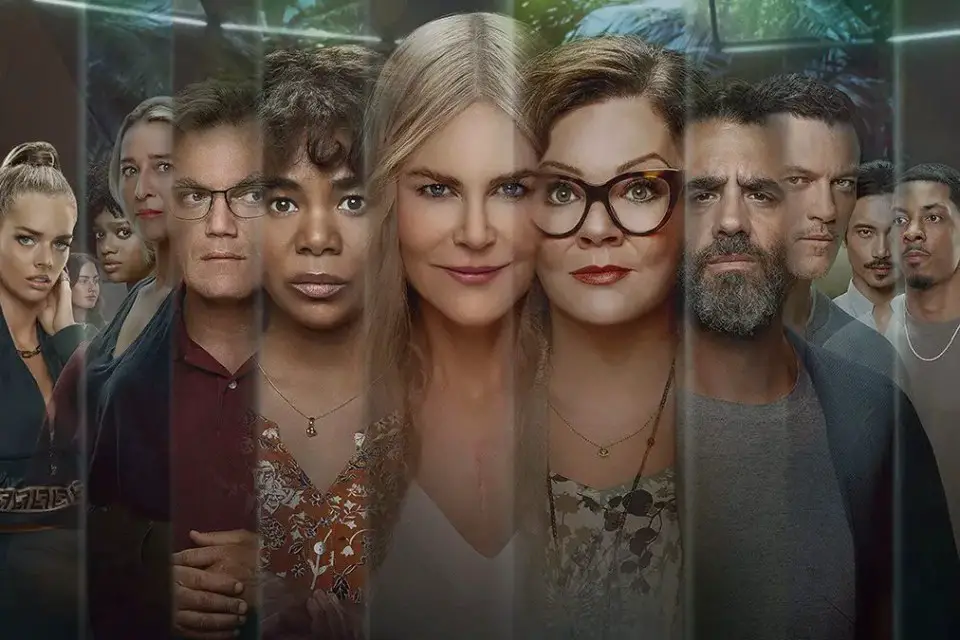 Psychedelic drugs were an extremely relevant thing in the 60s. Drugs like mushrooms, LSD, Peyote, and recently Molly or MDMA affect everybody differently. They may make you happy, violent, horny, sad, scared, or depressed; it all depends on your state of mind when they are taken. At the end of our last episode of Nine Perfect Strangers, Heather (Asher Keddie) asked Masha (Nicole Kidman) if she had been drugging them. This leads directly into our latest episode.
After a brief flashback of Masha, we get an answer. Yes, she was drugging her customers at Tranquillum. She was giving them Magic Mushrooms… well, not all of her guests. Jessica (Samara Weaving) and Ben (Melvin Gregg) had not been drugged yet. Napoleon (Michael Shannon) freaks out, along with Tony (Bobby Cannavale) and Frances (Melissa McCarthy). Heather, Zoe (Grace Van Patten), and Lars (Luke Evans) seem to be fine, while Carmel (Regina Hall) is up in the air about it. I mean drugs make you happy, right?

After Masha spills the beans, she gets backlash for keeping secrets. She then poses the question, "Are we not all keeping secrets?" Pointing out each guest's secret, for the most part, namely Lars'. Understanding she was wrong in a way, but after a conversation, they realize she's trying to help. The guests debate on staying or leaving. Naturally, we know that answer, and from there things get wild.
The episode focuses on aggression which is odd given psychedelic drugs normally don't cause that emotion.  It's Carmel's day with Masha, and we all know how aggressive she is. Glory (Zoe Terakes) takes Lars and Zoe to a cave where they relieve a lot of stress in uncanny ways. The group exercise is combat with a dummy, someone you despise very much. We learn a lot about Carmel's emotionally distraught marriage, and more about Frances' catfishing situation. Tony spills out a secret that nobody could've even guessed, and it makes you understand his situation a bit more.

Masha deals with the continued threats and harassment. Yao (Manny Jacinto) continues with his love triangle of him, Masha, and Delilah (Tiffany Boone). Jessica and Ben discuss the drug situation, and while Ben is against it, Jessica wants Molly. She finds Yao and asks him about slipping her and Ben some Molly. All of the things are in motion to lead us to the next episode as we continue to see how our strangers are growing and developing, or just going crazy.
Jonathan Levine directs and continues his consistency. David E. Kelley and John-Henry Butterworth wrote the screenplay again. The trio seems to be going all the way through the eight episodes, and it makes perfect sense. The chemistry between them is definitely there, and they have smoothed out most of the rough edges. The story department so far is great as we learn about each character. They've tapped into the mental health trend that most shows have been on lately. This episode of Nine Perfect Strangers lacked a bit, but they kept the nuance and theme necessary.

While the score changes from the soothing music to kind of a bit more primal in a way, Marco Beltrami and Miles Hankins still get the job done. Yves Berlanger focuses more on the characters and their expressions in this episode cinematography-wise. All while, he still captures the beauty of the property and settings.
The episode wasn't the best, but it fits into the puzzle. I feel like we're still learning these characters, even after the secrets were exposed. We won't truly know them until episode eight, I think. They are transforming each episode and trying to become better for their own reasons. Do they have the willpower to make it to the end or is Masha's plan too mentally brutal for her guests? – Rascal F. Kennedy
Rating: 8/10
Nine Perfect Strangers premieres on Hulu Wednesday nights.
---
Trending Now