'Reservation Dogs' Episode 4 – 'What About Your Dad' Review: "A Heartbreaking Truth"
Posted On August 24, 2021
---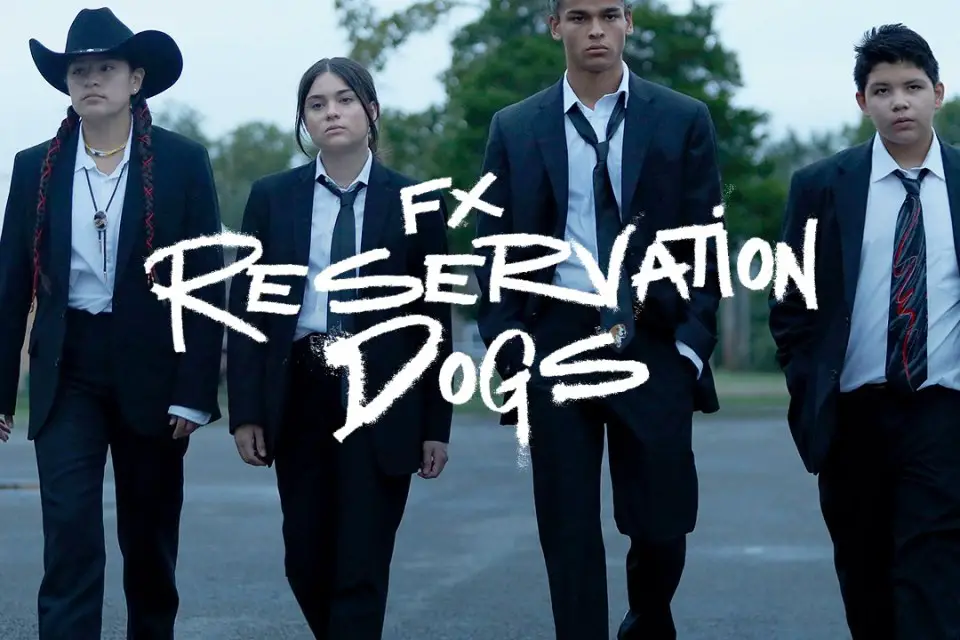 Hip-hop is a culture, and the opening scene of the latest episode of Reservation Dogs is a testament to that. The genre has influenced everybody from white suburban kids to Native Americans at reservations. The incorporation into this episode shows a range of things from deadbeat dads, clueless men, and a boy craving a father figure. We see a lot of different emotions, and how Indigenous people are stereotyped. There is a lot going on in this episode yet again, and it all comes together perfectly.
Bear's (D'Pharaoh Woon-A-Tai) father Punkin Lusty (Sten Joddi) is coming to town to perform at the IHS anti-diabetes rally. Ironically, his hit single is titled 'Greasy Bread' which is an exact contradiction of what the rally is about. Upon learning the news, Bear's mother Rita (Sarah Podemski) kind of freaks out. She doesn't want her son to be hurt again by his deadbeat father, whom he hasn't seen in two years. Rita freaks out so much she goes out to a bar and wakes up in the house of Clinton (Warren Queton), a doctor with his practice in town. He seems like he's a good guy until you realize he basically owns a plantation insert Natives instead of African-Americans. The scene is very nuanced in its stereotypes and delivers a much needed comic relief that isn't Punkin Lusty.

On the other side, Bear and the Rez Dogs – Elora (Devery Jacobs), Willie Jack (Paulina Alexander), and Chase (Lane Factor) – prepare for Punkin Lusty's arrival. While at the supermarket, Elora runs into Jackie (Elva Guerra) and Jackie tries to recruit her. She states that the Rez Dogs aren't as serious about moving to California as she is, and when she's ready to ditch them Jackie will find her. You kind of notice how Elora isn't as into their shenanigans as usual. Jackie's words weigh on her mind, and she starts second-guessing everything. In the end, we see a lot of heartbreak and Elora has to make a decision that we won't fully understand until the next episode.
Sydney Freeland makes her second appearance as director for the show, and Bobby Wilson penned this Reservation Dogs episode. Freeland kind of gets that empathetic influence out of her characters. Especially the women, who seemed to be the forefront of this episode. She understands their struggles and makes the most out of it. Bobby Wilson infuses his culture with hip-hop and it makes for quite the interest. The scenes with Auntie B (Kimberly Guerrero) and Punkin Lusty are peak comedy, and they show just how much Oklahoma loves their sports teams.

Reservation Dogs knows what it is, and doesn't take itself too serious. It's a dramedy about a group of kids, and it plays heavily to that strength. It also takes it drama serious enough to get the empathy it deserves. You feel for Bear and Rita, and you understand Jackie. Some scenes may be silly or ridiculous, but they all fit into the puzzle.  Each character is growing and the development is good. A coming of age story about Native kids in 2021 is amazing. We don't have many if any at all. The time of inclusion is here, and it's given us a ton of material, Reservation Dogs only adds to that. – Rascal F. Kennedy
Rating: 7.5/10
Reservation Dogs premieres Sundays on Hulu!
---
Trending Now