'Animal Kingdom' S5, Ep7 – 'Splinter' Review: "Hell Breaking Loose"
Posted On August 24, 2021
---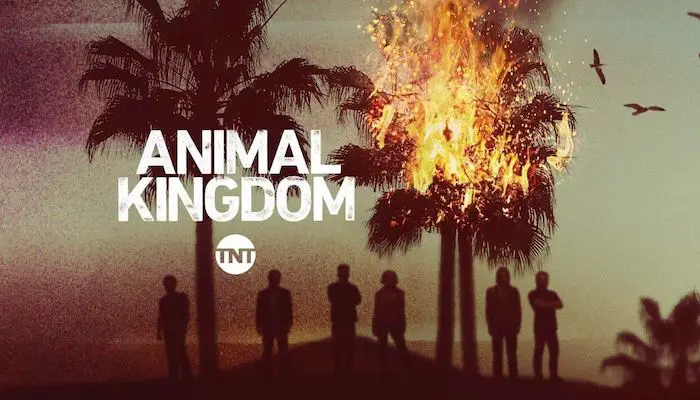 Lies, secrets, and betrayal are the name of the game in Animal Kingdom. This season has been all about who's the alpha male of the group now that Smurf (Ellen Barkin) is dead. Deran (Jake Weary) and J (Finn Cole) have constantly been mentally dueling for the spot. While Craig (Ben Robson) has been dealing with parenthood, Pope (Shawn Hatosy) has been finding himself now that he's free from Smurf. The Codys have been making new enemies all season, but the biggest enemy is just maybe themselves. The turmoil and animosity are building, and sides are being chosen slowly but surely as the season rolls on.
This week's episode of Animal Kingdom was very intense and foretelling as to how things are going to end for the Codys. Pope is still with Cassandra (Shakira Barrera), the woman he met at the "church" he stumbled onto the last episode. He finds out some very personal things about her that take their relationship on a bad turn. Craig is upset at Deran about including Renn (Christina Ochoa) on their last job, and tempers are mounting.
Renn wants to do another job, and Craig just wants her to be a stay-at-home mom. The couple seems to have hit a rough patch as they both do some questionable things that could come back to haunt them. Deran is dealing with a new bar run by Parker Freeman (Trent Garrett). J tries to meet with Pete (Reynaldo Gallegos) and ends up finding out a secret Deran has been keeping.

In the flashback portion, we see Janine (Leila George) holding up her deal with Max Cross (Jamie McShane). We also see her meet Deran's father Billy (Anthony Konechy), and how their relationship began. She tasks Manny (Rigo Sanchez) with watching Andrew (Houston Towe) and Julia (Scarlett Abinante). Manny has to leave to pay his bookie, so he abandons the twins. Janine comes back and realizes her children are missing. After a frantic search, she finds out Andrew called an old friend, Pam (Milauna Jackson) and they talk. Pam tells her she can always call her when she needs anything, and it shows just how impactful their friendship was.
Nick Copus makes his return to the Animal Kingdom world as director. Carla Frankenbach is our screenwriter for this episode. Copus seems to be great at getting the best out of his actors no matter how big or small their role is. Frankenbach helped with the background story on many levels. She showed us a young Billy and Janine and showed how Pam and Janine became close again.
There are a lot of moving pieces in the Animal Kingdom world since the flashbacks. We are slowly coming to the present or how present things came to be. Also, the lingering of Adrian's DEA situation weighing on Deran. This season seems like it is putting the Codys and their smarts to the test. I'm sure we'll see a present-day Max Cross soon enough and it will only amp things up. This season of Animal Kingdom is truly a spectacle.

Although there are a ton of moving parts in this season, the writers seems to consistently be on the same page. Where they lack, they find ways to grow. The drama is building and we are sure to have a pretty good conclusion to the season. I honestly don't know how you top the ending of last season, but anything is possible. They're doing a lot of fan service this season with the flashbacks and in the present day. We've seen a few characters come back even if it's for a small role. This episode was a good example of that. The deeper we've gotten into the season the more interesting things have gotten. After a stellar season opener and a lackluster second episode, Animal Kingdom's fifth season has been great. – Rascal F. Kennedy
Rating: 8/10
Animal Kingdom premieres Sundays at 10pm/9c on TNT.
---
Trending Now
You may also like