'Free Guy' Review: "A Fun Ride For Gamers"
Posted On August 17, 2021
---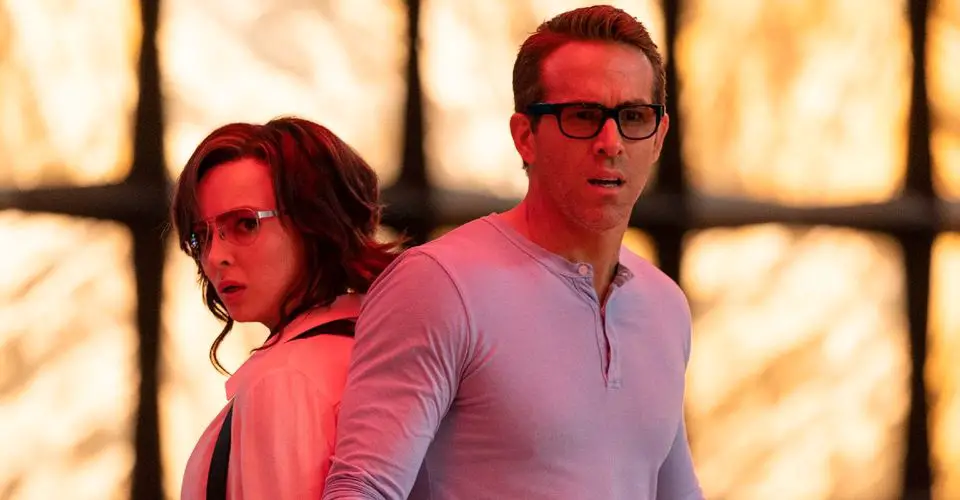 As a kid, I remember playing Grand Theft Auto III. I would put in cheat codes and have all the crazy weapons (Uzis, AK-47s, grenade launchers, rocket launchers), and I would go on rampages. Mostly harming NPCs (non-playable characters), and I never really thought about it again. If you, like me, did this while playing GTA or any other game where you can interact with NPCs, Free Guy will make you think differently.
Free Guy focuses on Guy (Ryan Reynolds), a bank teller that does pretty much the same thing every single day. He soon meets Millie/Molotov Girl (Jodie Comer) and realizes he is an NPC in the violent video game Free City. The game was created by antagonist Antwan (Taika Waititi) and he plans on launching a second version of the video game. Upon the launch of the video game, Free City as Guy knew it would disappear. Guy and Millie go on a video game adventure to uncover the truth about Antwan with the help of Millie's old partner Keys (Joe Keery).

Matt Lieberman and Zak Penn wrote the screenplay for Free Guy. The duo really wrote a great fleshed-out film, that was riddled with character development. Shawn Levy directed the film, and he did a wonderful with this film. The trio didn't stray away from anything. They pulled all the punches and once the movie gets going it's non-stop. From the middle of the first act all the way to the third, you can tell they were intent on giving you a wonderful action film.
Cinematographer George Richmond had his hands full with this CGI filled film, but he did a great job capturing this film. It's filled with beautiful shots, and the camera guides you around Free City with ease. There's never a moment in Free City where you aren't immersed in the in the virtual world. Christophe Beck's score is a great one. You can enjoy the imagery and score as they are in tune with one another.

The acting in this film is definitely next level for the most part. Comer and Keery give us some great performances and Waititi is a full on villain. These three definitely stole the show for me. Lil Rel Howery as Buddy is a great supporting cast, his role isn't big by any means but it's important. Utkarsh Ambudkar plays Mouser, Keys' work buddy in the complaints department. He is absolutely hilarious throughout the film and helps with the comedic relief at certain points. Then there's the irreplaceable Ryan Reynolds. Sure, he may play the same guy in most of his films essentially, but he's hilarious. Especially in this film, I loved him as Guy. Every minute he's on screen he's onscreen he steals the show.
The gamer representation in Free Guy is awesome. The E-Sports world has been coming to the forefront for sometime now with Call of Duty, but add-on Fortnite, Apex, and all the other games that fit that description and you see this was a long time coming. TV shows like Mythic Quest and films like Ready Player One definitely helped the movement. The gamer movement is here to stay, with streaming services like Twitch and TNT/ESPN showing E-Sports tournaments, the movement will only get bigger.

Free Guy is a fun film, with everything you could ever want in a gamer film. It's a fun film, It's definitely more than the trailer showed, and it's one that will jerk at your heartstrings. If you haven't seen Free Guy yet, I definitely suggest that you do. We've been waiting for new IP and this is it. I hope you guys enjoyed the film as much as I did. – Rascal F. Kennedy
Rating: 9/10
Free Guy is in theaters now!
---
Trending Now