'Reservation Dogs' Season 1, Episode 3 – 'Uncle Brownie' Review: "Weeding Out the Facts"
Posted On August 16, 2021
---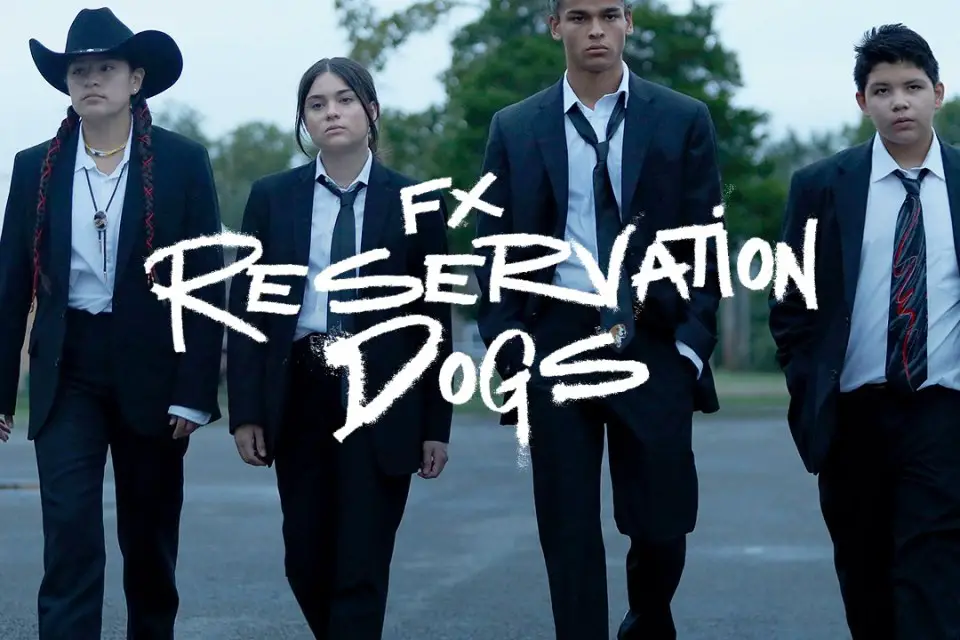 Reservation Dogs creator Sterlin Harjo understands the term it takes a village. He also understands that family is deeper than blood. Some people aren't blood-related at all but are raised like siblings. You grow up with friends like this throughout life. I recently lost someone I consider a brother, so this episode was an experience for me. Helping raise your friend's kids or being there for their siblings is the least you can do. In this case, we meet Uncle Brownie (Gary Farmer). He's Elora's (Devery Jacobs) "uncle" and he takes these kids on a wild journey through the reservation.
The Rez Dogs are dealing with the new rival gang, and want to learn how to defend themselves. Bear (D'Pharaoh Woon-A-Tai), Elora, and Willie Jack (Paulina Alexis) go looking for Uncle Brownie in hopes he will teach them how to fight. Rumor has it he knocked out 10 people in 2 minutes or was it 20… OR was it 30? Who knows the true number of the legendary rumble caused by Uncle Brownie. All they know is, they need to learn how to protect themselves from Jackie (Elva Guerra) and her gang.
Brownie makes a deal with the Rez Dogs, take him to sell his 15-year-old weed, and he will teach them how to fight. They bounce around several places trying to sell the marijuana and eventually end up at the bar Brownie got into the fight at. It's a wild day for our Rez Dogs, but it's also a hilarious one for the viewers.

Blackhorse Lowe was in the director's chair for this episode of Reservation Dogs with Harjo screenwriting. The duo brought the comedy and some realism. The marijuana bits were quite hilarious. Weed is legal in most parts of the country, reservations included, and Uncle Brownie can't comprehend it. He wants to sell what's essentially dirt weed these days, and he soon finds out what good weed is in the 21st century. The episode was also heartbreaking in a way. Finding out how young Elora was when her mother died, and how heartbreaking it was for Brownie puts you in your feelings. They both begin learning how to cope with their loss. Sometimes it's easier to grieve when others grieve with you.
The opening scene for this episode describes how a lot of Americans feel about Natives. An old couple played by Gary Sievers and Louanne Stephens is driving through Oklahoma and they see graffiti written on a mile marker. A conversation begins on whether the Natives want the whole country back, or if they want some of it back. The elder man goes on a very Republican-like rant about how Natives "get paid thousands of dollars for being Natives" and they own the casinos.
The elder lady rebuttals with how she thinks they should get all their land back, and the country should be ashamed of itself. It's the liberal/conservative debate 101. It was interesting to see how Harjo would approach that conversation, and seeing him do it so early lets me know it's definitely going to be a theme going forward. Especially with a character named White Steve being a part of the rival gang.

The episode was really funny and interesting. They definitely missed Cheese (Lane Factor) in this episode though. He was a very silent, but fun part of the first two episodes. He just adds a different element to the show. Jacobs and Farmer had great chemistry, they definitely held command this time around. For more or less, we get a very entertaining episode with some good insight. I understand why the Rez Dogs want to move to California, but I also understand why they want to stay. It will be interesting to see if they learned anything from Uncle Brownie next episode. – Rascal F. Kennedy
Rating: 7.5/10
Reservation Dogs premieres Sunday nights on Hulu!
---
Trending Now