'Animal Kingdom' S5, Ep6: 'Home Sweet Home' Review
Posted On August 16, 2021
---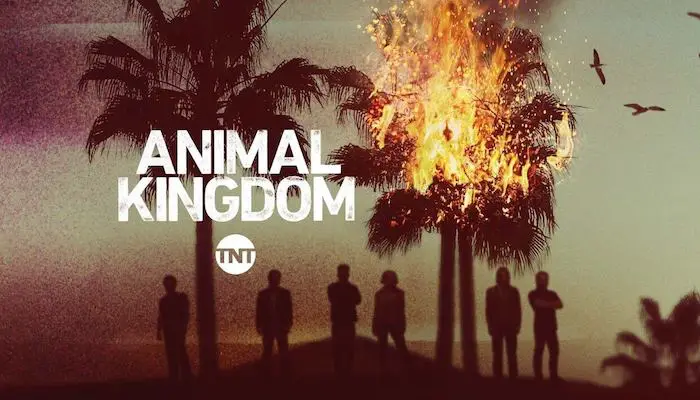 Home Sweet Home, home is where the heart is… Both are good old fashion sayings. For the Codys, home is all they know. Smurf/Janine (Leila George) settled down in Oceanside and built a business from the ground up. Unfortunately, she left it all to somebody that is of no blood relation at all. Was this to teach her boys something or because she was out of her mind? We see the beginnings, and the things occurring afterward. in the Animal Kingdom, only the strong survive.
Last week we saw Pamela Johnson (Charlayne Woodard) offer the boys an ultimatum. Do a job for her, and she would consider giving Janine's estate back. Under the guise that they don't have any other choice, they agreed to her terms. This week in the "Home Sweet Home" episode, we see the boys follow through on their deal. Pope (Shawn Hatosy) is still missing so against Craig's (Ben Robson) wishes, Deran (Jake Weary) recruits Renn (Christina Ochoa) for this job. J (Finn Cole) seems like he has to play mediator as egos clash between his uncles.
While the job seemingly goes well, the boys do run into some trouble with Marion Wills – the guy blackmailing Johnson. After a successful, but stressful job the boys seemingly make a deal with Pam to get the estate back. Pam thinks she understands Smurf's intentions of putting her as the sole owner of the estate, but Deran thinks otherwise. Will the deal hold up? We will see next week.

Meanwhile, Pope seems to go on a spiritual journey. He just so happens to stumble upon a cult. The leader goes by the name Mark (Taylor Nichols), an ordained minister, and he's on desert land. He doesn't like for the land to be called a church. Pope seems to be very uneasy about the situation. Especially after he intakes a drug and begins hallucinating. He meets a woman, Christina, and after a crazy sequence, we see them on the road still very high. Pope is on a journey to find himself after years of mental abuse by his mother. This will definitely be an interesting subplot going forward.
We also have our flashbacks in "Home Sweet Home". We see that Janine's takeover of Oceanside wasn't as easy as we think it was. She runs into Max Cross (Jamie McShane), the boss of Oceanside. He beats Jake (Jon Beavers) to a bloody pulp in front of Andrew (Houston Towe) and Julia (Scarlett Abinante), and that drives Janine to find him and cut a deal; also, while threatening his life for disturbing her children. We are seeing Janine grow and develop in order to actually become the mogul she becomes. Taking over a town isn't easy, especially a small town in California.

Matt Kester is the screenwriter for this episode and he brought a ton of elements to the table. The dynamic of power is really being used this season in both the present and flashbacks. Janine's lineage that hates her (J and Deran) are showing shades of the very woman they despise. Keeping secrets and doing whatever it takes to get the job done. Everybody is noticing the shift and it's driving them crazy. Nick Copus directed this episode and is credited for four more episodes this season. If this is any indication of how much power he's bringing to the table then I'm ready. He and Kester upped the ante this episode and it's truly about to be the Codys vs. everybody.
The tempo this season is definitely slower-paced than the others, but the slow bake seems to be worth it. This is leading to something that I'm hoping will be incredible. Pope is on his journey and the other boys are learning that that life is hard without somebody in charge. There's a lot on the surface to digest, and it makes the dynamic interesting. The family is at war within itself and on the outside. They will have to put their differences aside and protect each other or fall apart. "Home Sweet Home" is more than a Motley Crue song, it's something the Codys live by. – Rascal F. Kennedy
Rating: 8.5/10
New episodes of Animal Kingdom premieres Sundays at 10pm/9c on TNT!
---
Trending Now
You may also like