'Titans' Season 3 Episode 3 Review: "Hawk is Gonna Hawk"
Posted On August 12, 2021
---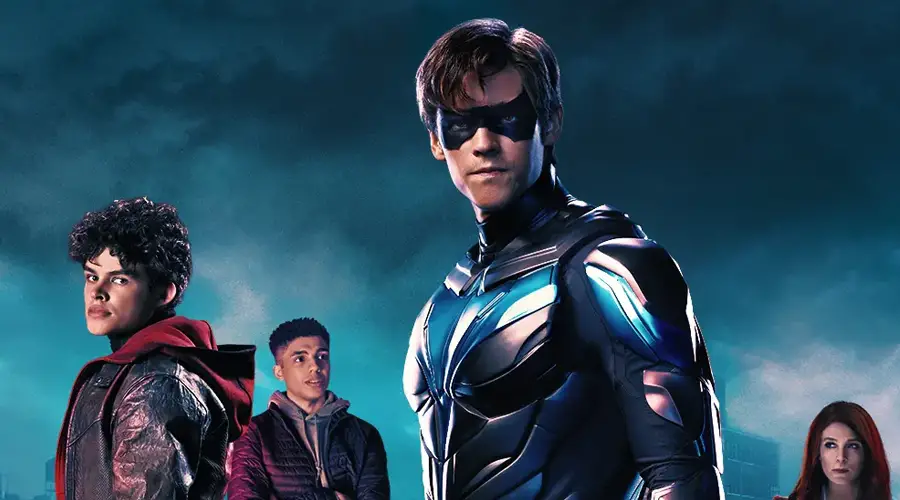 The latest season of Titans has wasted no time in introducing Jason Todd as Red Hood, and after two episodes he's ready to make his biggest move yet against the team. Containing the show's most shocking moment yet, "Hank and Dove" doesn't pull the punches when it comes to cutting the fat that has plagued the series thus far.
The following contains SPOILERS for DC's Titans Season 3.
Reeling from the reveal Jason Todd is alive and well, the team attempts to figure out the how and why the former Robin is now a cold-blooded killer. Hank in particular seems keen on shutting out the kid's lights, which is surprising considering he warmed up to him during the second season. That said, Jason smartly uses this to his advantage and manipulates him into a trap only the bone-headed hero could fall for. When Jason acts like he is emotionally vulnerable on the phone with Hank, he convinces him to meet up at a discrete location. Curran Walters excels at both sides of the character, pulling off a cold and calculated Red Hood when push comes to shove. Although his return has clearly made him a killer, he makes it personal this time by putting a bomb in Hank's chest.
The explosive not only comes from Wayne Enterprises but appears to be virtually impossible to disarm. Furthermore, Red Hood requests that the team steal 50 million dollars worth of gold bars, however, Dick isn't so naive. This isn't about money, and he knows it. While Dawn becomes exclusively focused on saving Hank by any means necessary, Dick doesn't want to play Jason's game. He attempts to find his own way of saving Hank, which leads him back to Dr. Jonathan Crane. And while Dick unravels the possible motivation for Red Hood, Scarecrow seemingly backs up his theories and doesn't give up the opportunity to give his own thoughts on it. If you ask me, the classic Batman knows more than he is leading on, and Dick isn't far from finding that out.
Meanwhile, Gar and Superboy attempt to create a device that can beat the bomb at almost impossible odds. Luckily, the half-Kryptonian can work at superspeed testing their device until a 0% fail rate. Both Titans work together seamlessly, continuing their exceptional chemistry from last season. While both heroes possess super-abilities that could take out Jason in an instant, their brains are what will save Hank in time before the bomb explodes. It's a neat way to ground them within the narrative without feeling like a cop-out to not utilize them in a more bombastic manner.
However, Dawn isn't keen on risking Hank's life on their ability to create a device to disarm it. After an emotional scene with Hank, she sets off on her own to give into Jason's demands. While Dick is still adamant about not giving in, Dawn has clearly made up her mind. She quite easily takes out the truck that contains the gold bars, making it clear that Red Hood is just toying with them at this point. Dick, on his own, knows what Jason is capable of and figures out his location. However, when Dawn arrives first, Jason assures her that the only way to deactivate the bomb is by shooting him with a gun he provides. At first, it seems Jason wanted to see if they truly didn't care about him, so he gives Dawn an ultimatum. But after Dick and Dawn duke it out, the seconds run out and a decision has to be made. Superboy is just a moment away from using the device on Hank when Dawn pulls the trigger. As it turns out, the gun itself was the trigger, and Jason had no intentions of letting Hank live or die himself.
In the episode's final moments, the show doesn't shy away from its major decision. Hank is dead, and unlike Jason Todd's resurrection, it can't be undone. Yes, the choice to remove another character from the show allows them to fix the narrative filler issue, but it also shows a significant growth in storytelling. After Wonder Girl died in the most anti-climactic way possible, they do the opposite and produce a nail-biting sequence when Hank bits the dust. Some convenient narrative choices aside, "Hank and Dove" was able to pull off a compelling farewell for one of the leads.
Rating: 8/10
The first three episodes of Titans will premiere on HBO Max on Thursday, August 12 with a new episode launching weekly through October 21.
—–
Did you enjoy this article? If so, consider visiting our YouTube channel, where we discuss the latest and greatest in pop culture news. Check out our latest review:
---
Trending Now