'The Bad Batch' Episode 13 Review: A Cid Story
---
The Bad Batch episode 13 review contains spoilers for the episode.
After a week off, we're back with another episode of The Bad Batch, luckily, it's better than the last.
After taking a week off and hoping The Bad Batch would improve, it did, but not by much. Episode 12 was better than the terrible episode 11, but 13 slips right back up. At the very least, episode 13 did feature our main characters for the majority of the episode.
I'm just completely bummed out that I feel like I write the same stuff every week. The problem is that week-to-week, the same issues need to be pointed out. We're thirteen episodes into the season, why must there still be the same issues every week? It's as if none of these issues will ever be fixed.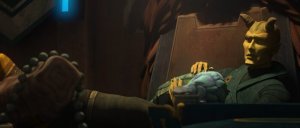 READ: 'The Bad Batch' Episode 11 Review: The BAD Batch
Why is it that in episode thirteen we're dealing with a problem Cid has? At this point, the focus should be on the Bad Batch. Episode twelve left us with the perfect setup for just that. After the Empire's failure on Ryloth, Crosshair asking for permission to hunt Clone Force 99 left us in a good direction. Instead, we got the Bad Batch doing a bit of a side quest helping Cid. Why? I'm not sure, we know in the end they'll be Rebels and not Cid's sidekicks.
I'm praying they turn this around with the last three episodes, but I have little faith. Crosshair is on the hunt for them, hopefully, episode fourteen starts us on the right track. It's a bummer, but we'll have to wait and see.
The animation and music in the episode were good, very hard to screw these two up. I still just want to see more growth for these characters and with three episodes left in the season, I doubt it happens. I would love for the show to surprise me, but there just isn't enough time left. At this point, I fear we'll have to rely on cool Star Wars stuff to end the season on a high note. –Collin Stetzner
Grade: 6/10
---
Trending Now