'Snake Eyes: G.I. Joe Origins' Review: "An Uncommonly Great IP-Driven Blockbuster"
---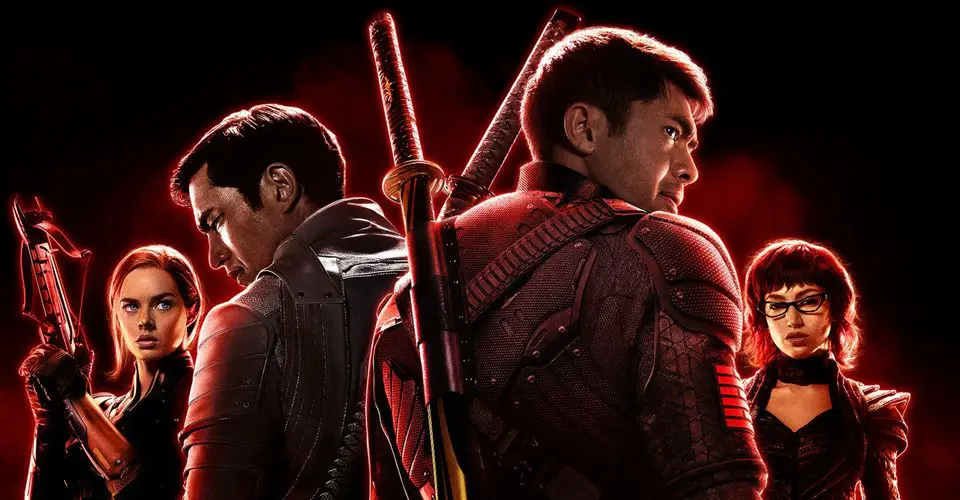 All eyes are on Snake Eyes. It's no secret that Paramount has been trying to forge a film franchise around the G.I. Joe IP for some time. Their first attempt, G.I. Joe: The Rise of Cobra, was a loud, dumb, but admittedly fun blockbuster of the Bay Transformers mold that I'm actually quite partial to. Money talks, however, and it wasn't quite the hit they needed. Significant retooling later, the sequel turned into the soft reboot G.I. Joe: Retaliation, which didn't fare much better. Now, the series nears its third strike. Paramount and Hasbro have wiped the slate clean with a more modestly budgeted origins film. Despite some shoddy filmmaking getting in the way, if Snake Eyes: G.I. Joe Origins doesn't revive interest in the property, it's unclear what will.
Snake Eyes knows how to make a first impression. Its hook is rock-solid: after helping the heir of ninja clan Arishikage Tommy (Andrew Koji) escape the hands of the Yakuza, a mysterious man known only by the moniker Snake Eyes (Henry Golding) is invited to train with them. As his training commences, his loyalties fall into question when the potential to gain answers to his elusive past present themselves. Torn between his training and the desire to right a past wrong, Snake Eyes is drawn into a conspiracy involving new allies and adversaries alike, leading him on the path to becoming the silent hero from the original franchise.
Typing out that summary makes me giddy. Now it's not that the story is anything original; it's more that the commitment to telling it is there. Three writers worked on Snake Eyes, but this doesn't feel like a case of too many cooks in the kitchen. Evan Spiliotopoulos, Joe Shrapnel, and Anna Waterhouse tell a kick-ass tale that relies on genre tropes with a sense of earnestness. Furthermore, it's just a full narrative that does basically all of its characters justice, planting plot threads and paying them off, etc. An ideal action blockbuster screenplay, in short.

Henry Golding and Andrew Koji's chemistry crackles off the screen. The latter is damn charming at every corner, every bit the honorable ninja with slight hints of playboy throughout. Moreover, Koji's martial arts training comes in handy during the film's myriad action sequences. There's a sense throughout the opening bits of the film that Golding is miscast as the title character. He's stoic, almost wooden at first. Then, as the film goes on, new aspects of Snake Eyes are revealing and his performance evolves. By the end of the film, it becomes entirely clear what Golding has been doing. It's brilliant and uncommonly subtle for this kind of film. The two performances form a beating, layered heart at the center of Snake Eyes that keeps it going throughout its luxurious 121-minute runtime.
The supporting cast is nearly as interesting. The leader of the Arashikage clan, Sen (Eri Ishida) is every bit the authoritative figure she needs to be. Akiko (Haruka Abe) brings pathos to the film as a member of the Arashikage that slavishly devotes to their ways and distrusts the newcomer Snake Eyes. And, of course, we need a strong villain. Takehiro Hira positively kills as the menacing Kenta, a former member of the Arashikage who is just the kind of menacing villain that this kind of movie needs.
Then… there's the G.I. Joe of it all. As a secondary villain, Cobra second-in-command Baroness (Úrsula Corberó) is appropriately snake-like and likable in equal measure. Concurrently, G.I. member Scarlett benefits greatly from the boundless charms of Samara Weaving. Yet, there's a sense that neither characters were necessary. They're unobtrusive, but none of them contribute to the plot much. Disappointing that Snake Eyes feels the need to remind the audience of the wider story at hand. In fact, it comes dangerously close to cheapening the narrative at hand.

Another aspect of the movie that threatens to derail things is the action sequences. Well, the way it presents them. There's a ton of action in Snake Eyes, as gleaned from its excellent marketing. It's a shame, then, that director Robert Schwentke and editor Stuart Levy rip these scenes to shreds. There are countless times where a great action sequence is set up, only to be either pushed into the background or reduced to incomprehensible quick cuts. What makes this heartbreaking is that with all the talented martial artists within, it seems like these sequences were filmed in full. It all reeks of studio meddling.
Thankfully, like its title character, Snake Eyes is resilient. Gorgeously crisp and inventive cinematography by Bojan Bazelli, a score by Martin Todsharow that has no right to be as memorable as it is, and the unique nature of all the action set-ups make them a blast to watch. They have personality, and no amount of studio interference can smother the flame of such a fiery personality.
Snake Eyes: G.I. Joe Origins makes an impression. There may be a fight between the film's bountiful strengths and its deficiencies, but it's undeniable: the good wins out. Snake Eyes is a full picture, one that tells a fantastic story full of character in the way these big IP-driven blockbusters have forgotten to. When a film tries this hard, I have to pick up what it's putting down. –James Preston Poole
Rating: 8/10
Snake Eyes: G.I. Joe Origins is now playing in theaters.
---
Trending Now