'Escape Room: Tournament of Champions' Review: "A Fun Little Diversion"
---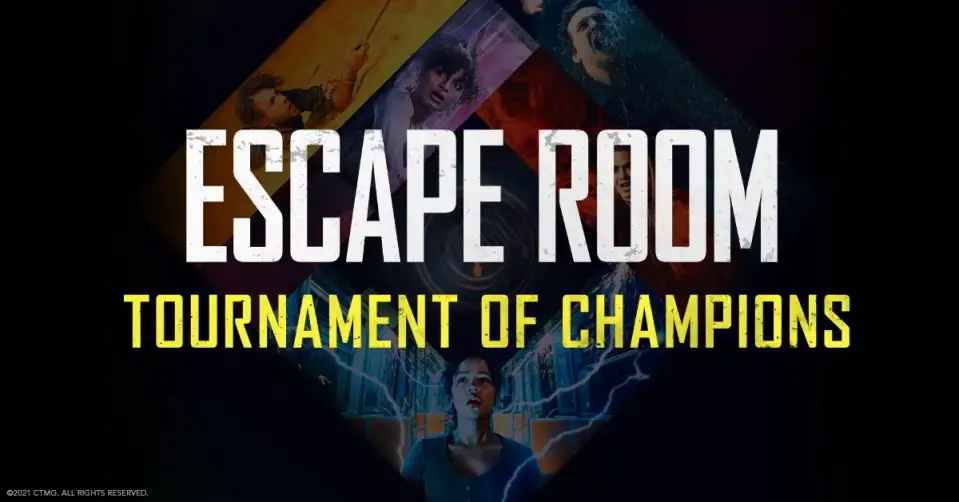 The idea of finding a key in order to leave a confined area might sound boring. But if there's anything that can make that concept riveting, it's the escape room. With hour-long runtimes and dozens of clues, it's no surprise that escape rooms remain ever so popular in the United States. For most people, they want to play again whether they win or lose. For the leads in Escape Room: Tournament of Champions, playing again is less of a desire and more of a requirement. In this film, winning just means being sucked back into the deadly escape rooms made by the evil corporation Minos.
The first Escape Room film saw a group of people being tricked into meeting in a building that turns out to mark the start of a deadly escape room game. That game's two survivors are Ben Miller (Logan Miller) and Zoey Davis (Taylor Russell), who are now looking for the people that run Minos. The ending of the first film showed Zoey finding the coordinates of Minos' location in Manhattan. We all remember Zoey being afraid of flight in the first film, so the duo drives to New York instead. They find the building and soon find themselves in a new game after they chase a junkie into a subway train.

This new game is filled with survivors from previous games – Ben, Zoey, Nathan (Thomas Cocquerel), Rachel Ellis (Holland Roden), Brianna Collier (Indya Moore), and Theo (Carlito Olivero). We know of the group that featured both Ben and Zoey. For Nathan, he was in a group of people who relied on faith, For Rachel, she was in a group of people that could not feel pain. And for Brianna, she was in a group of nothing but social media influencers. They were all champions of their previous groups, and this would be a test to see who was the true champion.
I love the idea of the escape room, it's a bit like Saw in a way. Except, the participants have an actual chance to survive. This also doesn't predicate itself on a sick human going after junkies and cops. Will Honley, Maria Melnik, Daniel Tuch, and Oren Uziel do a pretty decent job with the writing given how many characters it has to juggle. Not to mention, the fact that it has a mere 88-minute runtime means that it has a solid momentum throughout. My main issue is some of the acting was really bad, and it seemed like they rushed through the escape rooms. Still, they definitely filled this film with twists and turns at every corner.

Adam Robitel is back in the director's chair, and he does a great job putting us in this universe. He makes us care for the characters, and ultimately appreciate what he and this writing team have built thus far. The cinematography in this film is well done as Marc Spicer returns and gets help from George Amos. They make the games look incredible and even at the weakest points of the film, they make help you stay invested shot after shot.
Escape Room is establishing itself among thriller franchises, as it leaves its own footprint. The film is fun, and it offers an adrenaline rush like never before. I found myself caring about the characters in addition to figuring out how to solve the puzzles. The idea was fresh in 2019, and it's still fresh here. This will either be a great trilogy or a cash cow that the studio will milk for years. I'm praying for the latter. This is a genius idea, and its political standpoint while unoriginal is still grandstanding today. Rich people for the most part aren't good people, and they will use the poor and innocent for entertainment. It's a tale as old as time, and it gets better as time goes on.

Overall, I enjoyed this film. It's not as good as the original, but it's still a fun time regardless. It's missing a few things, but at least it answers some questions. It'll be interesting to see how far Minos is willing to go to ultimately get what they want. If you enjoy escape rooms, I definitely recommend this series. Thrillers have evolved visually, and are still just as thought-provoking as they've always been. This film is about having a moral compass and being selfish or selfless. They're building to something, and it looks like we're in for a treat. – Rascal F. Kennedy
Rating: 6.5/10
Escape Room: Tournament of Champions is in theaters exclusively now!
---
Trending Now