'Dave' S2, Ep4 – 'Kareem Abdul-Jabbar' Review: "A Reality Check for Dave"
---
Basketball players' names as rap songs have become a trend. Just to name a few, we have "Mo Bamba" and "Kyrie". The songs never really consist of any "bars," just a repetitive chorus and some lyrics thrown together to be the single off of an album or mixtape. Still, these songs exist because these players are friends with an artist or because they play on an artist's favorite team. And wouldn't you know it, Dave aka Lil Dicky (Dave Burd) has one of these songs as well, with "Kareem Abdul-Jabbar". But that's not the only Burd-related property to have this name, as it is also the title of this latest episode of Dave.
The episode is focused on Kareem Abdul-Jabbar (as himself) hearing Dave's song and wanting to interview him. Dave doesn't know that in his retired days, Kareem speaks on social justice, so he becomes nervous because he doesn't want to be seen as a racist in the age of appropriation. This is the second episode of Dave that hits on the topic a little bit. Also, we see Mike (Andrew Santino) get new clients in the age of social media influencers, he now manages the Stone Brothers as well. The Stone Brothers are two TikTokers that prank people and are a part of a very toxic culture.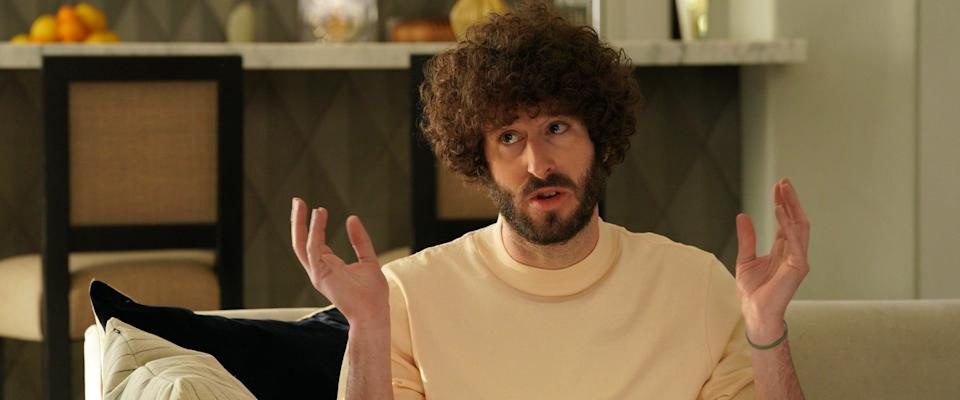 Kareem ends up giving Dave the reality check he needs to work on his relationship with Ally. The Stone Brothers prank GaTa (as himself), and he loses it again. Ally also comes to grips with the fact that she can't run from Dave forever, and that eventually, their relationship will come full circle. This episode is all about exposing Dave's narcissism and the toxicity of the social media prank trend.
Ben Sinclair is back as director and he gets some amazing work done in this episode. GaTa gives another extremely great performance as he did in season one in the "Hype Man" episode. Furthermore, writer Biniam Bizuneh takes on the task of tackling the toxic culture that gave the Paul brothers a platform. We get a look at Dave and Ally's relationship dynamic that's becoming a bit difficult after their encounter in the last episode. In addition, we see a lot of character development and story building in this episode. The bridging is incredible considering how weak the last episode was.
This episode tackles a lot, and it makes you think. So far this season of Dave has been about him finding himself. It has explored things like cultural appropriation, culture vultures, toxic social media cultures, and relationship problems. This show knows what it is, and while it doesn't take itself seriously, it tackles some very serious conversations. Pop culture has its demons, and Dave does a good job at exposing them in a relatable way. We get to laugh and enjoy the comedy but at the end each time we are slapped with reality. Sinclair and Bizuneh do a great job in this episode.
This episode as of right now is my favorite one. The well-grounded episodes of Dave far outweigh the more hysterical/ridiculous ones like the last episode. You have a bit of balance which this season definitely has. I am excited to see where we go next on this adventure. The character development has been extremely well, and I am ready to continue this journey with Dave and the gang. – Rascal F. Kennedy
Rating: 9/10
Dave premieres Wednesdays on FXX, and streams the next day on Hulu!
---
Trending Now