'Dave' S2, Ep3 – 'The Observer' Review
---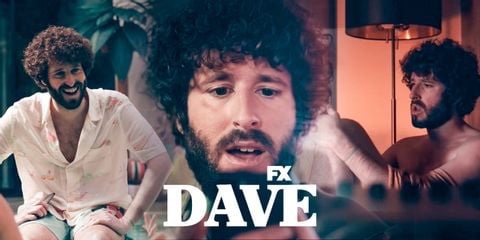 Hollywood is a strange place. Rich people do strange things, are lonely, and privileged. That's kind of the basis of the newest episode of Dave. We also see the return of a fan favorite and see how a relationship can dwindle to a weird purgatory. This episode explores all of that with a kind of simple tone that fits the material. It's definitely the weakest episode of the three we've seen so far, but still well done.

The episode starts with Dave (Dave Burd) hanging out/bonding with Benny Blanco (as himself). The two men are engaging in homoerotic activity, and just being themselves – instead of working on Dave's album like they're supposed to. They run around naked, shower together, and even put bubblegum in their assholes. Dave "invites" GaTa (as himself) and his friend Tone (Romeo Brown) over to Benny's house to hang out, and that's when things get really strange.
The four men all sit around and start talking. Benny brings up his and Dave's activities, and they get checked by Tone and GaTa. The discussion of white privilege, race, and sexuality appears. GaTa and Tone explain why black men aren't "allowed" to have bromances within the community. People will judge them no matter what. A lot of other things are discussed including Benny's problem with his anus, a weird but intriguing situation.

We also see Mike (Andrew Santino) dealing with the neighborhood "Observer" (Bob Clendenin). Somebody who's telling him to take better care of the community, and recycle. His loneliness makes him act out in a way he's ashamed of. He has a long day, and it really goes south. Dave also rekindles or tries to rekindle his relationship with Ally (Taylor Misiak), and it goes well… Weird. Also, we see Dave and Mike struggling with different situations and kind of just still trying to find their footing as managers/artists.
There's a lot packed into this odd episode, and only some of it works. Director Ben Sinclair gets some really good performances out of the actors for this episode, namely Blanco, Misiak, and Santino. Meanwhile, writer Max Searle tries to keep the otherwise normal tone of the show, but he just misses in some areas. The uncomfortableness of the episode is necessary considering the topic at hand. However, it was just lacking in certain areas. Most episodes of Dave have a mix of comedy and seriousness, and this episode misses on the comedy side a bit.

This was a good episode nonetheless, just not as fun as the other two we've seen so far. Searle touched on some great topics and got some substance from them. Burd and Blanco together onscreen are fantastic chemistry-wise. Misiak and Burd also still have the magic from the first season, and that's a wonderful sign. Sinclair directed one episode last season, and it was one of the better episodes, so I have faith the other episodes he has this season will be better. I appreciate the topics and the overall conversation. They were necessary. – Rascal F. Kennedy
Rating: 7/10
Dave premieres Wednesdays at 9 pm CT, and streams the next day on Hulu! 
---
Trending Now
You may also like