Top 5 Modern Day Action Heroes
---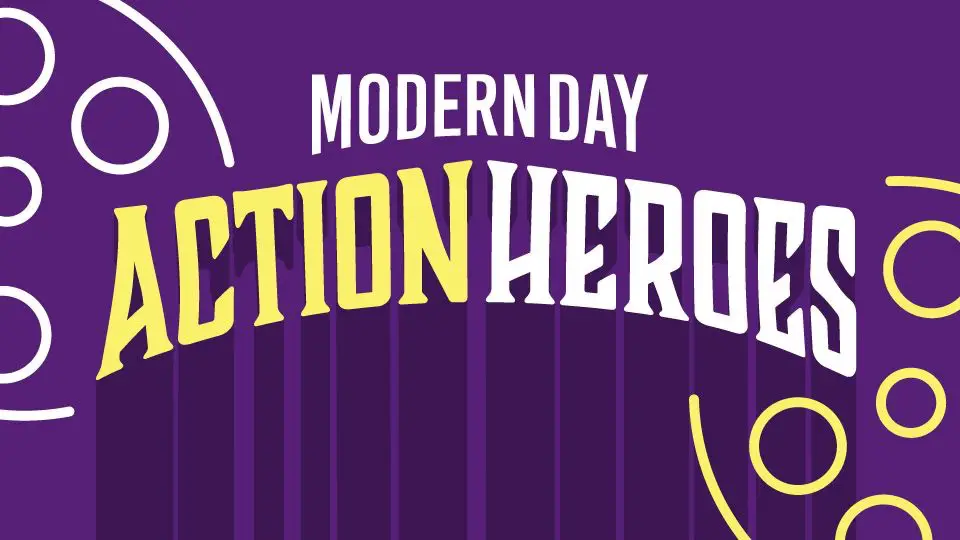 DISCLAIMER: These are my thoughts and my thoughts only. They do not reflect Full Circle Cinema as an entity.
The action hero has been a component of American cinema since the days of black and white spaghetti westerns. John Wayne and Clint Eastwood are two names that come to mind when I think of action heroes. They were the originators, and they have a very lengthy tree that stemmed from them. Action movies have evolved from movies shot in the mountains of Utah to green screen events with some of the most amazing visuals/stunts you will ever see.
Of course, we can't discuss action heroes without discussing Arnold Schwarzenegger, Jean-Claude, Stallone, Harrison Ford, Jackie Chan, Jet Li, Bruce Willis, Sigourney Weaver, etc. These men/women took what Eastwood and Wayne built and expanded on it. They created the modern-day action hero. I'm going to attempt to make a collective list of the top 5 current action heroes. What makes an action hero? In my head, they need at least one established franchise or at least be involved in one. If you disagree with these picks, that's fine… You can always tweet me your top 5, leave comments, etc.
5. Jason Statham

Best known for franchises like Transporter and Crank, Statham is a God amongst men. Everything he's been in is essentially an action film. He knows his lane, and he stays in it. He can just be the guy that kicks everybody's ass and it's always amazing. He's fought everything from Dom Toretto to the Megalodon, and he has the scars to show for it. Altogether, his films have grossed well over $1 billion. He is an action film legend with a hell of a catalog to on him.
4. Keanu Reeves

He didn't start off as an action star or wrestler, but he slowly came to find his calling in the film industry. He's been Neo from the Matrix, John Wick, John Constantine, and many more iconic characters. Over the years, he's battled the internet, Demons, angels, and mobsters alike. As a result, he's dominated the box office time and time again, with almost $4 billion grossed over his career.
3. Dwayne "The Rock" Johnson

THE Brahma Bull is quite literally one of the greatest wrestlers of all time.  He transformed from entertaining us in the ring to doing it on the big screen. He's been in everything from The Mummy series, Fast and Furious franchise, G.I. Joe, Jumanji, and Doom. Furthermore, he's one of the few action stars with his own production company: Seven Bucks. Sometimes he may play the same role in different movies, but that's what action heroes do. Johnson just brings an energy and intensity that reminds you of the 80s action heroes and I love it. Altogether, his films have grossed almost $5 billion.
2. Vin Diesel

Vin is our Arnold Schwarzenegger. I've been a fan of Vin since I was a child and have watched pretty much everything he's in. He's given us one of the highest-grossing franchises ever with Fast & Furious, and still has more in store for us. Whether it's Riddick, Toretto, or Groot, he always leaves his staple in films. He definitely has what the kids call range. He doesn't play the same character in every film he's in, and sometimes he excels as an actor. He's grossed about $4.5 billion all-time, he should be number one on this list or at least 1b, but number one far exceeds anybody else on this list.
1. Tom Cruise

Quite possibly the greatest action hero of our time. Ethan Hunt, Jack Reacher, Maverick, he's been so many iconic characters you just have to appreciate the art. Cruise may have his weird ways (Scientology), but he's an amazing actor. He's taken on some of the best international criminals, mummies, aliens, armies, and he's defeated them all. Cruise didn't start off as an action hero. But when he found his footing as one, he definitely made it his staple. He's grossed almost $8.5 billion over time, and that will only increase. An absolute legend and OUR action hero.
Honorable Mentions:
6. Angelina Jolie
7. Daniel Craig
8. Liam Neeson
9. Chris Hemsworth
10. Scarlett Johansson
Do you agree with this list? What's your order? Who would you replace? Tweet us, leave a comment, let us know what you think! – Rascal F. Kennedy
---
Trending Now