Full Circle Flashback: 'The Purge: Election Year' Review
---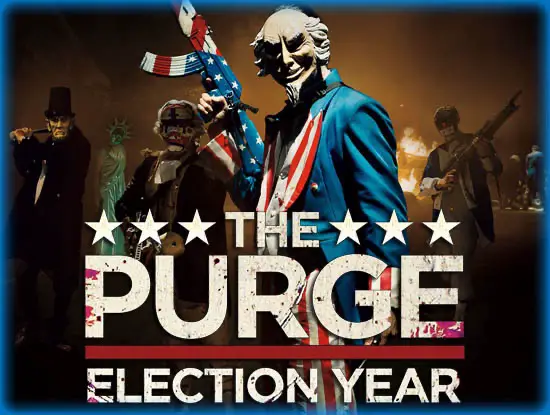 The Purge franchise began with 2013's The Purge, but it was by no means a promising start. Among other things, it didn't encompass the full ideology of the purge. Thankfully, there was 2014's The Purge: Anarchy, a film that showed you what the night was all about. In particular, it showed that The Purge was more designed to murder poor people to save government funding. Soon after in 2016, came The Purge: Election Year, possibly the best of the franchise.

The plot is pretty simple: Charlie Roan (Elizabeth Mitchell) sees her family murdered on Purge Night, and joins the political arena. She becomes a senator and throws her hat in the ring to become president, running on a platform that she will end The Purge for good. The FFA doesn't like it one bit as they are backing Minister Edwidge Owens (Kyle Secor). We are also reacquainted with Leo Barnes (Frank Grillo), who is Senator Roan's head of security now. We also meet new characters Joe Dixon (Mykelti Williamson), Marcos (Joseph Julian Soria), and Laney Rucker (Betty Gabriel). Joe owns the deli Moses works at and Laney is like a daughter he never had. Series mainstay Edwin Hodge is also back as Dante Bishop.
There are plenty of plotlines in this film like in Anarchy, but as always, writer James DeMonaco keeps it together. You have Joe protecting his store, Barnes trying to keep Roan alive, and Bishop's freedom fighters plotting an assassination. DeMonaco keeps this film packed with action and even introduces some new elements to the film. One of the elements is people traveling from other countries to the U.S. to participate in purging. It's a concept that hadn't been introduced yet but was entertaining. Also, cinematographer mainstay Jacques Jouffret did a wonderful job with the action sequences and capturing the eeriness of the Purge in D.C.

Election Year is also an interesting film because it came out during an interesting point in U.S. politics. It was the year Trump rose to the top of the Republican ranks and became president. A terrifying or exciting time depending on your political stance. Much like the FFA, he's sworn to create his own political party. Which in reality is kind of frightening. The political undertone of this film is something that I love, and I love this series because it tells the truth. The rich hate the poor, and that's the basis of The Purge – to murder the poor and homeless. In a sense, the FFA holds very Republican-like ideologies.
DeMonaco definitely upped the ante in this film and built more on top of his universe. This is a movie with a foundation that allows the audience to view it from very different angles. It's a fun universe, and it truly does discussions brought from it. The pandemic we just witnessed showed us just how dehumanized poor people are, and how jobs people consider for "lesser folks" are essential. This series is incredible and the mix of horror, action, and politics is awesome; especially in this film. – Rascal F. Kennedy
Rating: 9/10
The Purge: Election Year is available on Blu-Ray, DVD, and digital! 
---
Trending Now