Full Circle Flashback: 'The Purge: Anarchy' Course Corrects In A Big Way
---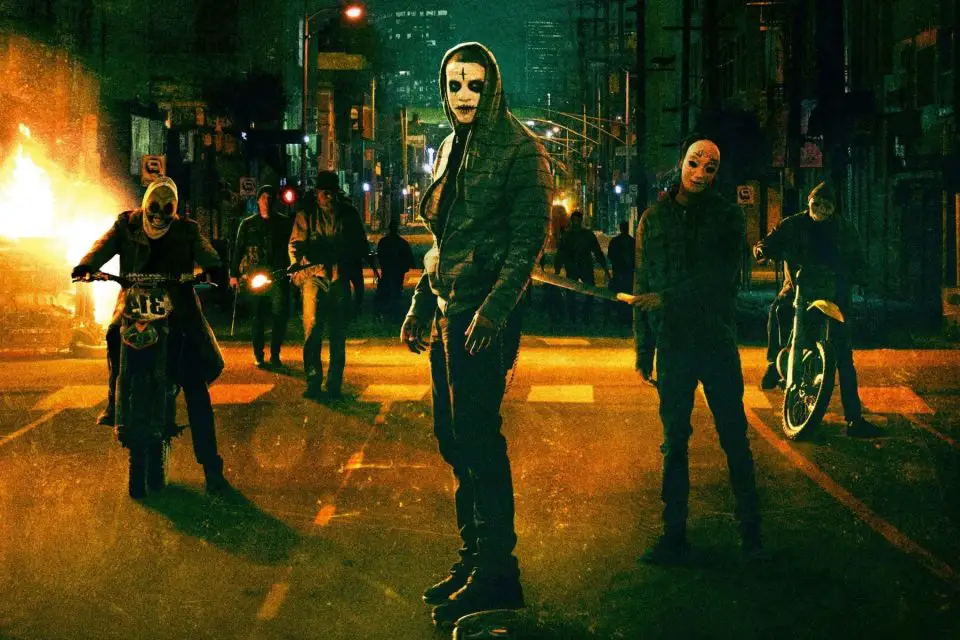 I do not particularly care for 2013's The Purge. In fact, it is arguably one of the most inert genre movies of the last ten years. It may have a hell of a hook, but it does virtually nothing to capitalize on that mountain of potential. Interested in seeing people lash out at others for some sort of wrongdoing in the past? Too bad, you get five minutes of that and nothing more! On top of that, it has one of the most clear-cut examples of an "idiot plot" I have seen in ages. If there is any upside, it's that a follow-up only needs to do one thing to qualify as an upgrade: not repeat the same mistakes. Fortunately, The Purge: Anarchy makes it its mission to steer far away from what came before.
Listing every element that distinguishes Anarchy from its predecessor would take an eternity. Thankfully, the two films are different in the areas that matter the most. If the original settled down as a thriller with no thrills, this acquits itself as a pulse-pounding chase movie. In addition, Anarchy is a full-fledged ensemble piece featuring characters of distinct personalities and backgrounds. In short, it's the kind of sequel that abides by the principle of "bigger is better". But one question remains: how much better is it, assuming that it's better at all? As it turns out, Anarchy improves upon The Purge so astronomically that it feels like different filmmakers made them.

What makes this impressive is that there is no change in department heads. After all, James DeMonaco fulfills the same writing and directing duties he had for the previous film. At the same time, the hurdles that kept him from crafting an imposing landscape the first time around are gone. No longer do we just see a neighborhood block, we get to see all of downtown Los Angeles. So instead of spending time in the shadows of an expensive house, it spends time in grimy streets and alleys. This simple change in setting does a lot to generate an unnerving atmosphere. For the record, that's excluding the fact that cinematographer Jacques Jouffret drenches all of it in sickly greens and yellows. With these elements in place, DeMonaco creates an oppressive tone that beautifully manifests in its visuals.
Like the first film, Anarchy depicts an America in which all crimes are legal for one twelve-hour window per year. And as before, many people use this as an excuse to commit murder. What separates this film, however, is the fact it centers on people who interact with the purge in distinct ways. On one side, we have a sergeant (Frank Grillo) who uses the time to seek and murder the man who killed his son. On another, we have Shane (Zach Gilford) and Eva (Kiele Sanchez), a couple who doesn't seem to worry about the event until a masked gang starts to go after them. Lastly, we have Liz (Carmen Ejogo) and Cali (Zoë Soul), a mother and daughter who soon become the targets of the mysterious Big Daddy (Jack Conley).

In essence, the film follows one active participant and four unlikely participants in this iteration of the purge. To add to that, it's not like DeMonaco tells these three storylines in separate chunks like an anthology. Early on, all of these characters cross paths with each other and head towards one singular goal: survive the night as one. Luckily, the sergeant has enough weapons to give to the couple, the mother, and her daughter. However, they are all now the targets of the masked gang and Big Daddy, who has an army of troops to defend himself. So if these strangers want to make it out alive, they must cooperate and trust that no one in the group will turn against them.
An ensemble movie is nothing without compelling characters at its center, and with a few exceptions, Anarchy delivers big time. If the first film merely tells the audience about how lower-class people deal with the purge, this one actively shows it. Thanks to Liz and Cali, the film offers the perspective of people who get targeted largely because of their low financial status. Considering that the rich often purge by killing the poor, it's easy to see why they would resent this annual event. As a result, it is also easy to become invested in their attempt to survive. As for the sergeant, he offers the perspective of someone who wants to take revenge against someone that wronged him earlier in life. And thanks to Grillo's magnetic stoicism, it takes no time for this character to come off as relatable.

Furthermore, the film simply has the goods as a pure thrill ride. Since there are so many adversaries in pursuit of our main characters, the momentum stays relatively high. One minute, there are masked gang members who stare at the leads from a distance. The next minute, you have Big Daddy plowing through innocent bystanders with a machine gun. Whether it's the fear of the unknown or the fear of being machine gun fodder, characters have something to worry about at every waking moment. It's in these scenes that the film commits into high-octane action as opposed to slow-burn tension. As much as DeMonaco prioritizes the characters, he is terrific at staging chaotic action that is easy to follow.
Given everything at play, it's great to see Anarchy not forget about the infinite possibilities that a premise this outlandish can offer. Late in the film, the masked gang catches up to the main characters and captures them. But instead of killing them, the gang sends them to a facility in order to get a bounty. The idea that random individuals can have a bounty on them during the purge is already sickening enough. But in addition, this facility is home to an auction in which the wealthy bid their way into killing off batches of poor people. Sure, presenting rich people as being rich in villainy is far from groundbreaking. But rarely has a film gone this far to depict that demographic like it's a secret cult. If anything, this goes to show how much the purge can lead to as many problems as solutions.

Quite possibly the only time this film doesn't intrigue on every level is when it incorporates its few one-note characters. While Liz and Cali stand out on the page and the sergeant stands out on the screen, Shane and Eva manage to do neither. The closest they come to being compelling figures is when they defend themselves in a subway shoot-out. Aside from that, they don't do much other than take up extra space. It also doesn't help that DeMonaco saddles them with the dullest introductory scene of the bunch. Their first scene sees them talk about their strained relationship, but that detail fades away as soon as they encounter the gang. For the remainder of the runtime, they might as well be a couple that loves each other very much.
Still, that's the only thing that doesn't stick in a film that throws as many ideas as possible to the audience. Whether you view it as an exploitation piece or a chase movie, Anarchy is a bit of a miracle. Some might argue that its "throw everything and the kitchen sink" mentality transforms the film into a gaudy, unwatchable mess. I, however, would argue that its grab-bag of ideas is what makes the experience so enthralling. Besides, what is anarchy if not a situation where discipline goes out the window? It may not be one of the greatest movies that also happen to be the second in a series. But boy, does it elevate the ideas of its predecessor more drastically than any other sequel I can name. – Mark Tan
Rating: 8/10
The Purge: Anarchy is available on Blu-ray and Digital HD.
The film stars Frank Grillo, Carmen Ejogo, Zach Gilford, Kiele Sanchez, Zoë Soul, and Michael K. Williams.
---
Trending Now