Full Circle Flashback: 'The Purge' Review
---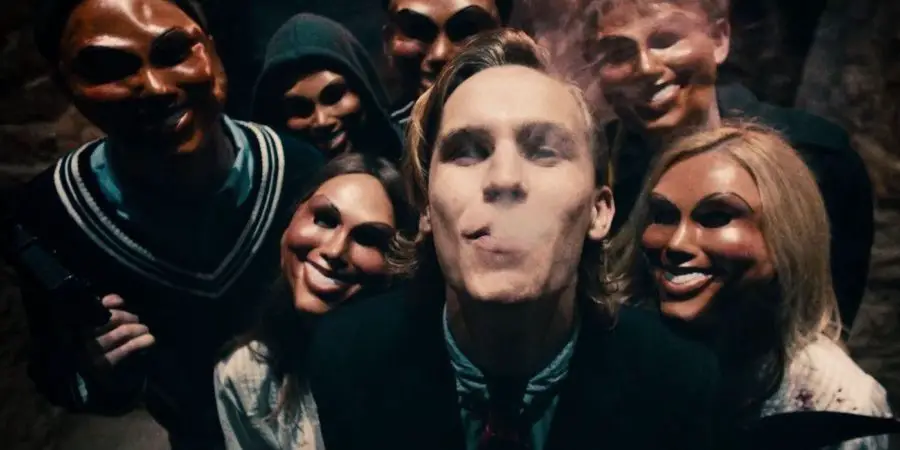 To be transparent, prior to writing this review I had not seen The Purge. I had not seen it or any of its sequels that had come out over the years. I have seen many home invasion movies and many movies that rears America's ugly head. But never had I seen one so matter of fact and hideous.
The gimmick is that for twelve consecutive hours, any criminal act is within legal bound. We follow a seller of home security systems, James Sandin (Ethan Hawke), and his family, as they navigate through America's tradition of "purging". The way this movie establishes its setting and gimmick is genius. A montage of violent security camera footage set to Clair de Lune masterfully displays the overall attitude and environment of this alternate America. Following that with James driving home from work, showing off how apathetic his neighbors are as to what will transpire is *chefs kiss*. The setup is excellent, and I can't rave about it enough.

After we move past the beginning, I personally had issues with where it went next. As far as the movie itself, I didn't believe a lot of the drama. Personally, communication could have easily prevented the downfall of this family. The daughter obviously has some sense of rebellion. Her running around after her boyfriend was killed while there was a stranger in their house made absolutely zero sense. The son had a sense of humanity for letting the stranger in but didn't have the information to understand the severity of his decision-making. I understand that a part of the issues The Purge is trying to convey was America's inability to communicate. Satiating your most violent desires to settle your problems in lieu of resolving your problems by talking is a killer idea (pun intended). It doesn't mean all of it works for me.
With that said, I cannot deny how relevant and smart its examination of America is. Considering how rapidly and perniciously American culture and political landscape have evolved it befuddles me how this series still obviously gets it right. To be releasing a fifth movie eight years after the first and spawning a television series with two seasons is not something to brush off. I vehemently applaud the creative teams behind the intellectual property.

There are a lot of ideas to unravel in this. This movie examines entitlement, treatment of veterans, treatment of the homeless, and more. Although these issues are important to acknowledge, the movie overcrowds these issues. In turn, the issues don't say anything more than what's at face value. I believe these issues could be examined through the vehicle of "the purge". Taking smaller bites could have allowed more time for the ideas to grow more. Considering this is an intimate look at a family's tribulations through this purge, I would have preferred a more concentrated movie.
What The Purge accomplishes best is setting a level of intrigue in the viewer to want more. I could see what the movie was trying to say, and I really appreciate that in of itself. Hopefully, future installments satiate this level of intrigue the first installment instilled in me. If you enjoyed this movie more than me, I genuinely am happy for you. There is a lot to admire about this movie, but some things didn't work for me. If you get the chance, watch this before The Forever Purge on July 2nd. – Jacob Mauceri
Rating: 6/10
The Purge is available on Blu-ray and Digital HD.
---
Trending Now