'The Bad Batch' Episode 8 Review: The Return
---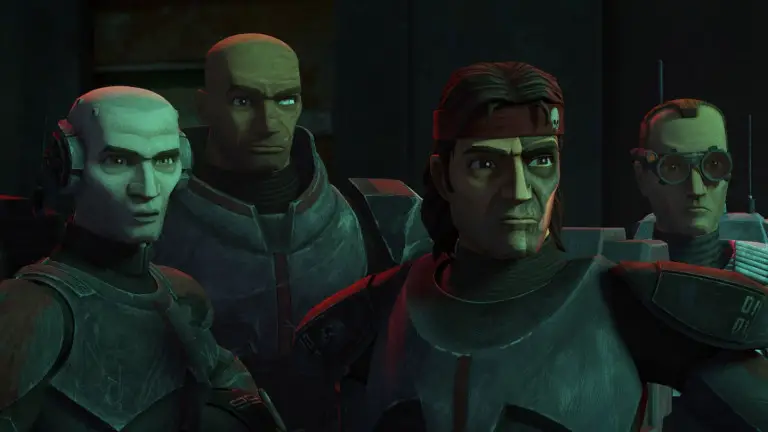 The Bad Batch Episode 8 review contains spoilers for the episode.
The Bad Batch is back with its mid-season episode, and it did not disappoint. The eighth episode did what many other shows do with their halfway point and absolutely ramped up the tension. Fans of the series are certainly in a treat with this episode.
Because the Bad Batch was spotted on Bracca during Episode 7, it was easy to assume that their former member, Crosshair, would be coming for his crew. But while it was exciting to see them interact with their old friend again, but it doesn't quite hold up. Crosshair has been relegated to a basic villain, and the creative team of The Bad Batch has been dropping the ball with the characters from time to time. Perhaps they're saving the more emotional beats for later, but at this point, the opportunity feels wasted.
There was little to no interaction directly between Crosshair and the team, with the exception of a few simple shouts by Crosshair. In truth, one throwaway line about inhibitor chips spouted by Hunter just isn't enough. Crosshair's betrayal is one of the biggest plot points of the series, one that directly impacted the Bad Batch. If the reason you lost someone close to you was this easily explainable to them, you'd feel like they'd try a bit more.
READ: 'The Bad Batch' Episode 7 Review: A Ticking Time Bomb
A piece of the episode I did enjoy seeing how the empire works once again. When Crosshair confronts Vice Admiral Rampart about how Clone Force 99, he brushes them off. This little care for Clones shows just how little the Empire thought of them. Luckily, this also was able to bring back the Kaminoans' scheming. The mystery of what Omega's purpose is and what the Kaminoans' plans are is a plot thread I'm very excited to explore further.
Since we've already discussed the return of Crosshair, let's dive into the return of another fan-favorite Star Wars character, Cad Bane. That's right, Cad bane has returned. But unlike Fennec, Bane was successful in capturing Omega after defeating Hunter in a duel. It was cool to see him return and duel Hunter. What was better, though, was the POV shot of Hunter as the episode ended. It felt as if I was playing Republic Comandos all over again.
As with all Star Wars projects, the music for this episode was great and the animation was solid as well. I'm beyond impressed by the work they did on the show every week. The Bad Batch is ramping everything up, and I'm very excited to see where they take us. However, I'm remaining hesitant because the show still has some issues to work out with the characters, which is why my rating for this episode is lower than previous entries. –Collin Stetzner
Grade: 7/10
The Bad Batch drops new episodes every Friday on Disney+
---
Trending Now