'Spiral: From the Book of Saw' Review: "An Invigorating Return to Form"
---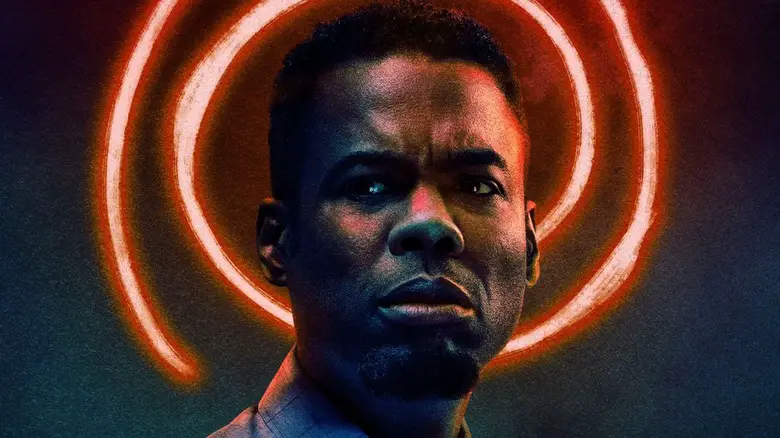 After 2017's failed attempt with Jigsaw, the prospects of resurrecting the Saw franchise seemed all but dashed. The story was played out, the timelines were confusing, and audience interest just wasn't there. If another Saw was to enter production, it would have to have a fresh voice. Turns out, that fresh voice is comedian Chris Rock! The resulting film, starring and produced by Rock, is not a comedy. It's an honest-to-god return to form for the franchise. Spiral: From the Book of Saw is a new lease on life.
Spiral: From the Book of Saw doesn't come in to reinvent the wheel. Don't expect any postmodern interrogation of the franchise or horror in general. After all, the director of this film is Darren Lynn Bousman, who helmed the excellent Saw II and III, then the not so excellent Saw IV. But that's an article for another time. Bousman is familiar with the series and distills it down to its basic elements. There's a ruthless madman in Saw City who is placing citizens in elaborate "games" that test their will to live. It's the job of the cops to find them. The twist this time around is a significantly anti-police bent.
Chris Rock plays Detective Ezekiel "Zeke" Banks, the pariah of his department. He turned in a dirty cop nearly a decade earlier and has been looking over his shoulder ever since. It doesn't help that his father is beloved retired department chief Marcus Banks (Samuel L. Jackson). Saddled with a new partner in rookie William Schenk (Max Minghella), Banks' assignment takes on a new gravity when cops start going missing. It slowly becomes apparent when the bodies start piling up that these are crooked cops being put through games eerily reminiscent of those of the original Jigsaw Killer.

What jumps out about Spiral: From the Book of Saw immediately is the refreshing quality of everything. Cinematographer Jordan Oram maintains the grungy aesthetic of the original Saw trilogy while also giving definition to the imagery that's never been seen before. Moreover, it has quite a stacked cast. Jackson, obviously, always shows up to work whenever someone calls upon him. Minghella is a charming foil to Rock, and Rock himself is the film's biggest asset.
Saw isn't usually known for its strong lead performances. Rock changes that. His trademark comedy is present in spurts, but the core of his character is someone who is angry. Angry that doing the right thing has made him a target. Angry at the legacy of department he's in. Pressure constantly crackles under the surface of Zeke. You get the feeling if you were to touch him, he would explode. Rock radiates pathos in a way he's never had the chance to before. As such, he becomes the beating heart of Spiral.
Josh Stolberg and Peter Goldfinger's script makes for a serviceable procedural. However, Bousman knows which elements to emphasize, elevating the material and matching the intensity of Zeke. For the most part, a persistent thread of anxiety runs throughout the film. Major kudos to editor Dev Singh for a quick-cut style that frequently sends a jolt of electricity. Yet, there is a sense that it needed more time to sit with these characters a little longer and breathe in between traps.

And now we come to the part everyone will be curious about: the traps. Like much of the film surrounding it, the traps are back-to-basics. No more glorified Rube Goldberg machines, which turns out to be a good thing overall. The traps are analog and simplistic, though intensely memorable. Here, the games are cut and dry, but the decisions the victims have to make are painful as ever. Physical cringe ensues seeing the games play out.
It's classic Saw, with a new coat of paint. That's nowhere near a bad thing. What got the Saw franchise to run out of steam wasn't that the concept itself wasn't virile, it's that it lost a reason to continue. Spiral: From the Book of Saw has a fresh perspective, one that interrogates police brutality. It's not the most damning or intelligent film, but it tries.
Once it reveals the killer, everything comes together. A montage set to Charlie Clouser's "Hello Zepp" shows previous events in the film from a new viewpoint. And like the original Saw, there's a purpose behind everything. Obviousness aside, the ending puts a neat bow on everything, putting an exclamation mark on the film's ethos and having us begging for more. Like the 2004 original, Spiral: From the Book of Saw is a tight, thrilling horror movie with something to say. What it gives up in surprise, it gains in what it set out to do: revive Saw. – James Preston Poole
Rating: 8/10
Spiral: From the Book of Saw is now playing in theaters.
---
Trending Now