'The Mitchells vs. The Machines' Review: "A Striking Showcase Of Mixed Media"
---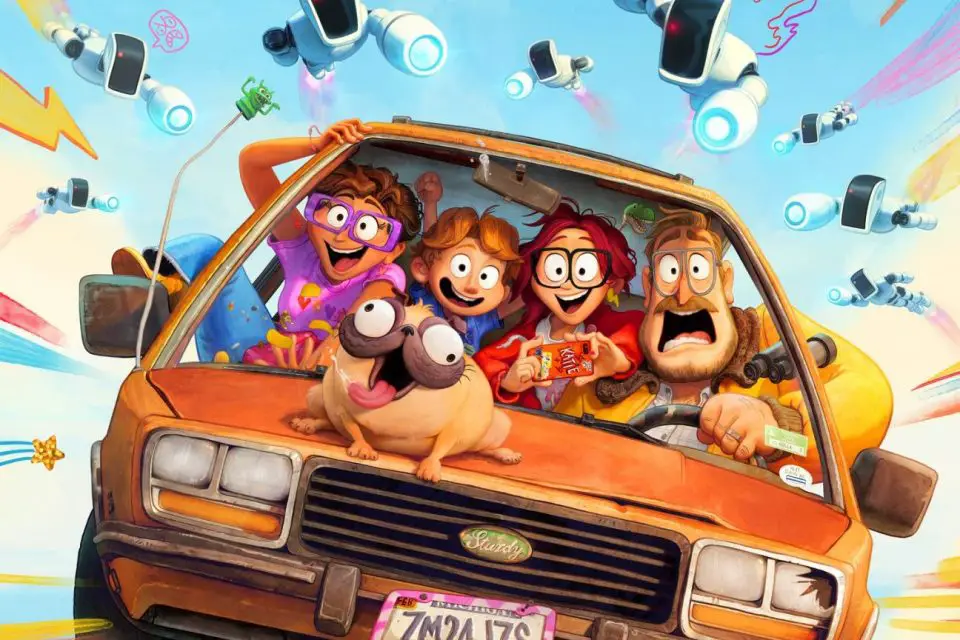 There's a part of me that laments the scarcity of 2D animation in American productions. As much as I love 3D animation, I wish studios didn't have to toss out old methods for the new ones to become mainstream. However, it has become clear in recent years that 2D animation is far from dead. From fantasy sequences to visual effects, filmmakers rely on 2D animation to heighten what exists in three dimensions. And in 2018, Sony Pictures Animation released the pinnacle of that formal exercise with Spider-Man: Into the Spider-Verse. As it turns out, that movie is far from the last mixed media project for the folks at SPA. If Spider-Verse offered a new, exciting direction for the studio, then The Mitchells vs. The Machines represents the studio taking that direction.
It's one thing for a film to combine different mediums for the sole purpose of creating beautiful imagery. However, it's another for it to use contrasting mediums to develop a major part of the narrative. In the case of Mitchells, it uses the animation styles to place the viewer in the perspective of its main character Katie Mitchell (Abbi Jacobson). We learn in the first few minutes that Katie is a young filmmaker who makes comedic videos with a simplistic art style. To follow suit, the animators scatter similar visual cues throughout the story. This means we get moments like a pastel-colored inspiration meter with a caricature of Katie appearing behind her as she prepares for college. So on top of being aesthetically pleasing, the basic drawings get to function as gorgeous visual storytelling.

On the subject of narrative, it's fitting that Michael Rianda & Jeff Rowe's screenplay also blends two different concepts. The first concept involves a road trip in which Katie tries to deal with her dysfunctional family. In fact, the reason there's a road trip at all is that her father Rick (Danny McBride) wants to bond with her one last time before she goes to college. Meanwhile, the other concept involves an AI named PAL (Olivia Colman) starting a robot apocalypse after years of abuse from humans. With so many pieces of tech that rely on PAL, it takes no time for PAL to start taking over the world. At first glance, it might seem like these two premises are incompatible. But once it positions Katie's family as the people that will stop PAL, it clicks together quite nicely.
It helps enormously that Rianda and Rowe – also the film's directors – know how to structure a story. After all, the opening scene sees the Mitchells cross paths with the machines. With this story choice, you get an immediate sense of how these disparate strands can come together. More importantly, it commits hard to establishing plot devices that pay off at a later point. This is most obvious in Rick's disinterest in technology and his love for screwdrivers. For a situation where modern tech is an opposing force, he gets to have an advantage that most people do not have. In one of the film's funniest moments, we see the world go into panic due to the lack of Wi-Fi. Meanwhile, there's Rick, not even batting an eye at the breaking news.

Eventually, Mitchells transitions from being a goofy romp to being a message piece about maintaining healthy relationships – both with family members and technology. None of what it has to say about keeping stable connections is actually groundbreaking. From the time you see the Mitchells struggling to not use their phones at dinnertime, you can guess how their reliance on technology will change by the end. At the same time, the filmmakers treat it with such sincerity that it still resonates on a deep level. The idea of the screwdriver as a Chekhov's Gun sounds like something too silly for its own good. But in execution, the silliness is the very thing that makes the sentiment go by smoothly.
As a result, the movie manages to keep its momentum even if the components are nothing new. A 113-minute runtime is not a guarantee for rock-solid pacing. And yet, the rapid-fire humor makes it feel like it's a half-hour shorter than that. Quite possibly the only places where energy wavers are in its repetitive dialogue gags. This isn't to say that the dialogue-based humor is actively bad. If anything, the timing of the punchlines shifts just enough to keep things fresh. Nevertheless, Mitchells gets to a point where the "I will never do X under any circumst- just kidding, I am 100% going to do X" template becomes a comedic crutch. And in a movie that rarely misses with its humor, the few times it does miss stand out even more.

But I'm not going to let a handful of repeated gags overtake what is otherwise a blissful experience. At the very least, Rianda and Rowe never back down from making every frame the liveliest thing possible. When Mitchells doesn't burst with personality through the writing, it bursts with personality through character designs. The fact that PAL has such a distinct identity speaks a lot to the animators' superb ability to make readable expressions out of basic lines. Even the second-in-command evil robots are subject to artistic experimentation, with most of them being nothing more than a pile of polygons.
Mitchells is so terrific at being stylish and lovely that even the end credits are full of warmth. In addition to showing the names of the cast and crew, each name includes a photo of that person with their family. As such, you have a movie that's an ode to loved ones that ends with every significant creative head making an ode to their own loved ones. Again, this is a simple gesture that cannot help but resonate thanks to the level of earnestness. I won't say it's impossible for there to be a more enjoyable animated film in 2021. What I will say is that the competition will have to try really hard to come close to topping it. – Mark Tan
Rating: 8/10
The Mitchells vs. The Machines is now streaming on Netflix.
The film stars Abbi Jacobson, Danny McBride, Maya Rudolph, Michael Rianda, Eric André, and Olivia Colman.
---
Trending Now
You may also like