'The Unholy' Review: "Grade-A Religious Horror"
---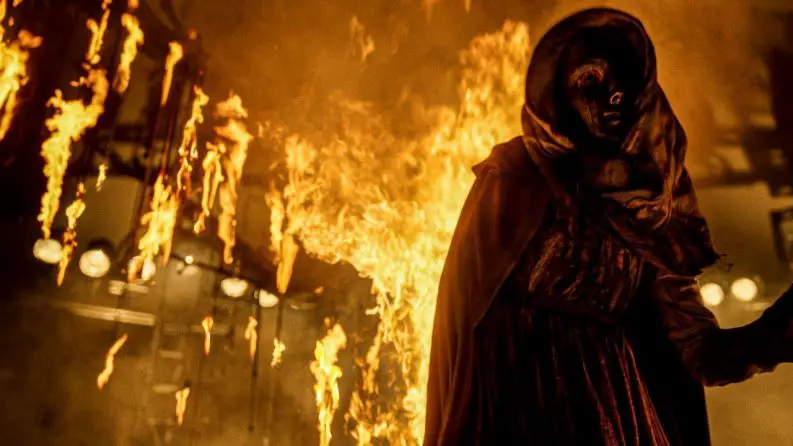 Before the pandemic began, I wrote a review for a Sam Raimi-produced horror film, The Grudge. I didn't like it. So it's almost poetic that as vaccines become more widespread, I find myself once again reviewing a Sam Raimi-produced horror: The Unholy. And wouldn't you know: it's fantastic!
Those looking for The Unholy to break new ground will leave with disappointment. Its setup is rather familiar. Down-on-his-luck journalist Gerry Fenn (Jeffrey Dean Morgan) travels to the sleepy town of Banfield to fabricate a story and make a quick buck. Much to his surprise, the perfect story drops into his lap. Deaf young resident Alice (Cricket Brown) is one day miraculously cured. She claims this to be the work of the Virgin Mary. Moreover, she gains mysterious abilities to heal, and Gerry has the exclusive. However, as he probes deeper into the story, he suspects more sinister forces may be at work. So here you have your traditional narrative. Small town, prophet-like figure, alcoholic journalist.
What makes it come to life is in the execution. Despite this being his feature debut, director Evangelos Spiliotopoulos assembles his film with the deft touch of a master. His handsomely assembled cast adds a sense of professionalism to the endeavor. Dean Morgan will never turn in anything less than a fiercely dedicated performance. Seasoned veterans like William Sadler as Alice's uncle Father Hagan, Cary Elwes as Bishop Gyles, and Diogo Morgado as Monsignor Delgarde class up the joint. Yet, it's newcomer Cricket Brown who, despite her age, commands the screen as someone you could entirely believe is a modern-day voice for the Virgin Mary. Beyond her appearance, she carries the acolyte resolve of a prophet; unsettling not in her belief, but in how much the audience almost believes her.

Drawing on the outstanding ensemble cast, Spiliotopoulos, who also wrote the film, weaves a compelling narrative. The theme of faith is in every fiber of The Unholy. At times, it nears exhausting, and it might be for most audiences. But the reaction of everyone from Gerry to the Monsignor in regards to Alice allows for many differing perspectives on those who claim divinity. The Unholy makes ample use of its relatively short 99-minute runtime, unspooling its perspectives, gradually revealing internal mythology.
Once it pulls the curtain back on that mythology, The Unholy is at its very best. Backed by an epic-scale score from Joseph Bishara that'd come close to parody if it weren't so flooring, The Unholy makes it its mission to give horror fans exactly what they came to see. Creature design, supernatural antics evoking Raimi's The Evil Dead films, plants and payoffs, and a wallop of grand imagery. Yes, there are jump scares here as well, and nearly all of them land. Most importantly, everything is centered around the classic struggle between good & evil. Like so much of the movie, this could've felt archaic if it weren't played with such conviction.
The Unholy just works. It's a horror piece in a classical sense. Unafraid to wear its themes on its sleeve, unafraid to be seen as unoriginal, and unafraid to take itself seriously. The Unholy may not be the second coming of horror, but it believes in itself. It has faith. And I'm a convert. –James Preston Poole
Rating: 9/10
The Unholy is now playing in theaters.
---
Trending Now
You may also like