'Nobody' Review: "A John Wick Clone That's A Cut Above"
---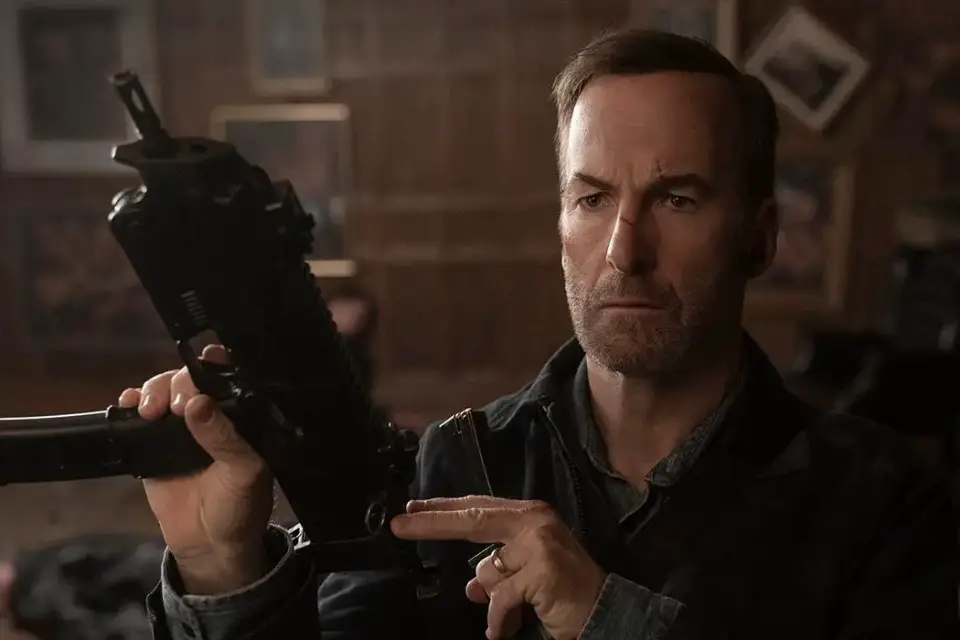 The path that brought Nobody to audiences is an absorbing one. 2014: John Wick releases and is an instant hit. For whatever reason, co-director David Leitch left the sequel to go film Atomic Blonde. Director Chad Stahelski and writer Derek Kolstad continued with the very much acclaimed John Wick: Chapter 2 and Chapter 3 – Parabellum, but this was apparently the end of their partnership. Kolstad declined to return to write the next two entries in the series. Instead, he embarked on creating a new franchise, with David Leitch in tow as producer.
It's hard to look at Nobody as anything other than an attempt to do John Wick but a little different. The story this time around involves Hutch Mansell (Bob Odenkirk), a timid desk jockey who becomes the shame of his family whenever he fails to defend them from intruders. As his rage simmers, he chooses to defend a young woman on a bus. This unlocks latent abilities from his past life as a hitman. Turns out, he messed with the wrong people and is now in the crosshairs of crime lord Yulian Kuznetsov (Aleksei Serebryakov).
The narrative of Nobody on paper is a relative dud. The first act's set up of a man who feels inadequate in a hyper-masculine society has a lot of potential. There's a version of this film out there that's a riff on Joker where someone beat down by the world unlocks John Wick-esque abilities. Rather, Hutch is simply John Wick living as a suburban dad. Kolstad's script serves as the weak link, eschewing much of the intriguing lore behind Hutch's past as an "Auditor" to be a typical shoot 'em up. Nobody's most intriguing characters, played by RZA and Christopher Lloyd, barely tie into the main narrative.

What this suggests is that this film needed a rewrite to refocus on what works best. Because what does work best puts it head-and-shoulders above the other Wick clones. For example, Odenkirk steps into the lead role with the grace of a natural. He gives the meek Hutch and the killing machine Hutch equal commitment. Furthermore, he's just having so much damn fun that it's infectious. He certainly has a future in the action business.
Another star of the show is director Ilya Naishuller. Naishuller made waves with his hyperkinetic (and highly underrated, might I add) debut feature Hardcore Henry. He comes out guns blazing once again, making his mark everywhere he can. Fast editing establishes Hutch's mundane life in seconds at a time, hilariously. Impressively, he gives the otherwise forgettable villain Yulian an introduction for the ages. A tracking shot follows Yulian into a nightclub, taking a shot, snorting cocaine, then hopping on to the stage to sing karaoke. At the same time, his instability is ever-present. When Kolstad's script provides little to go off, Naishuller lets his voice pick up the baton.
Obviously, the meat-and-potatoes of the flick are going to be the action sequences. Rest assured, they're great. And quite original too! Lacking Stahelski's slick, ultra-choreographed gunplay, Naishuller and director of photography Pawel Pogorzelski make them purposefully clumsy fights based around humor & Odenkirk's "dad bod" physicality. It adds an additional sense of character to the movie that provides as many guffaws as it does moments of badassery. Speaking of the former, as sick as I am of seeing Home Alone-style climaxes to action films, the finale of this film provides solid laughs in the ingenuity of its violence.
Nobody needed more time in development, plain and simple. Its script is severely lacking, barely trying to distance itself from Kolstad's most iconic creation. Yet, it's solid groundwork. Due to the commitment from Odenkirk and Naishuller, Nobody manages to be a pretty good time on its own. If the team can take what worked in this film, expand on it, and cut the fat in a sequel, then we could have a new franchise on the horizon. Until then, we have a nice little flawed action flick that brings the goods. – James Preston Poole
Rating: 6/10
Nobody is now playing in theaters.
---
Trending Now