'Godzilla vs Kong' Review: "Loud, Dumb Fun By Obligation"
---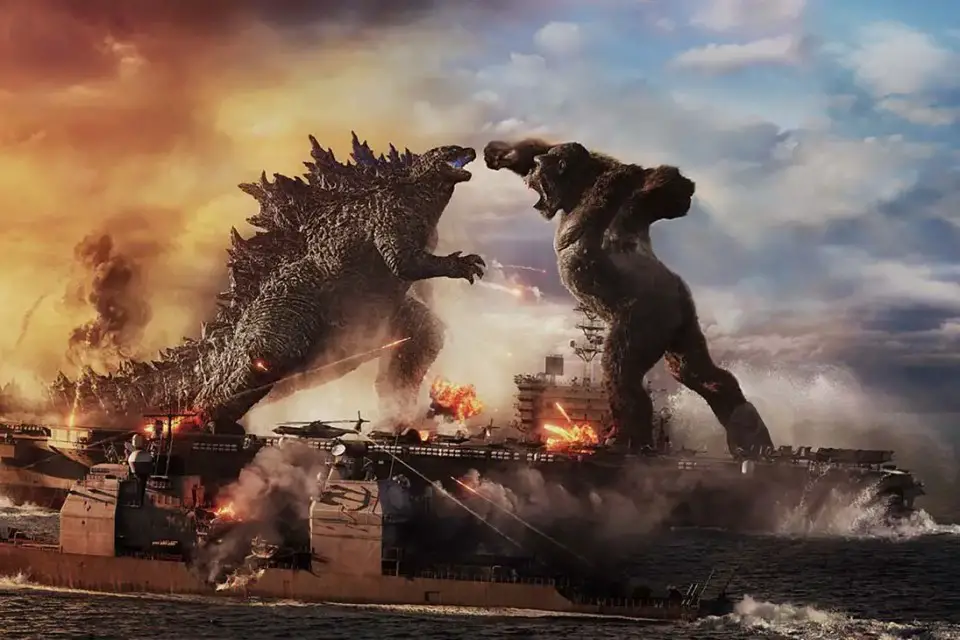 As a critic, I often have reviews I wish I could go back and rewrite. One such review is my take on Godzilla: King of the Monsters. At the time, I praised its visuals while thrashing its human characters as one-dimensional archetypes. But as time goes on, those archetypes have grown on me, and King of the Monsters has come into focus as something of the ultimate modern blockbuster; an audacious flick that brings the monster fights and tells an ambitious story behind it. Godzilla vs Kong features no such ambition.
Director Adam Wingard became somewhat of a darling in the horror scene with his films You're Next and The Guest. However, following those films he starting tackling projects exclusively based on known IP. Blair Witch and Death Note received mixed responses, but at least retained a bit of Wingard's signature style. For Godzilla vs Kong, he's exclusively in director for hire mode, which isn't entirely a bad thing.
Wingard, and Godzilla vs Kong as a whole, knows how to stage a competent fight. That's what the majority of the audience is here for, after all. When the two titans go head-to-head, it's fun as hell. The measured, opposable thumb stylings of Kong versus the ancient atomic rage of Godzilla make for the kind of fights you want to see on the big screen. Backed by a Tom Holkenborg score ('nuff said) and shot beautifully by Ben Seresin, in these moments Godzilla vs Kong delivers what the title promised.

The thing is that those fights a very small fraction of what Godzilla vs Kong actually is. At its core, Wingard's film is a shlocky science fiction film more interested in exploring the concept of a "Hollow Earth" than it is in the kaiju at the heart of it. Eric Pearson and Max Borenstein's script plays more like Independence Day or Stargate than it does anything to come out of Toho. I love big, crazy sci-fi ideas, and Godzilla vs Kong has them in spades. Yet it does so at the expense of the titular components.
Kong is the monster protagonist of Godzilla vs Kong. A fine idea, one supposes, since he is the more humanoid of the bunch. Regrettably, the other half of the duo is left completely in the dust. With minimal screen time other than the fights, Godzilla is a one-dimensional villain. Why is he after Kong? We barely get an explanation, and when we do it's not a particularly good one. This is a critical failure of the film, as the investment in the matchup could lead to it landing more. Instead, Kong is used as a component to explore ancient energy sources and other technobabble, with the Godzilla vs. Kong fights there to break things up.
It really is baffling that this is the story they chose to tell, especially when both Kong: Skull Island and Godzilla: King of the Monsters established such rich lore for them to play with. Only the former gets more than a cursory mention because it fuels the bizarre Hollow Earth story that the filmmakers really wanted to tell. And now, we get to the part where we talk about the human characters.

Brian Tyree Henry and Julian Dennison are the only two truly memorable characters here, as a conspiracy theorist and a bumbling young nerd, respectively. Millie Bobby Brown gets a ton of screentime with minimal impact and the rest of the supporting cast, including the returning Kyle Chandler and newcomer Rebecca Hall, are non-entities throughout. Alexander Skarsgard, who I'm pretty sure is supposed to be the human protagonist, has nary a distinguishing quality to him.
What Godzilla vs Kong reeks of is obligation. It's the type of movie that had to happen within the Monsterverse at some point, but the creatives behind this didn't have their hearts in that so used the project as their own odd sci-fi pet project. Hence why when the two do fight, it just kind of happens. Still, I can't lie to myself or the readers: I did have fun watching Godzilla vs. Kong. It's loud and dumb, but it's a diverting blockbuster all the same. Although I hold out hope for a Monsterverse film with the same ambition as King of the Monsters, this movie gives audiences a giant lizard and ape fighting. Maybe that's what we need right now. – James Preston Poole
Rating: 5/10
Godzilla vs. Kong is now in theaters and streaming on HBO Max.
---
Trending Now