'Servant' Season 2 Episode 6 Recap/Review: "Espresso"
Posted On February 20, 2021
---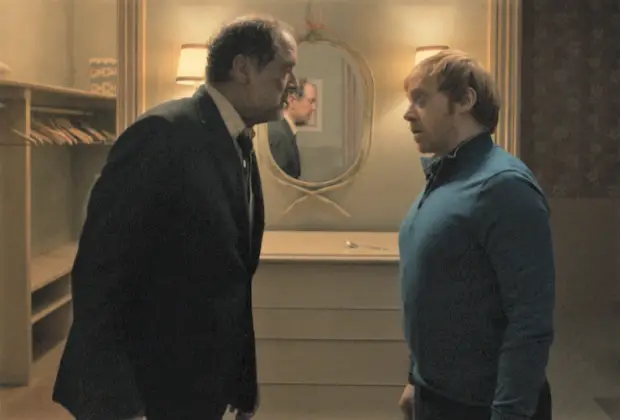 This article will contain full spoilers for Servant Season 2, Episode 6. Click here for our coverage of the previous episode.
Last week's Servant ended by taking a bold step into the supernatural and revealing Leanne's powers. Such a revelation made for an enthralling episode, but following up on it is critical. In other words, the Servant jet ski lies in wait to jump the shark. Oh, how wrong I was. Season 2 Episode 6, "Espresso" gives us answers (or does it?), firmly cementing where the series goes from here and making its best episode yet in the process.
I've said that twice before this season, and I stand by those assessments. But "Espresso" has the goods. New-to-the-series director Isabella Eklöf comes with a pedigree to envy. One of the writers of the critically acclaimed Border and director of the similarly praised Holiday, her directorial work here is one of many stars of the show. At the outset, the mood is simply epic. Sporadic lightning flashes pierce the usually dim lighting of Servant as the Turners stand face-to-face with Uncle George (Boris McIver). He's a figure that radiates the same kind of mysterious energy as Leanne, only with a hint of righteous malice.
He demands to see Leanne. The Turners, naturally, are standing in his way. The tough guy posturing from Julian (Rupert Grint) and verbal assault from Dorothy (Lauren Ambrose) aren't enough. This man is seemingly a force of nature. So, it's up to Sean (Toby Kebbell) to talk to George one-on-one. Then comes a scene. A scene that potentially lays bare what's going on at the heart of Servant. The conversation.
This conversation features the greatest acting in this series yet. McIver carries his role with gravitas and Kebbell plays it as if he's in the presence of a divine being. In this conversation, George promises to heal Sean – whose hands are still suffering – if he is to set Leanne back at the Marino household. The typical sort of mystical teasing that the show is known for. Until, that is, Sean asks point-blank what the deal is with George and Leanne. George reveals that he, Leanne, and the entire cult were given a second chance at life by God, who visit households in order to help families. What does this mean? Are they angels? Simply reborn people with divine powers?
The dots start connecting whenever George explains that Leanne crossed the line by bringing Jericho back, indicating that the Jericho that replaced the doll was not, in fact, a stolen baby, but the real Jericho, brought back from the Heavens. George claims that Leanne is rogue, however, and cannot control her powers. And if she is returned to where she needs to be, Sean and Dorothy will be forgiven. But for what? Well, at the beginning of the episode, we see a flashback where Jericho is only a few months old. Sean gets his espresso machine that we've seen in the prior episodes, as Dorothy, clearly overworked, coddles him, feigning being impressed with the machine.

A later flashback shows Sean accepting a phone call for a cooking competition show. He declines because he cannot be away from the baby and Dorothy. Clearly, something happens in the interim. This entire conversation sequence, and the interspliced flashback, raise the stakes sky high, and seemingly connect the dots. After all, they did find Leanne's gravesite in the earlier season. And she reverted Jericho back to a doll out of spite. Sean's reaction when he walks out of the room, with Dorothy and Julian's prying eyes, is, for lack of a better word, freakin' hilarious. He acts like nothing serious happened, shrugging it off almost immediately.
Dorothy follows George down to the basement, where he finds the hole they attempted to bury Leanne in, and reacts with disgust. She tries to give him the money, telling him to give it to charity, but he dumps it in the hole, saying that they need forgiveness. Meanwhile, Sean confronts Leanne. Leanne tells him George is lying, and begs him to help her escape. It's hard to know who to believe. George and Leanne are inherently untrustworthy, but part of me wants to believe Leanne is out of her depth in her work as a "reborn" person and merely wants to run away from it.
Sean promises Leanne he will help her escape. She tells him he's lying. This stops Sean in his tracks. It flashes back to him, trying to stay away from Dorothy and the crying baby, calling back the TV producers. He tells them "something opened up" and he can fly from Philly to LA to be the head judge. This sets off the chain of events that lead to Dorothy leaving Jericho in the car to die. Sean feels guilt. He's been lying to himself about his part in Jericho's death. Realizing this, he promises Leanne, sincerely this time. The character of Sean has undergone tremendous growth this season, and this full acceptance of what he has done, as well as his burgeoning friendship with Leanne, marks a full metamorphosis.
But wait, there's more! Just as they are about to make a break for it, the news reports on a deadly shooting: at the Marino household, where Leanne used to work. The air is sucked out of the room at the realization that Leanne was likely supposed to be the target. Maybe that's why George wanted her there. Fade to black.
Combining the directing talents of Eklöf with the writing of series creator Tony Basgallop and longtime writer Nina Braddock, Servant has reached a climax for its past season and a half. All of the threads have come together with the exposure of a mythology that could very well tie everything together. That is, if you choose to believe George. What I never believed is that Servant could continue to raise the bar of quality it consistently sets for itself. Well, I'm born again. Call me a believer. –James Preston Poole
Episode Rating: 10/10
Season Rating: 9/10
Servant is available to stream on Apple TV+.
---
Trending Now