'Nomadland' Review: "Aimless Yet Deeply Intimate"
Posted On February 20, 2021
---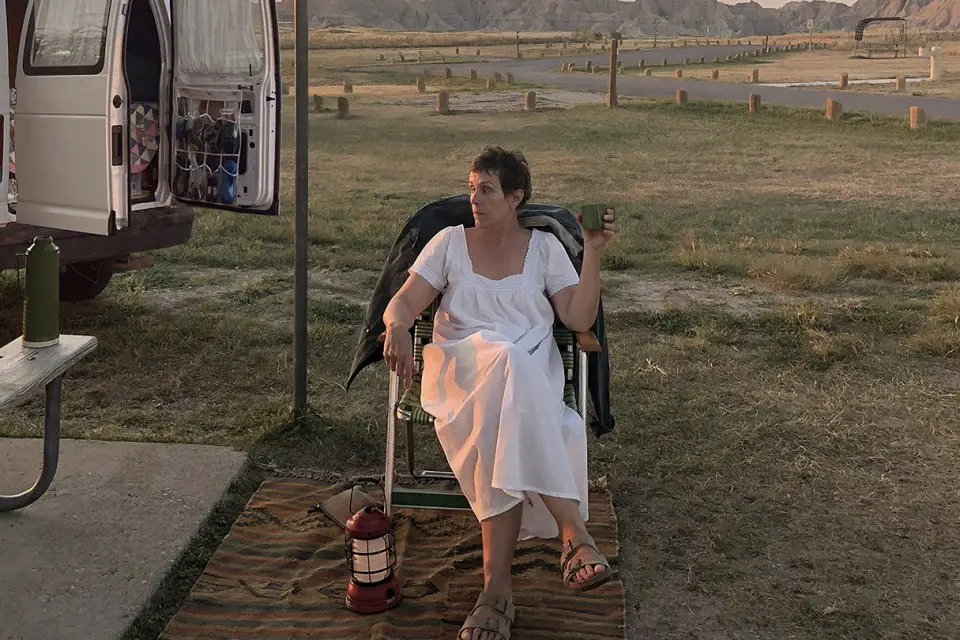 To anyone who took at least one theater class in their life, the phrase "acting is reacting" should ring a bell. What makes this expression so iconic is how succinctly it argues for a performance to be part of a conversation and not a standalone piece. If a piece of acting responds to something in the surroundings, it allows the character to feel genuine. Meanwhile, if a performance is only in service of itself, it comes off as a mindless exercise above all else. So going into Nomadland, I really hoped it wasn't going to be a feature-length example of the latter. And with a high-caliber actor like Frances McDormand, it's easy to imagine a movie that only had Capital-A Acting™ going for it. Thankfully, we have a film that surrounds its central performance with quite a few interesting bits.
Given its non-fiction roots, it's no surprise that many of its intriguing details come from reality. Like Jessica Bruder's book of the same name, the movie focuses on people that adapted to a unique lifestyle following the Great Recession of 2008. For most people, having a low-cost job and living in a van would be a tough ask. For these self-proclaimed "nomads", they are not only capable of living like this, but they also take joy in doing it. Bruder's book stood out by showing the different walks of life of its subjects, and writer/director Chloé Zhao achieves the same thing here. In fact, both give a spotlight to general contractor Linda May, who chose to live as a nomad as a way to keep her spirits high.

But for all the reality Nomadland presents, it notably centers its story on a fictional character. And with a character like Fern (McDormand), that's only a portion of what makes her an engaging figure. Sure, she is in a position where she can take on a seasonal job at an Amazon fulfillment center. But unlike most nomads, she took on the lifestyle after losing her job in 2011 due to a plant shutdown in Empire, Nevada. As a result, we have a protagonist that appears to be an insider but feels like an outsider. It's only when she goes on a journey across America that she gets a complete taste of the nomad culture. Among other things, this includes Fern crossing paths with Bob Wells, a van dweller who documents his experiences on YouTube.
Speaking of which, Nomadland shines brightest whenever Fern interacts with the various nomads. Since Zhao casts the real-life nomads as supporting characters, almost everyone bursts with personality. Although none of them are in the movie for long, we learn enough about them to become fully invested. Even fictional characters like Dave (David Strathairn), who starts to fixate on Fern as they keep crossing paths, make an impression. But undoubtedly the clearest example of its strong character building is its portrayal of Linda May. In a key emotional moment, Fern finds out that she is more than the incredibly kind person she appears to be. Specifically, she is a kind soul who managed to pick herself up from a dire scenario.

Of course, the moments between Fern and the other nomads make an impression for reasons outside of the supporting players. Chief among them is McDormand herself, who makes the concept of stillness into her mission. In the hands of an incapable actor, subtle reactions would result in someone being detached from the moment. But with McDormand's weathered face, one can feel the heavy emotions behind her quiet facade. In the scene where Linda May tells Fern about the time she contemplated suicide, all Fern does is remain speechless. Quite possibly the most visible elements are the folding wrinkles near her eyes. Similarly, a scene where Dave accidentally breaks Fern's special plate leaves her in a state of shock. However, instead of going on a lengthy outburst, she simply gives him a swift command to leave.
The other unique element of Nomadland is how it walks the fine line between a narrative feature and a documentary. It's not enough that it casts a lot of real-life people to play themselves. It goes the extra mile by applying a naturalistic approach to the visual aesthetic. Cinematographer Joshua James Richards relies on natural lighting to convey a scene's appearance, and this results in earthy colors that don't call attention to themselves. In addition to that, we have a constant reliance on handheld camerawork, which gives the audience a chance to feel like they are with the characters. For the finishing touch, Zhao edits the film to where it feels like a grab bag of moments, not unlike a highlights section in a documentary.

This movie has more things to like than to dislike, which should be enough to win over most people. However, I would be lying if I said the weaker elements didn't cause major distractions. The 107-minute runtime may not seem troublesome at first. That said, it quickly runs out of ideas during the last thirty minutes. To Zhao's credit, the later sections give us a taste of Fern's strained relationship with her family. Still, a few minutes of that pale in comparison to the figurative (and literal) ambling that serves as the film's final stretch. Because of this, the early sections feel like a strong build-up for what amounts to very little.
I never thought the act of listening would make for such an engaging spectacle. But thanks to the presence of real-life nomads and McDormand's contemplative expressions, Nomadland manages to bring that into fruition. Furthermore, Zhao's interest in obscure groups of people is enough to create a distinct vision among her peers. With a more resolute ending, this film could have been something truly special. As it stands, it's a striking example of aimless cinema that's almost great. And if there's anything that frustrates me to no end, it's preceding the word "great" with "almost". – Mark Tan
Rating: 7/10
Nomadland is available in theaters and on Hulu.
The film stars Frances McDormand, David Strathairn, Linda May, Swankie, Bob Wells, Gay DeForest, and Patricia Grier.
---
Trending Now