Sundance 2021: 'Together Together' Movie Review
Posted On January 31, 2021
---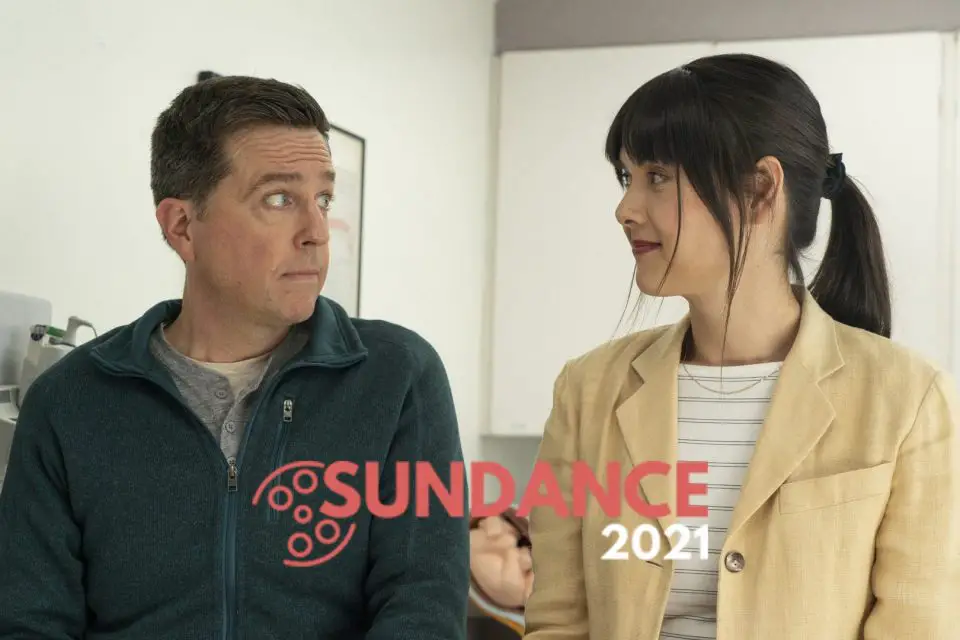 It's always a pleasure to see someone subvert the tropes of a romantic film. Too often, you end up with projects that charm only because of the star power. But with Together Together, I'm happy to say we have another movie that shakes up the genre. The film tells the story of Anna (Patti Harrison), a 26-year-old who chooses to be a gestational surrogate to a single, middle-aged app designer named Matt (Ed Helms). Over time, the two slowly come together to form an intimate friendship. However, this paints a portrait of a kind of love different from what you may expect.
Anna and Matt are the driving force of the movie. As Together Together is very much a self-contained movie, it spends its entirety with these two characters. This means that everything hinges on the performances of these two actors. Thankfully, the two leads more than rise to the challenge. Helms as Matt comes across as someone who genuinely cares. His overbearing presence alongside Harrison's Anna makes for a great dynamic.
While Anna is more restrained, Harrison's subtle performance works to great comedic effect. For instance, Matt randomly arrives at her place of employment to give her better shoes to wear for her pregnancy. Completely unannounced and unexpected, Anna's calm yet hilarious reaction makes for great comedic story beats. Overall, most of the film follows along that same path. Gradually, Anna grows closer to Matt and begins to accept him into her life.

In doing this, Together Together explores interesting character dynamics. Anna is simply a surrogate, meaning the egg isn't hers and the sperm, being Matt's, is the only real connection she has to it. The baby that grows inside of her is Matt's, which leads to his growing closer to her. The film explores not a romantic type of love, but a different intimate relationship that would blossom from a circumstance like this. The way the film presents this type of unconventional love is beautiful. It's refreshing to be able to see intimacy that has no connection with archetypal boundaries.
Both Matt and Anna recognize their growing love for each other. But it isn't a physical or romantic type. It's a deep appreciation for what one is doing for the other. Matt gets the family he always wanted, and Anna finds companionship and comfort in Matt. The way their dreams go in tangent with what they are doing for each other is beautiful.

READ: Sundance 2021: 'A Glitch in the Matrix' Movie Review
A large part of this is thanks to Nikole Beckwith's razor-sharp direction. Beckwith knows what she wants to do with the story and its characters, and executes it beautifully. Her sharp and witty script comes to life with the performances she gets from her actors. The small scale of this film and how contained it is to these two people benefit it greatly. There are some pacing issues here and there, and some attempts at heavy-handed drama just for the illusion of story. Other than that, the narrative is rock solid.
The film finds humor in their special situation as well. Specifically, it mines jokes out of Matt's constant insistence on overdoing everything. Whenever Matt and Anna are together, people make assumptions about their relationship. This provides funny social commentary on relationship stigmas while developing the characters. Overall, Together Together strikes a great balance of comedy and drama that depicts surrogacy with a warmth I have not seen before. – Ernesto Valenzuela
Rating: 9/10
Together Together is now playing in theaters. For more Sundance 2021 coverage, keep an eye on our Twitter page and this site!
---
Trending Now