Sundance 2021: 'Censor' Movie Review
Posted On January 29, 2021
---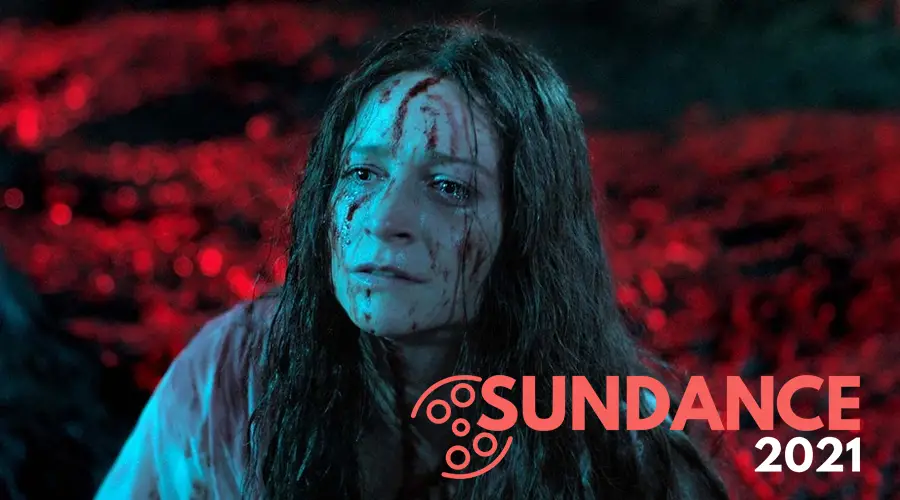 Sundance Film Festival 2021 is in full swing, and opening night provided two stellar films. The first CODA, and the second, a midnight premiere in the form of Censor, the latest directorial effort from Prano Bailey-Bond. Taking place during the 1980s, the film shows a time where 'video nasties' were the underground rage. Secret banned films. Gory B-movies in desperate need of 'censoring' for the sake of the youth. It's here that we find our protagonist, Enid. A film censor incredibly dedicated to her craft, Enid sees herself as protecting people. Whether it be from the certain influence of unnecessarily violent images, or something else obscene. She scours film after film, meticulously note-taking and cutting.
However, things take a turn in Enid's personal life when her parents deliver her grim news. Her sister, missing since she disappeared in their youth, has finally been declared dead by her parents. Shaken by this news and a film she is reviewing that is eerily reminiscent of the traumatic experience in which her declared dead younger sister went missing, Enid seeks answers. Such is the premise of Censor. 
Director Prano Bailey-Bond goes all in for the aesthetic in this film. From the way it is shot to certain musical cues, the film is a creative homage to the 1980s horror the director is putting her focus on in the film. Centering on a time when governments and society were concerned about what was put on film, Bailey-Bond successfully blends the topic and her story together. This is in no small part thanks to the film's lead, Niamh Algar. What starts off as a subtle and held-back performance turns into one of crazed hysteria as cracks begin to form in her fractured composure.

Moreover, the production design is impeccable. Thanks to fantastic retro lightings of backdrops, almost claustrophobic-like sets, Coda never fails to make one uncomfortable. There is also some truly fantastic editing to go along with those visuals. The more Enid grows paranoid and suspicious of the events surrounding her, the more frantic the editing becomes. A television set playing static transitions and fades out to Enid on her commute. You begin to wonder what is real and what isn't as the films Enid watches for her job slowly begin to blend with her life. Moreover, the change in aspect ratio towards the end is one of the more unsettling parts of the third act. Add to being shot on Kodak film, Censor absolutely nails its aesthetic.
However, the film adds some aspects to its story that either doesn't flow with the overarching story or comes across as pure shock value. Plot elements introduced at the beginning of the film didn't end up coming back. Overall, those plot points end up being meaningless to the story. Other than that, Censor manages to have you questioning what is real and what isn't by the end.

While it starts off as a more by-the-books horror, the third act changes. It drifts into the much more high concept and surreal territory. Enid's investigation into her suspicions delves into the unnatural. Censor ends up fully embracing the styles of 'video nasties' it set to explore the themes and consequences of. This choice for a third act conclusion is a bold one. It doesn't seek to really answer the questions it set up at the beginning. This isn't necessarily a bad thing, however, it ends up being a very jarring experience overall.
Still though, Censor, despite its narrative inconsistencies, manages to be an enthralling film. One with a fantastic lead performance. Moreover, the incredible attention to detail of the 1980s time period elevates the film to greater heights. Censor is a creative cinematic experience that is an awesome homage to horrors that came before with some interesting commentary on censorship. – Ernesto Valenzuela
Grade – 8/10
Censor is still pending a wide release date. For continued Sundance 2021 Coverage keep an eye on our Twitter page and this site!
---
Trending Now