'Palmer' Review: "A Southern-Fried Tearjerker"
Posted On January 27, 2021
---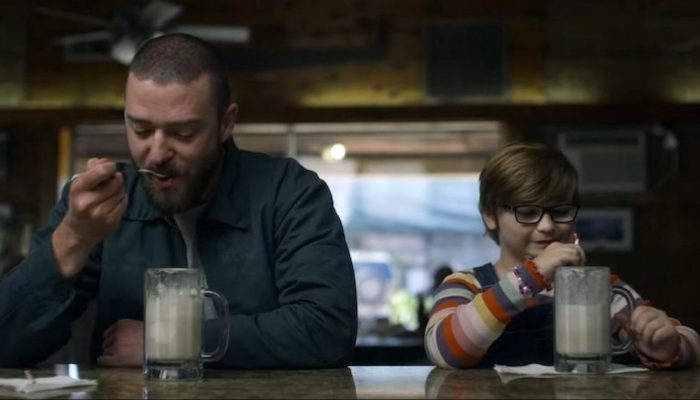 Dramas like Palmer are a dime a dozen. A troubled man takes an idiosyncratic child under their wing. They bond. Difficulties arise. Audiences cry. These kind of flicks prey on the emotions of the audiences, giving them a good weep before sending them on their way. But Palmer rises above the rest.
It's tough to exactly articulate why in brief Palmer works better than other films of the same ilk. Perhaps it has something to do with its sense of authenticity. As Eddie Palmer (Justin Timberlake), former high school football star, arrives back in his small town after a stint in jail for an as-of-yet unrevealed crime, he's not some powder keg waiting to go off, nor is he a sad sack. Moving in with his grandmother Vivian (June Squibb), Palmer spends his days looking for a job rather than the typical "falling back into his old habits" storyline these movies tend to throw characters into.
Actor-turned-filmmaker Fisher Stevens, best known for Oscar-winning documentary The Cove, tells this story for what is. Unsurprising remnants from his documentary work shine through in the form of Tobias A. Schliessler's handled camerawork and a minimalist guitar-based score from Tamar-kali. Considerable credit must be given to screenwriter Cheryl Guierrero, whose script retains its oath to truth throughout. Palmer realizes that following the titular character's routine- driving around looking for jobs, getting rejected, going out for a drink with old friends, waking up for the church the next morning- is more interesting than putting him through the wringer for the sake of drama.

Where Palmer threatens to stumble into the pitfalls of convention lies in its central relationship. Due to some unfortunate circumstances, Palmer winds up having to take care of neighbor child Sam (Ryder Allen). You can guess what happens next. They butt heads, learn to love each other, etc etc. However, it's not so simple in Palmer. In a sense, Palmer and Sam are kindred spirits; outsiders of sorts. Palmer, obviously, has to deal with the judgement of being an ex-con. His actions repeatedly show him to be, although not exceptional, a good citizen who at the very least tries. Sam has to deal with a different kind of judgement.
Simply put, Sam is a gender non-comforming child. He is not explicitly non-binary, but he's interested in traditionally "girly" things, reflected in his wardrobe and affinity for fairies and the like. He faces bullying from other children at many turns. Not from Palmer. Palmer accepts who he is immediately, just as he accepts Palmer for who he is. They see each other as human beings, with beautiful souls. It's a schmaltzy sentiment, but it's coming from a very genuine place that still rings true.
There's a certain value in seeing positive human connection on screen reflected in a true way. Ryder Allen's film debut as Sam shines as a reflection of what children actually are. He holds his hurt in quietly, and through his innocence drops little nuggets of wisdom, and experiences joy in being himself. Now Palmer, on the other hand, might be the crowning jewel in Justin Timberlake's acting career. Soulful is the word that most comes to mind to describe Timberlake's creation here- a man who puts on a brave face despite his emotions weighing heavy on him. His interactions with teacher Maggie (Alisha Wainwright) portray that softer side that we're not used to seeing out of JT.

As dramas tend to do, Palmer eventually has to separate Sam and its title character. And when it does, it's in with a certain objective lens. The forces that tear them apart make sense. A parent coming back (Juno Temple in a showy turn) and the legal limitations of Palmer's ex-con status prevent Palmer's guardianship. As he tries to get Sam back, I found myself weeping. Not because the movie callously pulled on my heartstrings. Because the movie spent so much time laying the foundation for a beautiful connection, and it tore me apart to see that taken away, no matter the outcome.
That's powerful. Palmer isn't a movie to watch if you're looking for something groundbreaking. It's something to watch if you like human stories and want to experience a unique human connection. Dramas like Palmer may be a dime a dozen, but Palmer stands out from the rest. –James Preston Poole
Rating: 9/10
Palmer streams exclusively on Apple TV+ starting this Friday.
---
Trending Now