'Malcolm & Marie' Review: "A Cinematic Lovers' Quarrel"
Posted On January 25, 2021
---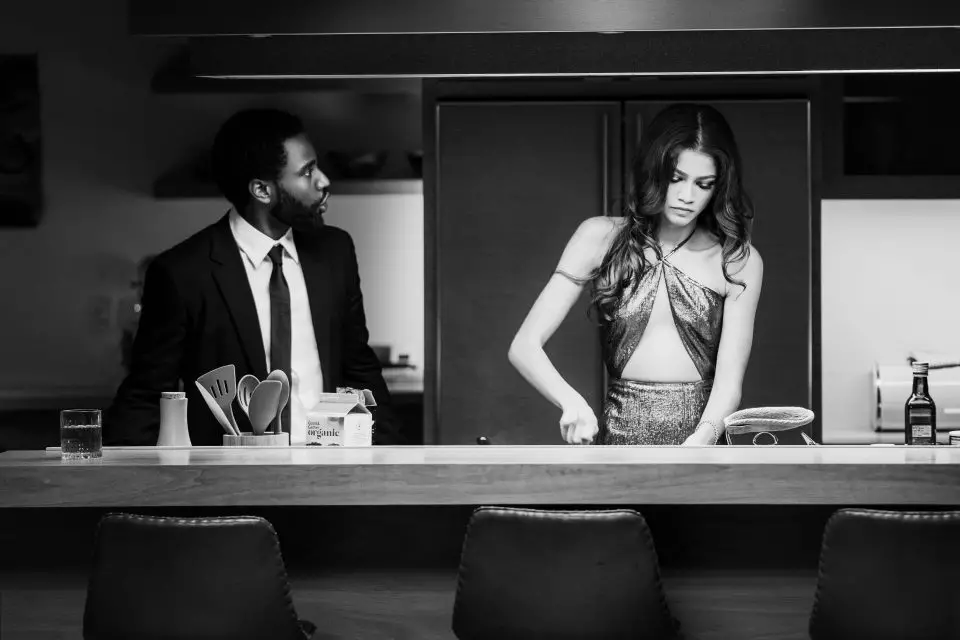 Netflix has been no stranger to the black-and-white aesthetic during this most recent awards season with the likes of Radha Blank's Forty-Year-Old Version and David Fincher's Mank under its wing. However, Malcolm & Marie manages to hold its own and come out swinging. The film was written and directed by Sam Levinson who is best known for creating the hit HBO teen drama series Euphoria. It follows a director named Malcolm (John David Washington) and his long-term girlfriend Marie (Zendaya). Throughout the night, they engage in multiple heated discussions due to his failure to thank her during the premiere of his latest film. 
Malcolm & Marie first started generating buzz as it was the first feature-length project to be made during the COVID-19 pandemic. Levinson wrote the script for Zendaya, taking inspiration from his own experiences as he failed to thank this wife Ashley Levinson during the premiere of Assassination Nation back in 2018. He has also admitted to drawing from his own experience with addiction for Marie's past. Despite Zendaya not gaining a writing credit, Levinson has made it known that the actress had been an important part of the process. It can be assumed that she had a say in numerous moments of the film due to the evident influence of a female touch, which is something Levinson has been criticized for lacking in the past.

Malcolm & Marie discusses many topics, but the most prevalent are those of race, loyalty, authenticity, and privilege. There is in fact a certain privilege that comes with telling this kind of story. Not because of the narrative or the premise but because of the production itself. It was made during a period in time where filmmaking is at its most difficult to conceive. However, Sam Levinson self-funded the film with the help of his wife, Zendaya, and John David Washington. In addition, this involvement earned both actors a producing credit in the film and most likely a few creative liberties. This is not something that just anyone has access to which is a detail that Marie criticizes Malcolm for. Not just anyone can reach the success he's striving for within the film. 
Looking beyond the critiques of the industry, art, and critics themselves, the film is very much a lovers' quarrel. It is told through what feels like a boxing match with various rounds that are passive-aggressive in nature. Every scene feels entirely new with a different rendition of the characters. There is a clear evolution from beginning to end seen through costume and scenery changes and methods of attack. 
In essence, Malcolm is a clear villain from the beginning. Not only does Malcolm forget to thank Marie, but the film slowly reveals that she was most likely the key inspiration for his latest project. Nevertheless, the audience is given opportunities to sympathize and question whether this is true. They also have the opportunity to wonder whether Malcolm is in fact a villain, or if he's simply another victim of his own narcissistic nature. Despite what the visual style of this film would want you to believe, it's not all black and white. There is a lot that remains morally grey. 

This questioning of morality was able to showcase the range and talent of both actors. John David Washington is dazzling as Malcolm despite a few moments where his acting feels more commedia dell'arte in fashion. Zendaya as Marie is timelessly enchanting and equally haunting, owning every moment she finds herself in. She takes up space without meaning to. The camera naturally draws itself to her magnetism. Simply stated, they work wonders together, but without Zendaya, the film would not have reached its full potential. 
Ultimately, this will not be for everybody. It is very niche, focusing a lot on what it means to not only be a filmmaker but what it means to be an artist—specifically an artist of color. The fights are accurate to toxic relationships. They feed off of the need to be right and have the upper hand over the other. Yet, the cinematography is able to soothe the eyes and the mind with spellbinding visuals and captivating imagery. You almost forget you're witnessing the collapse of what once might have been a great love. – Josie Meléndez
Rating: 8.5/10
Malcolm & Marie will have a limited run in theaters starting January 29, 2021, and a digital premiere on Netflix on February 5, 2021.
---
Trending Now