'Pieces of a Woman' Review: "Fragmented To A Fault"
Posted On January 8, 2021
---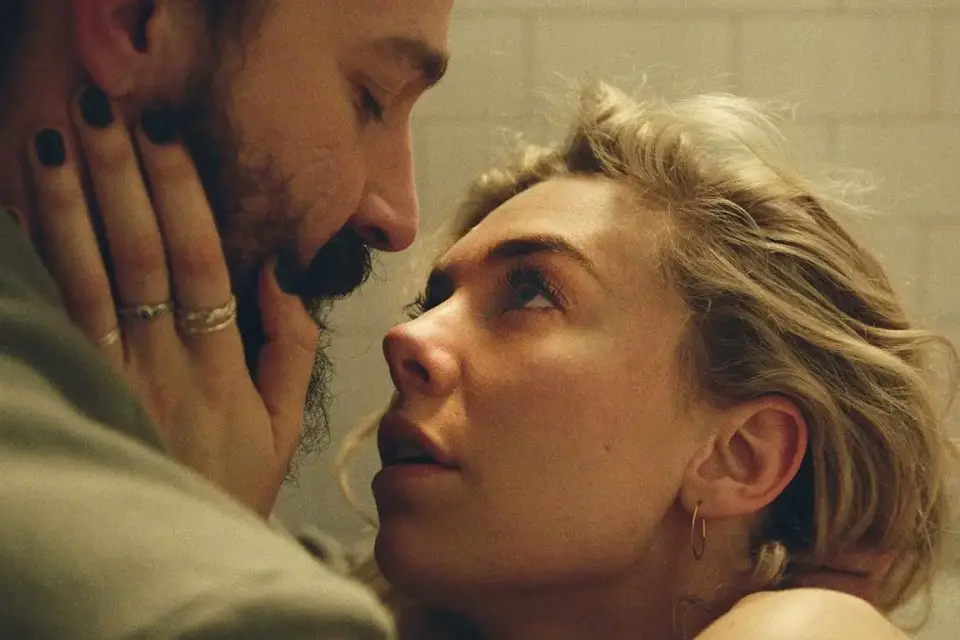 I can't help but admire a movie whose title conveys the experience that lies within. When a title accurately describes the film surrounding it, the chances of it disappointing the audience are often low. Even when the final product might alienate certain viewers, it has the benefit of knowing what it wants to be. So when it comes to Pieces of a Woman, I have to respect it for outright stating how fragmented it is. Besides, it's a tale about the aftermath of an unfortunate home birth, which is ripe for emotional disarray. Not to mention, the inspiration for the story comes from writer Kata Wéber's own experience with a failed pregnancy.
With all that in mind, it makes sense for the film to go in various narrative directions. This is not just about a woman named Martha (Vanessa Kirby) coping with the loss of her child in her own way. In addition to her internal struggle, it also focuses on her partner Sean (Shia LaBeouf) and her family as they seek to honor the child's passing in ways that clash with her own. While Martha is content with donating it for research purposes, everyone else seeks to give it a proper burial. In fact, her mother Elizabeth (Ellen Burstyn) is so adamant about burying the child that she gets Sean to coordinate things behind her back. On top of that, it briefly goes into the legal battle between Martha and Eve Woodward (Molly Parker), the midwife that brought her baby into the world.

That said, I do wonder if Wéber commits too much to the busy nature of the situation. Having multiple subplots that focus on different characters is one thing, and it certainly captures the chaos that a failed pregnancy would bring. However, this is where the filmmakers put far more effort into the number of ideas than the quality of them. The legal battles, in particular, end up as irrelevant to Martha's character arc, as she realizes much earlier that no amount of money can fill the gap her child left behind. As a result, the final act functions more like a heavy-handed message piece than a proper conclusion for the protagonist. And while the earlier portions are more essential, we still have to deal with speeches that come straight out of a soap opera.
For whatever reason, the filmmakers also cannot get enough of fruit-bearing metaphors. Early in Pieces of a Woman, we see Martha munching on an apple and taking out a seed from her mouth. This eventually leads to her keeping a few seeds in her refrigerator so that apples can grow out of them. Given the raw approach of everything surrounding it, it's strange that Wéber felt the need to have symbolic imagery that evokes the film's themes. At no point in the main storyline did I get the idea this was Martha's last chance to have a child. Because of that, the apple/seed imagery is mostly there to make the movie seem more complex than it really is.

This leaves us with a movie that constantly takes half-measures with its potentially compelling drama. Still, it's an upgrade over every scene with Sean and his toxic self. To the film's credit, it seems to know that he's a simplistic and minor character. How else do you explain his absence in the final thirty minutes? But that doesn't take away from how unnecessarily unpleasant he is whenever the film does give him screentime. There's one scene where he gropes Martha out of nowhere, and it does absolutely nothing but pad out the runtime. (On a side note, I would feel this way even if LaBeouf's abusive history wasn't on my mind. Nevertheless, the idea that he might have used his past to fuel his performance makes my skin crawl.)
It's not only in the writing that Pieces of a Woman proves itself as frustrating. Director Kornél Mundruczó's biggest trick comes in the form of lengthy close-ups, and this both helps and harms the film. At its best, lengthy close-ups are exactly what a moment needs to feel intimate and intense. Many have pointed to the terrific birthing scene as a prime example of this, and it's easy to see why. On top of it lasting over fifteen minutes without obvious edits, the camera unsteadily moves with the characters in distress. At its worst, it's just an excuse to indulge in big, showy performances. In the scene where Elizabeth lectures Martha about her past, Mundruczó shoots it as a stationary close-up and nothing else. So instead of it being a listening moment for Martha, it's a moment for Burstyn to chew on a flowery monologue.

Of all the cast members, only Kirby manages to muscle through the hit-and-miss filmmaking choices. Plenty of projects showcase her bringing a lot of life to thin material, and this is no different. With the character of Martha, there are a lot of chances for Kirby to bottle up emotions that slowly crack over time. Whether that involves rushed walking or holding back tears, she slides into the role with full commitment. And unlike Burstyn, her most engaging moments involve body language as opposed to the verbal kind. I genuinely didn't expect the most moving scenes to involve tears hanging off her upper lip while in silence. But when you have someone as talented as Kirby, those small details get to shine.
I don't want to give the idea that Pieces of a Woman is a project where nothing went right. In fact, I spent the first thirty minutes thinking this was a real gem. Between Kirby's committed work and the tight close-ups, the movie establishes itself as the kind of realist drama that I tend to love. And even at its most bloated, it feels like the work of people who really believed in their vision. I can easily imagine someone gravitating towards this because of what it has on its mind. It's just a shame that as of right now, I'm far away from being that "someone". – Mark Tan
Rating: 5/10
Pieces of a Woman is now streaming on Netflix.
The film stars Vanessa Kirby, Shia LaBeouf, Ellen Burstyn, Molly Parker, and Sarah Snook.
---
Trending Now