'One Night in Miami' Review: "Too Real To Be Discarded As Imagination"
Posted On January 2, 2021
---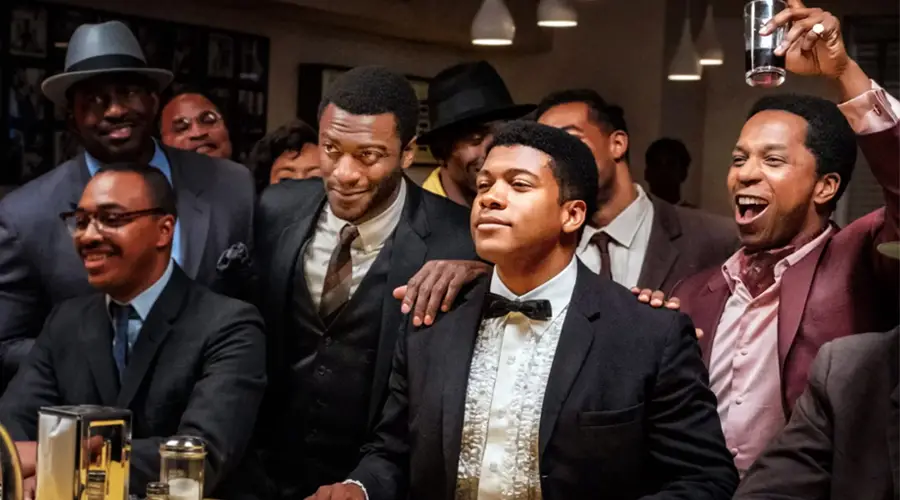 Whenever a film featuring real-life characters delves into fictional territory, the pressure becomes high to deliver a story that feels true to those personas. One Night in Miami takes that idea to the extreme: the film groups together four icons for a night that did not actually happen, but totally feels like it did.
The film takes place in 1964 and follows a young Cassius Clay (before he became Muhammad Ali), Jim Brown, Sam Cooke, and Malcolm X as they meet for a celebratory night. However, as one could imagine, it gets much more complicated as they end up having poignant discussions about their roles in the civil rights movement, in a hotel room, no less. Each individual not only carries their own unique and iconic personalities with them but also a specific perspective of what it means to be a successful black man during a time rife with cultural upheaval. Based on a stage play of the same name, the story firmly rides on the performances of its lead actors, however, thanks to strong direction by Regina King behind the camera, One Night in Miami is able to go above and beyond in adapting it for a cinematic experience.
King puts together a squad of performers, ranging from well-known to up-and-coming names, that put it all on the line and disappear in their roles. Kingsley Ben-Adir probably has the toughest shoes to fill in as Malcolm X but pulls it off with confidence and nuance. As an orator, Malcolm is about as good as it gets, and Ben-Adir is successful in maintaining an impactful screen presence throughout the film. Eli Goree, recently known for his supporting role in the CW series Riverdale, could've easily fallen into a corny impersonation of Ali's iconic animated personality. However, he commands the role with ease and never feels disingenuine, while also having a lot of fun in the process. His relationship with Malcolm is especially vital when the film focuses on Clay's path to becoming Muslim.
Although Amazon is recognizing Aldis Hodge and Leslie Odom Jr. as supporting actors, both provide brilliant performances that are just as impressive as those lead roles. Hodge plays legendary athlete and football player Jim Brown, providing some of the film's most impactful scenes as a national star that despite his enormous success, didn't receive the respect he deserved. He provides an important perspective of the problems laid out and discussed by the icons, ones that inform his decision to move from sports into acting.
Leslie Odom Jr., who has already had an exceptional year with Hamilton on Disney Plus, shines bright in Miami and puts all of his talents on display as the King of Soul, Sam Cooke. The main conflicts of the film derive from Cooke and Malcolm's philosophical differences, specifically, their roles in progressing the interests of black people in America. And that's where the film is at its greatest; watching all of these iconic figures clash ideologically never ceased to catch every bit of my attention.
Oscar-winning actress Regina King makes her directorial debut in great fashion, converting an acclaimed stageplay into a fully-realized cinematic experience that takes advantage of the narrative format. King is especially triumphant in creating sequences that creatively utilizes the limited space a hotel provides. She carefully does not let the camera linger long enough to make audiences tired of that setting and isn't afraid to occasionally cut to a flashback when a character tells a story.
Kemp Powers' screenplay is able to capture the dialogue-heavy nature of a stage play while never feeling confined to the limits of a hotel room. Every monologue feels earned and purposeful, consistently adding to the themes of the film with just enough environmental variety to keep audiences engaged. That being said, the film admittedly feels like a bit too loose in the beginning and doesn't find its rhythm until they arrive at the hotel. Although individually the opening scenes are solid, it takes a bit to find its footing.
With critically-acclaimed projects Borat 2 and Sound of Metal already making noise, it's clear Amazon Studios is determined to remain in the awards conversation throughout this season. One Night in Miami is their ace in the hole, featuring a wide array of star-making performances that rival any of those we've seen thus far from 2020. No matter what happens this season, Miami will surely propel every single talent involved to even greater heights.
One Night in Miami is fictional in the grand scheme of things but coupled with strong direction and a squad of star-making performances, the story feels all too real to be discarded as pure imagination. Every conversation is rich with socially relevant commentary, opening the door for audiences to further digest these discussions long after the film ends. Pacing will vary for some, but once every character joins together in that hotel room, the film reaches a momentum that becomes emotionally and intellectually satisfying.
Rating: 8.5/10
One Night in Miami arrives on Amazon Prime this January 15.
—–
Did you enjoy this article? If so, consider visiting our YouTube channel, where we discuss the latest and greatest in pop culture news.
---
Trending Now