'Archenemy' Review: "A Genre Hybrid That Soars High, But Can't Stick The Landing"
Posted On January 1, 2021
---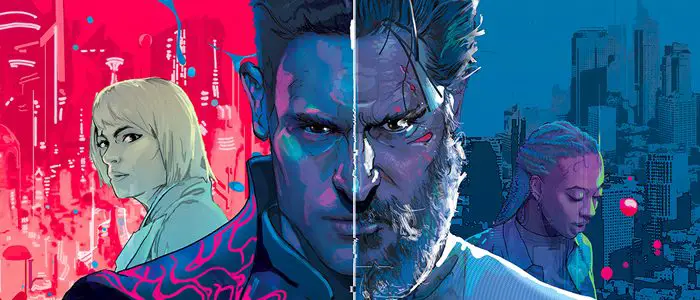 Over the past couple of years, SpectreVision has quietly become one of my favorite studios. While some of their films don't quite hit the mark (see my Color Out of Space review), the great ones are really great. Mandy and A Girl Walks Home Alone At Night are high marks of modern horror for their bold innovation. The latest from SpectreVision, Archenemy, holds up to the house style of surreal genre-bending but falls just shy of greatness.
Written and directed by Adam Egypt Mortimer (Daniel Isn't Real), Archenemy is a superhero movie. By that, it has a superhero in it. Maybe. Its central subject, Max Fist (Joe Manganiello) is a bit of a mystery. A homeless alcoholic, Fist claims to be a superhero from another dimension who lost his powers in the travel. Characters like Fist are tricky to get to work because the film rests on the audience not working whether or not he's telling the truth about his origins. Manganiello walks this fine line carefully by emphasizing the tragedy of someone like Fist who – whether he's actually telling the truth – has seen some serious stuff.

Combined with Mangianello's famous physicality, Fist is a hulking, sad oddity you can't help but look away from. The film's other protagonist, Hamster (Skylan Brooks), a wannabe influencer, certainly can't. Seeing Fist as an opportunity, he documents the antics of Fist. Fist allows him to do so… in exchange for some booze of course. Brooks brings that young and hungry youthful spirit you want out of a character like Hamster. His purpose is his grind, and Max's purpose is to get drunk, but you can see a weird bond forming between them. Mortimer doesn't BS anything in his writing – their burgeoning friendship is natural though still very much transactionary. Their story forms the core of a solid indie dramedy.
Archenemy has another element at play, however. Hamster's sister Indigo (Zolee Griggs) tangles with some very bad people, namely a crime boss known simply as The Manager (Glenn Howerton). The Manager is a wide-eyed ghoul; a drug-addled, theatrical psychopath that almost seems like, wouldn't you know, a comic book villain. After a deeply weird meeting with her contact known as Krieg (a beautifully deranged Paul Scheer), Indigo puts herself and Hamster in danger. This sparks what Max Fist believes to be his past heroic self, giving him a new sense of purpose to protect these siblings.
All the stories melt into one another to form a superhero-crime-horror hybrid that works pretty much perfectly. Halyna Hutchins shoots Archenemy in a grounded manner, which is often interrupted by animated "flashbacks" showing Fist's origin in his home dimension. The worlds of comic books and real-life seem to blend together at this point. Yes, The Manager's goons are extremely cartoony, seemingly paving the way for Max Fist to live out his superhero fantasy (memory?). Yet his protection of the siblings takes on a bitter, disturbing taste during action sequences where he dispatches thugs in increasingly violent ways. Though well-choreographed, these scenes play purely for gasps over titillation. This feeds into the ambiguity as the siblings wonder if this man is merely dangerous and mentally ill.

Archenemy plays in a beautifully uncomfortable sandbox here, one that is as fresh for the genre as something in the vein of Chronicle, Unbreakable, or even Brightburn. Alas, Archenemy chooses not to remain here. A late entrance by a character played by Amy Seimetz unveils the truth of the situation, turning Archenemy into something much, um, different. Not necessarily bad, if a little muddled. The premise of the film changes fundamentally, recontextualizing things in a way that's the old SpectreVision brand of bold.
Here's the thing, though, Archenemy was bold enough. It was already exploring a territory that these sorts of movies never really explore. And while the final act will intrigue many, it fails to meaningfully tie into the rest of the film. Still, the attempt is admirable. You can't look at a film for what it's not, but what it is. And Archenemy at its best soars sky-high, even it can't stick the landing. –James Preston Poole
Rating: 7/10
Archenemy is now available on video on demand.
---
Trending Now