Fantastic Fest Review: 'Color Out of Space' Squanders Its Cosmic Horror Potential
Posted On September 24, 2019
---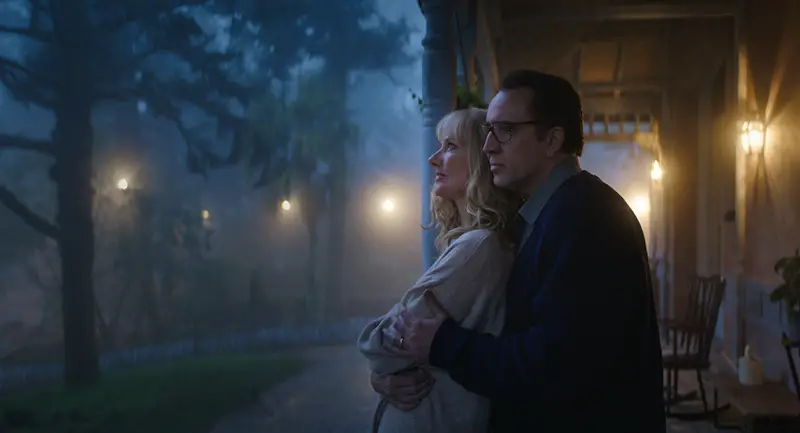 The following article is a part of Full Circle's coverage of Fantastic Fest 2019.
I wanted to love Color Out of Space. It has all the elements for a successful movie. It's the first film from renowned writer-director Richard Stanley in over 20 years, it takes its basis from an H.P. Lovecraft story of the same name, and stars Nicolas Cage. This foundation, unfortunately, is undermined by a weak script, a problematic pace, and not a single complex character to be found.
Color Out of Space begins with red flags abound. Droll narration from a supporting character rattles off some unintelligible pseudo-philosophy that probably worked better on the page than on screen. Things don't exactly pick up at the introduction of the Gardner family, headed by patriarch Nathan (Nicolas Cage), who moves out to an estate in the Massachuttes' countryside.
None of these characters are interesting in the least. They do the bare minimum of slotting into their archetypes: the struggling creative (Cage), the sick mother (Joely Richardson), the daughter into witchcraft (Madeline Arthur), and the stoner son (Brendan Meyer). Independently, these performances are fine, yet together the family shares no chemistry. The audience knows the family is mere fodder for whatever tragedy is going to provide the "horror" they came to see.

The incident that sets the story in motion is the crashing of a strange comet into the Gardner's property. The comet begins to change not only the environment but also the family itself. Now, there's a good concept for a horror movie. Extraterrestrial objects inherently open an exciting path towards the unknown that can be explored in a million different ways.
Once again, Color Out of Space takes the easy way out. Richard Stanley opts to keep the comet's effects on the family at arm's length for much of the runtime. The comet's influence manifests itself in visions draped in, admittedly neat, purple lighting that doesn't reveal quite enough to leave any sort of influence. When the film is not teasing us, it's wasting its time on scenes and subplots that don't go anywhere significant.
Labeling Color Out of Space a slow burn doesn't feel correct, because there's no tension. You get faux quirky scenes like Nicolas Cage milking alpacas (the word "alpaca" is coincidentally milked for all of its supposed comedic values) to just kill time. And when you're not doing that you're catching up with supporting characters who could've been cut out entirely. Look, it's nice to see Tommy Chong in a movie again, but why was he in this? Moreover, the audience surrogate character Ward Phillips (Elliot Knight), isn't in the movie enough to justify a vital part in the third act.

Speaking of the third, that's where Color Out of Space finally starts to gain some legitimate enjoyment. Stanley embraces the Lovecraft of it all, conjuring up some brilliant pieces of practical effects that are gruesome in a way that gets under the skin. All manners of creature play into a sort of body horror not yet seen in the film prior to this moment. Color Out of Space keeps upping the ante with various disgusting hybrids of limbs and assorted body parts. Likewise, the manner in which the family struggles to understand the physical and mental terror that befalls them really worked.
But then, Color Out of Space gets in its own way again. Nicolas Cage can be a great horror actor. Look at Mandy, one of my favorite horror movies of all time. In that film, he was a portrait of grief and rage- a thoroughly nuanced character. Here, he goes in and out of voices, screams, and does his best to undermine the credibility of, well, everything that happens. By the time he reached the height of mania, hope was lost of me finding enjoyment in this film.
Yet, it's vital to note that many have loved Cage's performance in this film. A majority of the critics who have seen the film have loved it as a whole, even! I don't begrudge them, or anyone for liking this movie. It's simply that Color Out of Space could've been so much more. Instead, it's content to squander every opportunity its cosmic horror potential provides. –James Preston Poole
Rating: 3/10
---
Trending Now