Full Circle Flashback: 'Casper' Review
Posted On October 31, 2020
---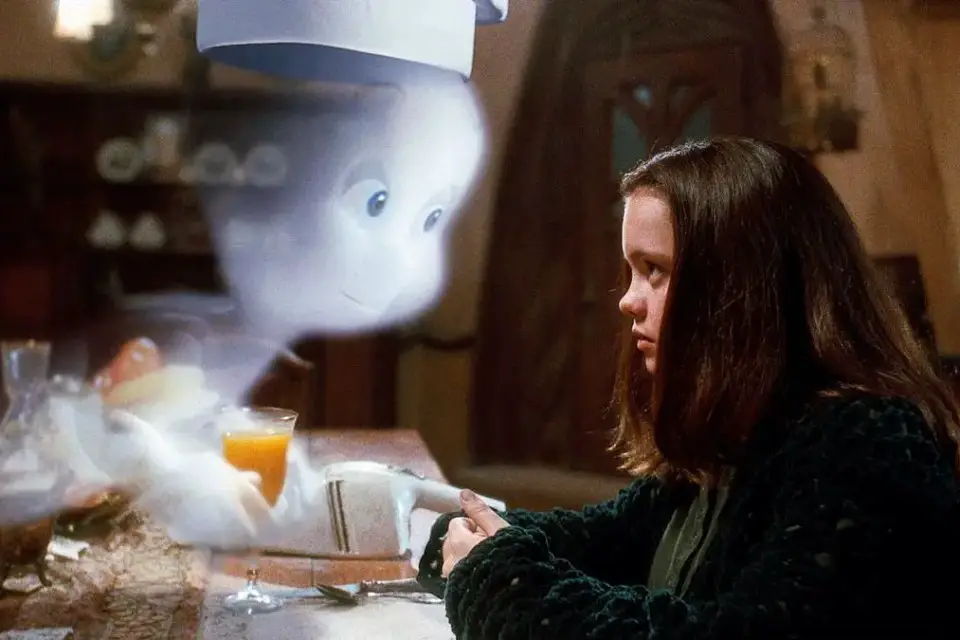 For as long as I can remember, I have always been fascinated with the paranormal. I used to take my friends to a hotel downtown, where we would pay respects to the haunted painting of a little girl in white, holding a bouquet in one hand and a letter in another. Painter Charles Trevor Garland titled this work, "Love Letters", but I always felt that there was something sinister about it. There is something about the dreamy smile of a ghostly four-year-old girl that can shock the senses more than love ever can. Was that his intention behind the piece? I cannot say for certain, but I do know that some letters are best left unread.
Despite all my best efforts, I have to confess that ghosts must not find me very interesting. I have never had a paranormal experience before, unless you count doors closing by themselves with a whoosh of A/C. And yet, I still believe that there is something about life that cannot always be explained. We are all bound together in great mystery like the secret motion of planchettes as they spell out messages letter after letter. And it is this vaguely defined mystery that inspires me more than anything else. After all, there is only so much that science can tell us about a flickering candlewick.

But at least I have other ways to experience the supernatural. I do not need to taunt paintings. I can watch movies. Honestly, I could write on any number of classic ghost flicks if I wanted, and yet I feel compelled to write about the live-action adaptation of Casper this Halloween. I know it may sound silly, but I would like to reassure you that this film captures all of the elements of a ghost story. And what it lacks in horror, it makes up for with magic. It may be more apt to call it messy magic, the sort that witches-in-training conjure forth with mispronounced spells. But I would much rather enjoy the mistaken surprise of a conjured toad, than the certainty of getting a toadstool every single time.
Casper opens with a will reading. As luck would have it, Carrigan Crittenden, a rotten apple, has recently acquired Whipstaff Manor from her deceased father. Of course, she gets the condemned property, while all of the supposed humanitarian charities get the cash. Life is never fair for a shopaholic. That is, until she discovers a secret message in her will that pinpoints a hidden treasure within the manor.  Again, it sounds promising, but if only she did not have to deal with ghosts in the bargain. Poor Carrigan, life keeps beating her down, but where there is a will, there is a way, especially if that will guarantees fortune. With that, she then seeks the expertise of paranormal therapist and widower, Dr. James Harvey, and his skeptical daughter Kat. However, Kat's skepticism can only last so long in the company of a friendly ghost like Casper.

Kat and Casper's friendship makes for some of the most beautiful moments in children's movie history, so beautiful that I still remember them after all these years. I still remember how necessary it all felt for those two to sit atop a lighthouse and discuss what it meant to die. In fact, it may sound inappropriate for a family movie, and I understand that we all feel it necessary to mince our words about death around children. But nothing could be farther from the truth, especially when the subject material is handled with as gentle a heart as Casper here.
Family movies deserve all the maturity and thoughtfulness that we have come to expect from the PG-13's and rated R's of the world. I demand the same level of respect for children. Christina Ricci demands the same. She will not settle for less. Kat lost her mother at a young age, and since her passing, she feels as though her memory of her is fading away. She can only remember so much as her ivory soap smell. The way her mother put on her lipstick. The shuffling sounds of her making breakfast. These are the memories that Ricci brings forth with a sensitivity so keenly felt that even a ghost can make indelible contact. I find it so striking. If Ricci understands grief so deeply that she can act the part with conviction, then we can expect children to understand as well.

Death terrifies me. I understood it as a child, and I understand it now. It makes me feel naked. It feels so brutish and stupid. However, I guess my fascination with the paranormal is something of a compromise that I can make with death. And I get the impression that Kat's father feels the same way. We clearly see that he had taken his wife's passing the hardest, so much so that Kat is usually the one to take care of him. But despite their difficulties, I cannot think of a cuter father-daughter relationship in film than the one they share. It feels so real, so honest a depiction of grief. Bill Pullman as Dr. Harvey tries his hardest to maintain composure with Kat. He does his best with wrinkled smiles and dorky jokes. And yet, we all understand what he hides underneath them.
I share his same wish. Although death has the power to swallow up every bit of life underneath its annihilating waters, it also opens up the possibility for something more. Something as beautiful as flotsam. Heaven and Hell. Angels and devils. The smiling silhouette of a man in black. Haunted paintings. Don't you see? Death finds its meaning in the magic we use to define it. Death permits everything. And that is why I think Casper succeeds on every level as a ghost story and children's film. It imbues life with magic, by finding the magic in death itself. – Daniel Hrncir
Rating: 10/10
Casper is available on Digital HD and Blu-ray. The film stars Christina Ricci, Eric Idle, Cathy Moriarty, and Bill Pullman.
---
Trending Now