Screen Screams: 'Diary of the Dead' (2007) Review
Posted On October 18, 2020
---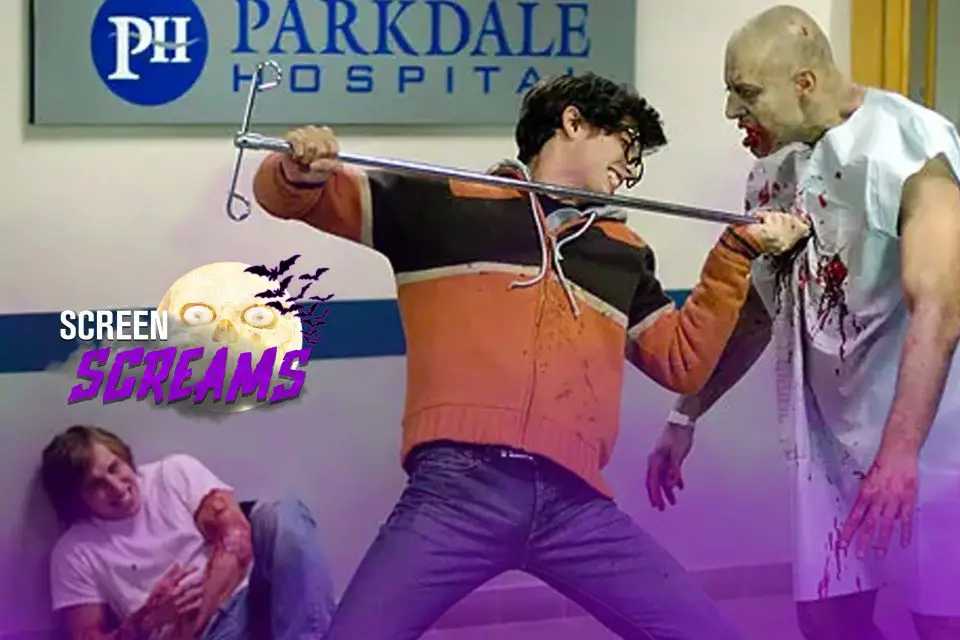 We all know that this Halloween will not look like other Halloweens from years past. And yet, the month of October waits for us all the same. It is about time we put the spirit of Halloween back into that abandoned department store that we call the year of 2020. So to celebrate, we at Full Circle Cinema put together a curated, month-long series called Screen Screams. This time, we will be covering all things zombies. For this review, we look at George A. Romero's most experimental run in the genre: Diary of the Dead.
The entire zombie genre owes everything to George A. Romero. With not one, not two, but three masterpieces under his belt, he could've retired a genuine auteur. He had other plans, making a bombastic return to zombies with 2005's Land of the Dead. The contemporary reaction to Land of the Dead was fairly good, but audiences have soured on it in the passing years, with our critic Audrey Griffin calling it "excessively mediocre". Romero's next attempt, Diary of the Dead, certainly isn't mediocre. That doesn't mean it's particularly good.
Diary of the Dead was an early example of the found footage film, a genre that pictures such as Cloverfield and Paranormal Activity popularized. The film takes place in the early days of the zombie apocalypse, centering the story around a group of film students. They're out to make a horror film; little did they know, they're about to star in one. Romero gets points for trying something new. Greatly reducing the budget, he attempts to capture a new angle on the familiar story of the dead rising up. Results vary wildly.

The found-footage conceit works and it doesn't. Cinematographer Adam Swica's shots are simply too sharp to give us the feeling that these are consumer-grade cameras. His composition always gets the gory kills in full view of the audience, nothing out of frame. In other words, the film utterly fails to convince that is "real" footage. As a storytelling device? It's kind of thrilling! There's a sense of immediacy at all times, a feeling that we're experiencing a great upheaval of society in a "boots on the ground" way. Romero's writing is similarly competent, taking us through a variety of different locales to illustrate how different humans deal with the zombie infection's spread.
Romero weaves in some entertaining supporting characters who add a bit of color and context to how this world operates. My personal favorite is the deaf (and heavily armed) Amish man Samuel (R.D. Reid), who provides a couple of moments of pitch-black comedy. The principal characters, however, fall dreadfully flat in the grand scheme of the film. They're monotone, lifeless, and react to their surroundings with not so much as a shrug. Only Debra (Michelle Morgan) makes an impact, and that's because she narrates over the entire film. Really, the apathy of the characters is what drags the film down.
Yet, there is an argument to be that the characters' apathy fits in with the message of the film. Like all his Dead films before, Romero of course comes with a message. The film often shows people constantly recording horrific events without doing anything. Our protagonists scramble to find what's really going on in a sea of overbearing information. What Romero seems to say is that constant news broadcasting/recording of tragedy leads us desensitized to violence, and that a great wealth of information can bury the truth. It's a good concept, but one that could've been stronger had the film built around it were better.

That's not to say Diary of the Dead doesn't work as a "turn your brain off" zombie movie. Zombie kills and action are definitely there and wildly entertaining at times. Make-up effects head Greg Nicotero may not be as visceral as Tom Savini. But he's a legend in his own right, mostly known for his iconic work on The Walking Dead. Romero and co. clearly still know how to have fun with their zombie kills – a fire poker and defibrillator put to great use. Somewhere out there, Romero managed to consolidate these gleeful kills with the story he wanted to tell.
Diary of the Dead is the definition of a middle-of-the-road zombie movie. It's admirable they tried something new, but for the most part, it's something of a failed experiment. Still, Romero comes to play with a lot of energy, and it's hard not to admire that. A decent zombie movie done by the master is better than none at all. – James Preston Poole
Rating: 5/10
Diary of the Dead is available on home video and digital HD.
---
Trending Now