'Possessor' Review: "Hijacking Body, Stimulating Mind"
Posted On October 15, 2020
---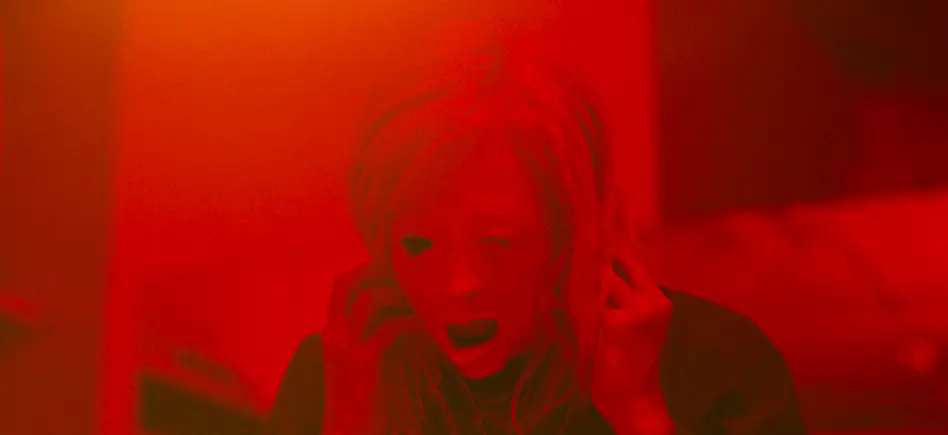 The following review is covering the NEON released uncut version of Possessor. Minor spoilers follow.
Possessor arrives with quite the pedigree. The second feature from director Brandon Cronenberg, the son of body horror pioneer David Cronenberg, the film earned rave reviews upon its premiere at this year's Sundance. It was slated to be the breakout horror film of the year, yet due to the ongoing COVID-19 pandemic and the upcoming election dominating the conversation (rightfully), its release is somewhat muted. That is no real loss to the film, however, because Possessor is the type of movie meant to be digested slowly over days, months, or even years.
Neon's trailers for the film depict it as a visceral, fast-moving, stylized thrill ride meant to appeal to gorehounds. That it is not. Despite its stylization and the occasional dive into visceral territory, Possessor means to stimulate the mind rather than the body. Whether it succeeds is likely to be a polarizing question, because Cronenberg aims to do a lot with its material. Thematic ideas and existential questions flood the picture, and can at times get overwhelming. Ultimately, the film's precise craft in service of inspiring an internal conversation makes Possessor a fascinating work of science fiction/horror.

Andrea Riseborough stars as Tasya Vos, a gifted member of a group of assassins who use a mysterious technology to take over the bodies of civilians to commit murder for profit. Although her superior (Jennifer Jason Leigh) notes that Vos is changing with each "possession", she assigns to her a lucrative contract. The target is businessman John Parse (Sean Bean); her entry point is Colin Tate (Christopher Abbott), a low-level employee of Parse who is dating his daughter (Tuppence Middleton). Vos structures a narrative for Tate's eventual murder of Parse, but once she jumps into his body she encounters an unforeseen struggle as Tate's mind fights to take back dominance of his own body.
The world of Possessor is expertly realized. Technology runs rampant everywhere. The machine that Vos uses to make her "jumps" has an analog look to it that makes it look oppressive and clinical. By the way, clinical is how one can view much of the production design. Cronenberg has cinematographer Karim Hussain capture the world with a pristine sharpness that at several times echoes the look of Kubrick. The term "Kubrickian" is thrown around willy-nilly to several filmmakers. Cronenberg, however, earns it by holding the movie just out of reach of the audience. Each beautifully colored and composed frame could have a different meaning to everyone in the film.

To be an assassin in this world, to take over the bodies of others, one must be a blank slate. On the surface, Tasya Vos fits the bill. The audience maintains a distance between themselves, her, and the rest of the assassin organization. Christopher Abbott's Colin Tate fits the bill as the perfect "mark", a man so downtrodden and disrespected in much of his life that Vos can easily construct a narrative for him to commit an awful crime. Riseborough and Abbott essentially both play Vos as she is in Tate's body and both tease out the story of Vos's very human tendencies starting to come to light. It's an unsettling, at times disturbing, saga, that becomes more complicated once Tate starts to fight back for control of his body and the differences between Vos and Tate come to light.
Possessor is effective on the existential dread of its premise alone. Sharing a body with someone – unwillingly no less – is an unthinkable fate. The idea of losing control, not just for Tate but for Vos, is a fundamentally terrifying one; the complete dissolution of the human being. It brings up an interesting idea: what if someone else taking over our lives can illuminate who we really are?

The tragedy of Tate is his status as a lowly worker in a technologically overbearing world. We don't know why everyone in this universe inexplicably vapes, or how far in the future it is, but the crushing existence of the 9-to-5 cog in the machine worker rings true. Vos, on the other hand, is a shell of a human, as her assassination team encourages her to be. Her humanity starts bubbling to the surface whilst inside Tate, but manifested in violent rather than empathetic ways. Or it could be the unholy creation of two human beings merging in an unforeseen way.
Violence in Possessor is similarly beguiling. Like his father, Cronenberg favors a strong amount of gore. Expectedly, the effects are done with panache and gross-out just as much as they're supposed to. Curiously, though, there's little intentional shock in the violence. It's played with detachment as if the violence and death are inconsequential through Vos's eyes. To counter that, the scenes involving being inside the characters' minds are gonzo visceral light shows. What does this tell us? Well, that Possessor has great want to get into its characters' heads.

Whatever Possessor says is in the eyes of the viewer. Those expecting to see a bloody horror show will get what they want, as will base science fiction fans. For the movie watcher that begs for something to chew on, something that will leave them asking internal questions, Possessor offers so much more. – James Preston Poole
Rating: 9/10
Possessor is now playing in select theaters.
---
Trending Now