'The War with Grandpa' Review: "Dated & Confused"
Posted On October 17, 2020
---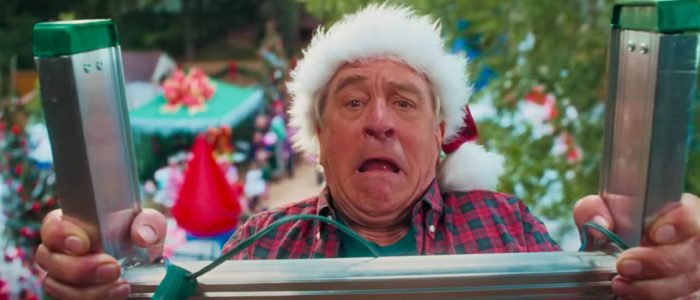 Ever since I was a kid, I was exposed to a multitude of modern acting legends. Amongst those are Uma Thurman, Robert De Niro, and Christopher Walken. I have a deep reverence and respect for all three of them. Prior to going into The War with Grandpa, I had only known that De Niro and Christopher Walken starred in it. At the beginning of the movie seeing Thurman raised my confidence in this movie. Now having seen this movie, I can honestly say that I wish their first on-screen presence together was under better circumstances.
The War with Grandpa follows Ed (De Niro) as he moves into the house of his daughter Sally (Thurman) after an altercation between himself and a grocery store employee. Ed moves into the room of Sally's son, Peter (Oakes Fegley), who soon finds means to force his grandfather out of his room. From there the movie devolves from some intricate pranks to cheap gags in the end.

Early on, Peter is starting the sixth grade, and the pranks he pulls on Ed are a lot more intricate than anyone I knew could do at that age. At one point, Peter places an extremely convincing shaving cream label over a foam sealant can. This causes Ed to spray a large white plaster on his face over his facial hair. Fast forward to the end of the movie where Peter shakes up a can of ginger-ale before giving it to Ed. If the quality of these pranks remained consistently strong throughout the film I think I would have enjoyed it more.
Ironically, the most interesting character in the movie wasn't Sally, Ed, or Peter. The War with Grandpa's most interesting character is Sally's husband Arthur (Rob Riggle). He has a rocky relationship with Ed because Ed thinks he works a soulless job. We see Arthur working his mundane job and consistently showing him as he feels defeated. Arthur's goal is to ultimately make a name for himself, and work at a company that isn't as draining as his current one.

To further this goal, there's a genuine scene between Ed and Arthur near the end of the movie. Ed notices that Arthur is drawing an addition to their public library. The drawing would be submitted for a contest the city is holding in which citizens would draw said addition. The winner obviously would have their drawing utilized as the new addition to the public library. In the moment you don't question the oddly specific contest. The level of excitement and passion that Arthur has is infectious. Sadly, his character gets lost and leaves the viewer ultimately unsatisfied.
While a few of the jokes stick at times, the rest of them fall extremely flat. There's a bully character that harasses a bunch of kids for no reason and follows it up with an "oops, that happened". It would have been fine if it wasn't the only line that he had practically throughout the movie. The first "oop" was not bad, but after the seventh, it was about time to wrap it up. I was genuinely confused in the theater and I still am now. Were they trying to make it catch on?

Never have I seen a movie where they used two different jokes twice. One joke being Arthur seeing his father-in-law's genitals in full display. The other joke being Sally throwing one of the pranks intended for her father out of her car window at a motorcycle officer as she's driving to work. Both of these jokes are done twice and have the same lasting effect on the audience. What did this serve? Is this intended for people who aren't fully paying attention just so that the writers can make sure their jokes get across? Was there nothing else they could think of?
I'm not entirely sure who the intended audience for this movie is besides those seeking an ironic thrill. If you want to giggle at Rob Riggle squirm because of full-frontal nudity like I did, by all means, go watch it. As someone writing this with the intent of deliberating whether you should see this, I cannot with good conscience recommend seeing this in a theater. Furthermore, I couldn't in good conscience recommend paying full price for this digitally. When this comes to streaming services eventually, maybe I'd recommend it? I'm not entirely sure, I'll probably forget that I saw this by a week's time. – Jacob Mauceri
Rating: 2/10
The War with Grandpa is available on various VOD platforms.
---
Trending Now