'Boys State' Review: "A Timely, Entertaining Look At American Politics"
Posted On August 11, 2020
---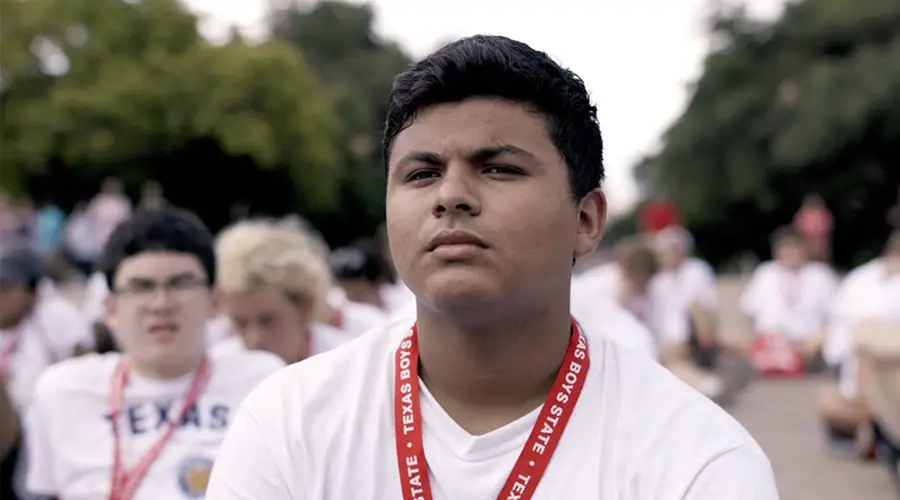 Acquired by Apple TV+, Boys State continues their streak of releasing high quality, feature-length documentaries. However, it's unlike anything they've put out thus far, and for all of the good reasons.
Boys State follows a week-long annual program in which 1,100 Texas high school seniors build their own mock government. The group is first divided into two parties, the Nationalists and Federalists, each with their own platforms and policies. It's entirely up to the boys to create a party that reflects their beliefs and desires. And you can't have politics without a few sleazy, sort of well-intentioned campaigns.
If the concept isn't enough to get your attention, the documentary follows several key personalities that immediately hook you. Whether it's the admirable Steven Garza or the charming Robert McDougall, you'll find yourself deeply invested in everyone's political ventures. Alliances are forged, sides are taken, and the drama almost never ends.
Although the primary objective of the documentary is to observe this event in a neutral light, it's clear they understand who most audiences will side with at the end of the day. There's no outright hero or villain. But the film makes sure to develop those key players that viewers are most invested in. Steven Garza is the underdog of the story, serving as one of the few non-white, left-leaning participants and candidates to a major position. Rene Otero, who will no doubt be a fan-favorite personality, is also one of those few. Then you'll have the polar opposite of them, people who'll do anything to win even if it morally bankrupts them. But none of these kids are one-dimensional characters, everyone has a story and place in all of the craziness.
From elections to signing bills, the film portrays the convoluted political system in a digestible, cinematic way that allows audiences to quickly engage with it. More than that, you get to see firsthand how the next generation confronts the same political challenges we're facing today. Certain discussions can be a bit uncomfortable knowing that most of these kids are regurgitating either false info or problematic ideas from their parents/family. For example, abortion is a subject that frequently appears during policy discussions (without a woman in sight, of course), and the film captures everything as is. For the most part, these interactions tend to serve as a microcosm of the current climate across the nation. But there are also certain moments that undoubtedly sparked a bit of hope within me.

When it comes to addressing the faults of a project like Texas Boys State, the documentary doesn't necessarily sugarcoat things. That said, I do wish it dug a bit deeper at moments. As one can imagine, when kids like Steven and Rene attempt to make a name for themselves amidst a predominately white group, some take the opportunity to stoop low and discriminate against them. Despite showing some of the lead players not condone this, it isn't clear to viewers that this was resolved on a higher level of the organization. Unless I narrowly missed it, the answers I was looking didn't seem to make the cut of the film.
Boys State arrives just as the socio-political turmoil in the United States reaches an all-time high, planting a small seed of hope in the process. It provides a timely, entertaining perspective at a flawed political system that also serves as a portrait of American masculinity. The talented team behind-the-scenes capture the surprising amount of intensity that happens when an abnormally large group of teen-aged boys join together to form their own government. You'll laugh, cry, and be on the edge of your seat the entire time.
Rating: 8.5/10
Boys State will be available on August 14 on Apple TV+.
—–
Did you enjoy this article? If so, consider visiting our YouTube channel, where we discuss the latest and greatest in pop culture news.
---
Trending Now