'Greyhound' Review: "Spectacle With Just Enough Bite"
---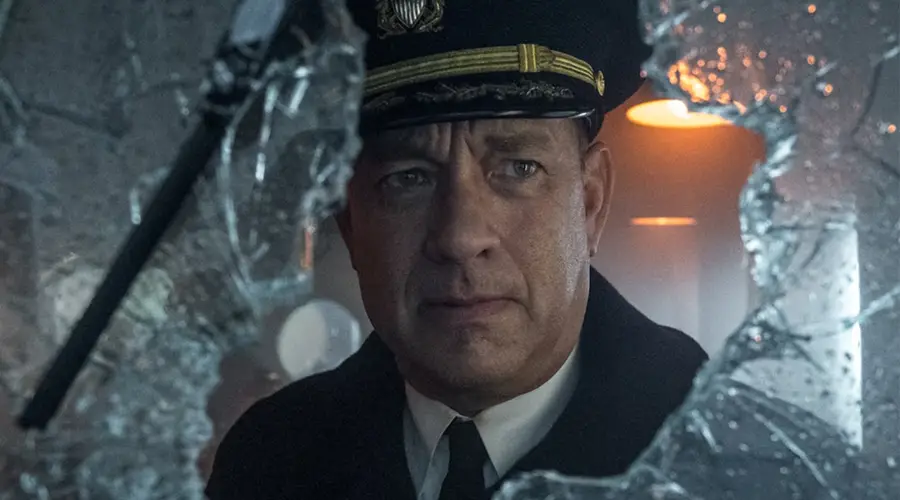 With the summer movie season on indefinite hold, it's been hard to achieve an immersive experience in the comfort of your own home. Despite that, several major releases have hit VOD and streaming in the past few months, ranging from the foul Artemis Fowl to the delightful rom-com Palm Springs. Enter Greyhound, the Sony-produced blockbuster that premiered on the enduring Apple TV+ after forgoing a theatrical release.
With visuals comparable to Dunkirk and a lean, action-heavy script, the film entertains just enough to warrant its streaming release. Greyhound follows Captain Ernest Krause (Tom Hanks) as he leads an international convoy of 37 ships across the Atlantic. This time, the mission is to deliver thousands of soldiers and much-needed supplies to Allied forces during World War II.

Off the bat, it's clear that Hanks can still turn in solid work even without a clear awards trajectory. And in a nice change of pace, Hanks displays his talents off-screen too. As the film's screenwriter, he nicely cuts all the fat a period piece normally has. As Captain Krause, he once again plays a leader that courageously gets his crew through some life-threatening situations. It's a good role that solidifies his standing as the best leading man for a film made for dads.
Speaking of the script, it's clear the filmmakers wanted to provide just enough thematic weight to warrant an adaptation. It's the kind of true-life narrative that tries to make itself into a character piece for Captain Krause. However, it turns out they're much more concerned with providing an exhilarating thrill ride. At a lean 91 minutes, perhaps it could spend more time fleshing out the lead character and his past. You learn just enough about the captain to enjoy his journey. But despite a few moments of moral dilemma, it feels like a basic outline of what a protagonist is meant to be.
One important highlight is how Hanks provides accurate on-ship dialogue and jargon without outright explaining what the crew was saying. Context clues and patience allows the audiences to engage with the movie without the need for filmmakers to dumb it down. If this weren't the case, the unique qualities of the film would become even murkier than it is.

Action-wise, the film captures the anxiety-filled sequences with striking set-pieces that put the focus on ship vs ship battles. Best of all, the over-reliance on CGI ends up being one of the film's strong suits as it manages to seamlessly blend practical and digital elements. It's clear cinematographer/director Aaron Schneider has a knack for putting together visually pleasing scenes. There's no doubt the film would've benefited from the theatrical experience.
Much like the Nazi submarines on Greyhound's trail, the problems of the film emerge as they go below the surface level. As previously mentioned, the thematic weight of the Captain's decisions as he commands his crew often feels two-dimensional. The scenes that did resonate with me emotionally are few and far in between, despite the film insisting it's arriving at extraordinarily profound conclusions. Furthermore, one can see story beats miles away, and while that's not necessarily a bad thing, it only reaches average heights.
If you are considering buying a subscription to Apple TV+ for Greyhound exclusively, it all depends on what you want out of the film. If you want to enjoy some period-piece goodness without the baggage, Greyhound might be what you're looking for. Just keep in mind this isn't the next great war film, and that's totally fine, it doesn't have to be.
Rating: 7/10
Greyhound is currently available on Apple TV+.
The film stars Tom Hanks, Elisabeth Shue, Rob Morgan, Stephen Graham, and Matt Helm.
—–
Did you enjoy this article? If so, consider visiting our YouTube channel, where we discuss the latest and greatest in pop culture news.
---
Trending Now