'The Old Guard' Review: "Old Plot, New Movie"
---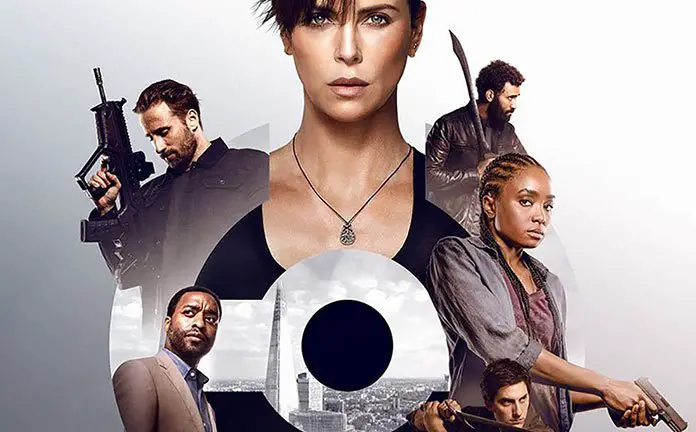 For millennia, there exists the idea of 'protectors' or guardians of Earth. They have been gods, angels, superheroes, mutants, Power Rangers, etc. In some forms they are immortal. In some other forms, they pass the guard as new champions arise to the correct age. And of course, there are the forms where one champion passes immortality to another soul. These stories or myths exist in every culture. They are the same exact story, just told in a different form. Which in ancient times where communication was limited, these were fascinating stories that came in forms fitting to that native land. Now, these stories often bore us because we always know to navigate and where it ends. The Old Guard, Netflix's latest venture into the 'Graphic Novel/Comic Book' realm is just that.

After all, this is a visually amazing film that is a tale as old time. The story is about a group of immortal mercenaries: Andy (Charlize Theron), Booker (Matthias Schoenaerts), Joe (Marwan Kenzari), and Nicky (Luca Marinelli). The group does covert missions that inevitably save the world. Now, this is where we insert the usual villain that wants to treat the group like lab rats and use their powers for "good." Merrick (Harry Melling) is our villain, who is into Big Pharma.
This is the one intricate piece of this story because it is very relevant in the world we are currently living in. The group finds a new addition to their crew in Nile (KiKi Layne), a U.S. Marine stationed in Afghanistan that discovers her immortality after someone slits her throat. The group must take down Merrick and preserve themselves in order to keep living in secrecy and save the world.

Now, let's discuss what makes The Old Guard repetitive. The story of heroes always goes down the same route. Somebody either wants to study them like lab rats or they want to destroy them all (ex. X-Men). In this particular story, Merrick wants to capture and study them so he can find a cure for diseases and basically monopolize the pharmaceutical part of the stock market. I'll just meme this real quick: movie villain = Merrick, actual villain = Big Pharma and capitalism. This is a very repetitive thing among comic book films, and it's why core audiences have shunned some of the more recent films. While at the heart of this film there is a very ambitious intelligent story, the filmmakers just tell it in the same old fashion.
This film could've used some tweaks to the screenplay. Let's start with our poorly written villain, Merrick. Yes, we know his motivation is money, but what made him that way? Instead of the scenes where we get to listen to the latest pop songs, we could've spent more time with Merrick. He's definitely got the menace and the evil intelligence but we don't know why. While the idea of this film is grand, screenwriter Greg Rucka – adapting his own graphic novel – does a middling job at executing this. If there is going to be a sequel with the same creative team, let us hope that Rucka and director Gina Prince-Bythewood fix these issues. Because in its current form, it feels more like an adaptation of young-adult material than its own source material.

Do not get me wrong, this is not a horrible film at all. Where it lacks in creative writing and hitting the important message on the head, it makes up for it with the acting and choreography. The acting in this film is great. I definitely loved Theron and Layne's characters, along with Chiwetel Ejiofor as Copel. The acting and the choreography undeniably saves this film from being terribly bad. Again, Prince-Bythewood takes a somewhat poorly written screenplay and does her best to make each character stand out.
I definitely enjoyed the chemistry between Joe and Nicky. Joey Ansah as Keane was another very entertaining performance that fed into our villain Merrick. Again, I would've loved more character development for Merrick to understand him, but he was written well enough to enjoy the latter. Character development overall in the film was decent, especially with Nile and Andy, but a well-developed villain would make the film truly special.

Overall, The Old Guard is a fun film that builds a world you can create a franchise from. I'm hoping that if there are sequels we get better writing and more understanding. I will support any film tackling Big Pharma and capitalism. You cannot do that on a surface level where it seems cheap and not brought up for engagement. If you're going to bring up something that controversial it needs to be at an intelligent level, not just to make us hate your villain. Grabbing at straws to get the attention of millennial/liberals is Hollywood's problem right now. We're young, not stupid. We still want to be engaged at an intelligent level while being entertained. Please, do better. – Rascal F. Kennedy
Rating: 6/10
Did you agree or disagree? Let us know in the comments!
The Old Guard starring Charlize Theron and KiKi Layne is now streaming on Netflix!
---
Trending Now