'Radioactive' Review: "An Isotope In Decay"
---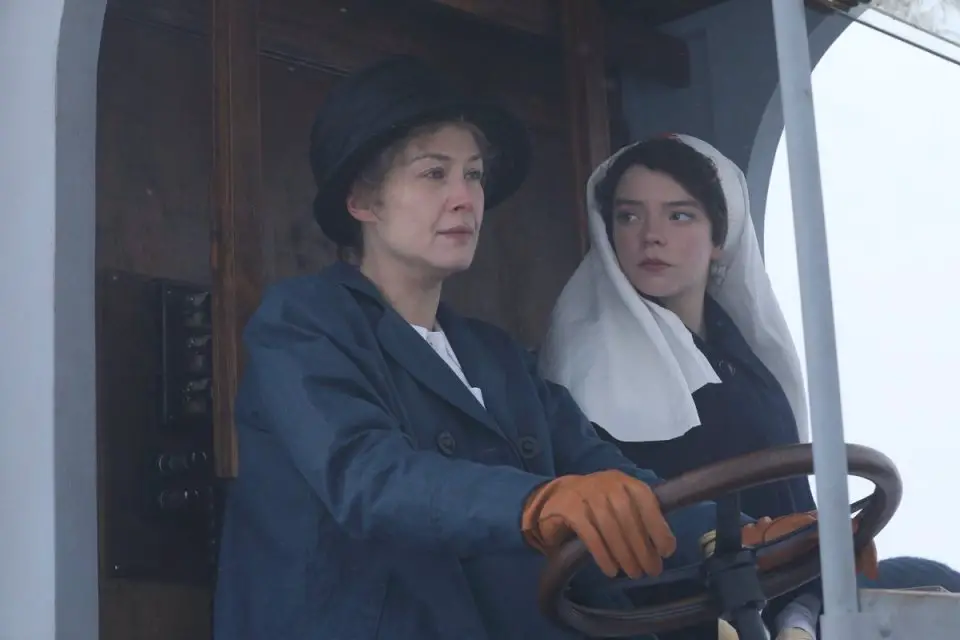 The politicization of science poses great dangers for humanity. I bear witness. I see all the ways in which 2020, an electoral year for the United States, distorts our reality of a life lived under a pandemic. And with pressures of incumbency, we see how political rhetoric bends science at will to fit false narratives of safety. Of deflecting blame to other countries to instill some faulty sense of nationalism in our own compatriots here at home. Science does not deserve this sort of treatment. In total, truth must stand aside from our own biases, and yet we see just how easy it can be weaponized to harm others. Unfortunately for Radioactive, it hardly engages with these themes in any meaningful way.
If you are not familiar with Marie Curie's contributions to science, then shame on you. We would not have access to one therapy for cancer or X-ray examinations. However, I should also mention that we would not have had the devastation of something as unimaginable as Hiroshima either. But can we blame Curie for those lives lost? Can we blame her for the Manhattan Project? Although she passed away before these events, she dedicated her science for good during World War I. She passed away from her science, unknowingly sacrificing herself in pursuit of truth to free humanity, not hurt it.

All my praises for Radioactive will go to Rosamund Pike alone. As Marie, she commands what some might call arrogance or selfishness, but I will call self-worth. Marie's science has value, she won't settle for anything less. And she does not give a damn about her or anyone else's personal feelings until she meets her future husband and research partner, Pierre Curie. He gives Marie her marvelous start in science, but he also gives her more to lose in losing him to illness. However, all of these heavy emotions are about as drained of energy as isotopes in a chemistry lab. We never get the chance to breathe with Pike's character because the pacing of Radioactive abruptly speeds through her entire life. Marriage, children, Nobel Prizes, and romantic flings punctuate scenes too closely together.
The film frames these moments as memories, and it makes sense for there to be some disorderliness to them. But long before Marie has gray hair, we realize that we have spent 110 minutes without ever learning much of her. We see her difficulties with discrimination as a Pole in France, and the ridicule she faces after her husband's death. Her distanced relationship with her children, all the while struggling with the bioethics of her discovery. While it makes for interesting subject material, we never engage with it deeper than "Hiroshima and Chernobyl are bad". "Radioactive therapy for cancer patients is good". I am disappointed. Radioactive covers its ground at the price of only being a few inches deep and fails to challenge our preconceptions of radioactivity beyond what we already know.

In all honesty, I could watch an entire film focusing on Marie Curie's relationship with her daughter Irène (played by Anya Taylor-Joy as an adult). Their relationship is complicated. Irène wants to follow in her mother's footsteps and would like to carry out her research in radioactivity. But Marie does not want her to fall for the same mistakes that could endanger her life. For one of the most decorated women in science, it seems like blasphemy to hear Marie say that. However, we often forget that Marie is a mother too. I would have liked to have seen more of this relationship, but by the time we are introduced to Irène, the film ends.
Marie Curie deserves a better biopic, or at least one that prioritizes focus on single aspects of her complicated life. There are too many suggestions of compelling stories within this one movie, and none of them receive the due attention they deserve. Feminism deserves more than a few misogynist comments from grumpy, old white men, or a subplot of motherhood that ends as quickly as it has begun. Bioethics deserves more than confirmation of simple ideas we already possess. I admire Radioactive's intentions, but intentions do not make for a good movie by themselves. – Daniel Hrncir
Rating: 4/10
Radioactive is now available on Amazon Prime.
The film stars Rosamund Pike, Sam Riley, Aneurin Barnard, and Anya Taylor-Joy.
---
Trending Now