Snyder Cuts: 'Legend of the Guardians' Is A Shiny Mess
---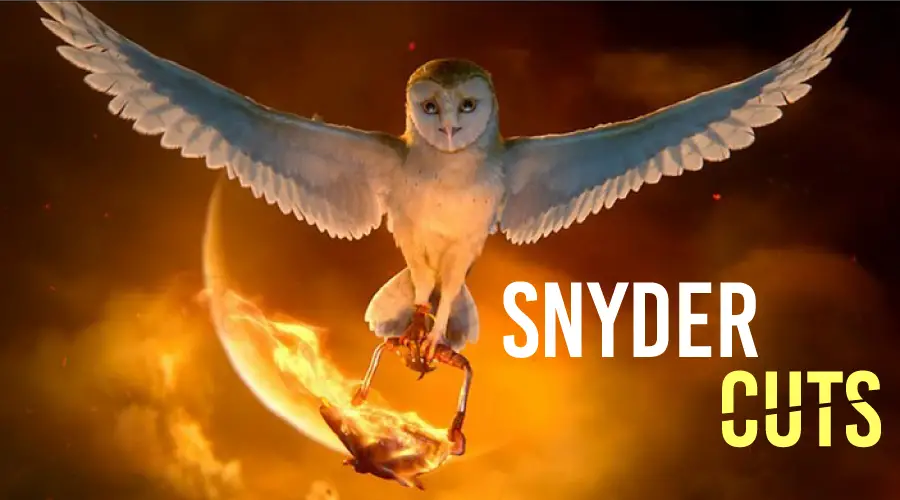 In honor of the release announcement of Zack Snyder's Justice League, we here at Full Circle decided it was time to do a retrospective of the polarizing director's films. So began the idea of "Snyder Cuts", a weekly series of reviews looking at all of his directorial efforts. And yes, we will review a director's cut when necessary. We continue our journey with 2010's Legend of the Guardians: The Owls of Ga'Hoole, the longest title to ever grace a Snyder picture.
Although Zack Snyder only helmed three films by 2010, his operatic approach to visual storytelling was already loud and clear. His frequent use of slow-motion in 300 and Watchmen is proof enough of that. Not to mention, he never shied away from deliberate compositions and high contrast lighting. With these stylistic touches in mind, it is not surprising he would work on something that would free him from the boundaries of live-action. But what is surprising is that he never directed an animated film in the years since. Because if Legend of the Guardians proves anything, it's that his directing style is viable in multiple mediums.

In fact, I will go a step further and say that Legend of the Guardians shows Snyder at his most visually playful. Of course, some of that comes from him creating imagery from scratch instead of replicating comic panels. Not to mention, the animators at Animal Logic render the CG landscapes to such a photoreal degree you could easily confuse it for live-action ones. However, the majority of it comes from camerawork that is more dynamic than anything else in his career. Given that the movie centers around creatures, it needs a virtual camera that can frame its subjects at odd angles. Fortunately, Snyder places that camera at those spots far more often than not. Combine that with his trademark slow-motion and you get a movie that dazzles on a regular basis.
That said, Snyder's direction is all the film really has going for it. On paper, the premise in John Orloff and Emil Stern's screenplay has the potential to be a cohesive fantasy tale. On one day, two owl brothers named Soren (Jim Sturgess) and Kludd (Ryan Kwanten) are kidnapped by the St. Aggie's owls. While it initially seems that Soren and Kludd are taken to an orphanage, they soon realize it is a place where owls are brainwashed into soldiers. Upon this discovery, Soren escapes and finds help while Kludd succumbs to becoming a corrupted soldier. As they slowly grow apart, a conflict arises with Metalbeak (Joel Edgerton) and the St. Aggie's owls on one side and Ezylryb (Geoffrey Rush) and the Ga'Hoole owls on the other.

Based on that last sentence, it seems like Orloff and Stern cleanly conveyed that narrative across its short 97-minute runtime. But this is where I admit that I came up with that synopsis after reading various articles dissecting the plot. While watching Legend of the Guardians, I certainly was not able to fully understand the plot beyond the first twenty minutes. Although the early sections adequately show how this owl world works, it eventually clutters itself with the mythology and characters. One does not even need to know that the writers adapted the first three books in Kathryn Lasky's Guardians of Ga'Hoole series. It already feels like several stories crammed into one!
What makes the dense story disappointing is how it actually has a decent thematic throughline with Soren and Kludd. In the best-case scenario, this film would place the relationship between the two brothers at its core. Because it immediately depicts Soren as a dreamer and Kludd as a doer, it establishes a fascinating conflict that develops in various ways. However, the movie places that among its lowest priorities as it crosses the thirty-minute mark. From then on, it introduces the subplot of Soren finding out the truth about the guardians of Ga'Hoole, which is much busier than it needs to be. This is not to say that it lacks moments of intrigue, with Ezylryb serving as an engaging mentor for Soren and a vantage point for the detailed backstory. Still, it's a shame that the movie only brings back the brotherly relationship for a quarter of its climax.

Perhaps one could digest an overstuffed movie if it could neatly manage the various tonal shifts. Unfortunately, Legend of the Guardians is rather clumsy with managing its large tonal shifts. With most other filmmakers, they would struggle to make the concept of owls in battle into anything but silly. And yet with Snyder in the director's chair, he gives that hook a sense of gravitas that the script requires. Too bad, then, that it soon incorporates tired comic relief feels more at home in a broad comedy. The characters of Digger (David Wenham) and Twilight (Anthony LaPaglia) suffer the most from this, though this problem is evident in its supporting players. As a result, watching owls in battle is simultaneously cool and goofy.
In essence, Legend of the Guardians is a chaotic movie that only slows down when literal slow-motion comes into play. Even though it should slow down to develop its owl world, it instead slows down for owls in dynamic poses. True, those bits of slow-motion are stunning in a vacuum. But it only makes the experience of watching it more erratic. In many respects, this a fascinating curio when considered as part of Snyder's break from adapting comic books. And if nothing else, it shows that the Animal Logic animators learned a few new tricks after their plasticky work on Happy Feet. Nevertheless, the fact that so little of it resonates on an emotional level means that it is Snyder's most middling effort to date. – Mark Tan
Rating: 5/10
Legend of the Guardians: The Owls of Ga'Hoole is now available on Blu-ray, Digital HD, and HBO Max.
The film stars Jim Sturgess, Emily Barclay, Ryan Kwanten, Helen Mirren, Geoffrey Rush, Joel Edgerton, and Hugo Weaving.
---
Trending Now