RUMOR: Michael Keaton's Batsuit In 'The Flash' Inspired By 'Kingdom Come'
---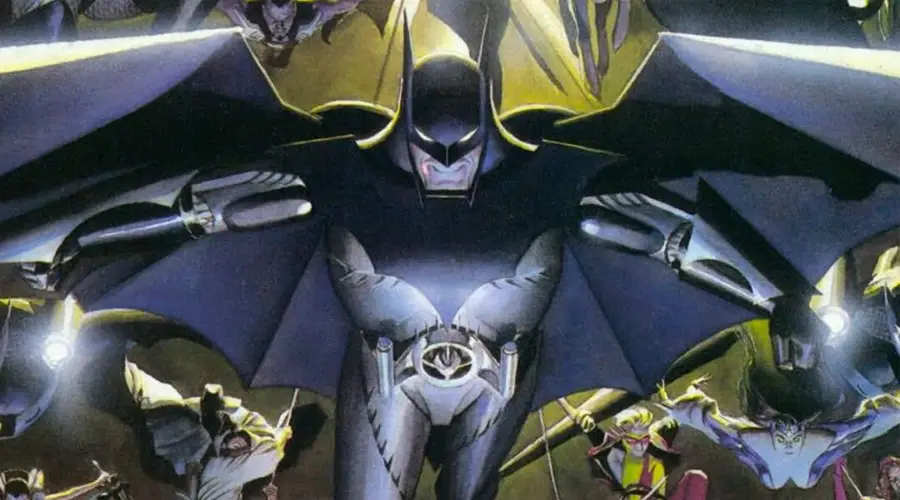 Flashpoint won't be the only comic book influencing DC's The Flash. According to DCEU Mythic, Michael Keaton's Batsuit in the film will be inspired by Batman's costume in Kingdom Come.
Written by Mark Waid and Alex Ross in 1996, Kingdom Come is a four-issue miniseries under DC's Elseworlds imprint. Set in an alternate future that dealt with the growing conflict between the visibly out of touch, traditional superheroes, and a new group of amoral and dangerously irresponsible new vigilantes. The miniseries is one of DC's most seminal works and Ross' designs for many of the characters are beloved by fans.
The CW did their own version of Kingdom Come Batman during their Crisis on Infinite Earths crossover with Kevin Conroy making his live-action debut as the Dark Knight. Now it seems Warner Bros. wants another take on this version of the character with Andy Muschietti's The Flash.
READ: Michael Keaton In Talks To Play Batman In 'The Flash'
In Kingdom Come and aging Bruce Wayne formed a team of young heroes to fight on his side in the growing superhuman war. This sounds very similar to Keaton's potential role in the film as he has been described as having a mentor role in future DC films. So it makes sense that this older Bruce Wayne will don a Batsuit similar to the one from Kingdom Come.
This isn't to say this version of the character will be exactly like the one from the comic. It was already revealed in previous reports that Keaton's Batman in The Flash will be the same one from Batman and Batman Returns.
Are you excited to see Michael Keaton suit up as Batman in The Flash? What do you want to see happen in the film? Let us know in the comments below!
The Flash zooms into theaters on June 3, 2022.
—–
Did you enjoy this article? If so, consider visiting our YouTube channel, where we discuss the latest and greatest in pop culture news.
---
Trending Now