'Bill And Ted Face The Music' Moves Up The Movie Queue
---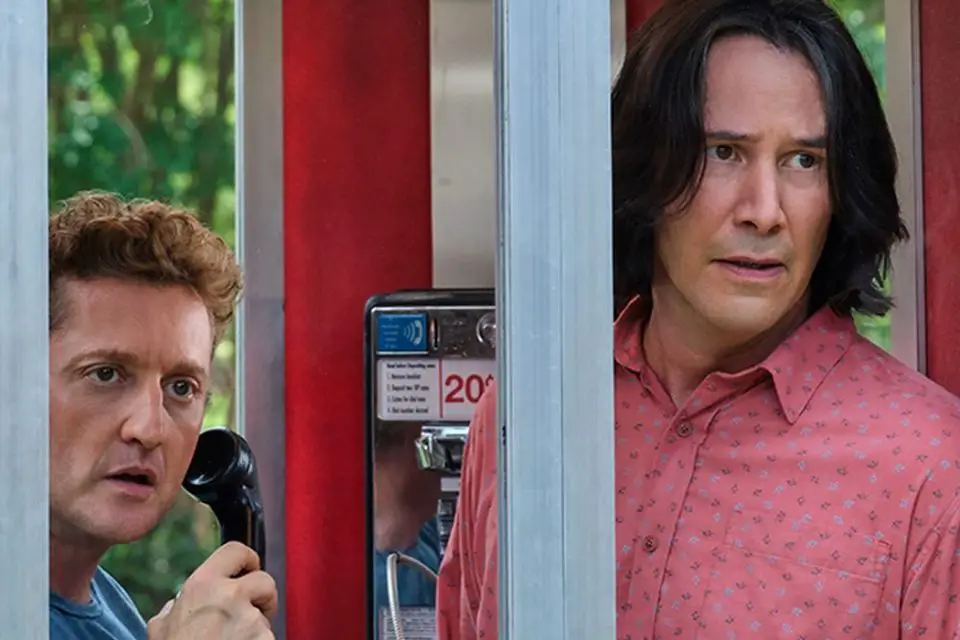 2020 has been a bad year for cinema so far. For reasons outside of the control of anyone who works in Hollywood or anywhere else in movieland, the industry has almost come to a standstill. Movies that should currently be shooting aren't currently shooting. Films that ought to have been released by now have not been released. Like every other entertainment industry on the planet, the world of cinema is waiting for better times to arrive so it can start to entertain us again. Those times might be closer than we yet know because time-traveling rock and roll due Bill and Ted are coming back to the big screen even sooner than we thought they were.
We've known for a while that a third Bill & Ted movie had been filmed and was in the can, and we have to admit that the prospect used to make us a little nervous. It's been thirty years since we saw the duo, and time has moved on a lot since then Keanu Reeves and Alex Winters are no longer young surfer dudes. They're middle-aged men, and if the film tried to pretend that the passing of the years hadn't affected them, it would almost certainly have been a letdown. We're happy to say that we no longer believe that will be the case. The trailer for Bill and Ted Face the Music has been released, and the age of the characters appears to be central to the plot. Not only that, but a new release date came with the trailer. The "Wyld Stallions" will be hitting theaters on August 14th, one week earlier than the August 21st release date we'd been briefed to expect.
We should probably have known that this change was coming. There have been signs that Orion has been kickstarted the hype and publicity process other than the launch of the trailer. A brand new online slots game based on Bill & Ted has also been announced, with a release date of June 25th. Unusually, the company that's developed the online slots game has decided to base it on "Bill & Ted's Excellent Adventure" rather than Bill & Ted Face the Music, but it's doubtful the game would be happening at all if it weren't for the new sequel. As the popularity of Online Slots UK continues to grow, officially-linked online slots are becoming increasingly common parts of a movie's merchandising. The moment Bill & Ted's magic phone box set course for the casinos, it was a sign that the film wasn't far behind.
Having dealt with the news that the film has a new, earlier release date, we should probably take a closer look at the trailer! As one might expect, the ninety-second clip doesn't spoil much of the plot but provides enough information for us to get excited about. Numerous media outlets and websites have provided their own take on the trailer's content, but here's ours. If you thought that age would be a barrier to this film being enjoyable, think again. It's hard to make bold predictions about the quality of a film from a very brief clip, but what we've been allowed to see makes us think that the writers and performers have managed to bridge the gap between nostalgia and new storytelling perfectly. Bill & Ted are definitely older – even if they're not particularly wiser – and their increased age is of vital importance to the story that the film is here to tell.
As we find out right at the start of the trailer, life didn't go to plan for Bill & Ted after we last saw them. Their band, the Wyld Stallions, was supposed to go on to be the biggest musical act in history, and write a song that unites the whole world. Unfortunately, they didn't. As is pointed out to them (by what appears to be some kind of intergalactic government), their most recent concert was to around forty people who were more interested in the free food than the music. The song remains unwritten, and as a result, human unity has never been achieved. That could have catastrophic consequences, and so Bill & Ted have a very important mission to carry out. They either write the song that unites the human race or the human race is doomed.
If any of this sounds familiar, it's probably because you've heard the song "Tribute" by Tenacious D. The premise of that song, first released in 2001, is that Jack Black and his brother Kyle are stopped in the desert by Satan himself, who demands that they play the greatest song ever written or perish. The unlikely duo somehow pulls the feat off, and the Devil is banished back from whence he came. That means "Bill & Ted 3" might not be the most original piece of fiction ever written, but borrowing inspiration from elsewhere has always been a "Bill & Ted" hallmark. The fact that they travel through time and space in a phone box was shamelessly "borrowed" from the BBC science fiction series "Doctor Who," and that didn't impact the popularity of the first two films. "Bill & Ted" fans don't necessarily watch the films to see a pioneering work of science fiction brilliance; they watch them to be entertained.
No Bill & Ted film would be complete without an appearance by the Grim Reaper, and we're happy to report that he puts in an appearance right at the end of the tale, looking as happy to see his two old friends as he always is. We also get a glimpse of Bill & Ted at a point even further in the future where they appear to be in jail and covered in rippling muscles – much to the surprise of their younger selves. It looks set to be a wacky, wild ride – and we would be disappointed if it wasn't.
There's always an element of risk in reviving any once-popular film franchise after so many years away, and there will always be critics, but we feel confident enough in what we've seen to say that this movie is going to represent a good time. If you never loved Bill & Ted in the first place, it's unlikely that they're going to grow on you this time around, but if you grew up loving the films, this third movie is unlikely to spoil them for you. The release date might only be one week closer to now than it was before, but one week is better than nothing!
Bill And Ted Face The Music hits theaters on August 14th.
---
Trending Now