Full Circle Flashback: 'Alien' (1979) – "A Building Thriller That Doesn't Quit"
---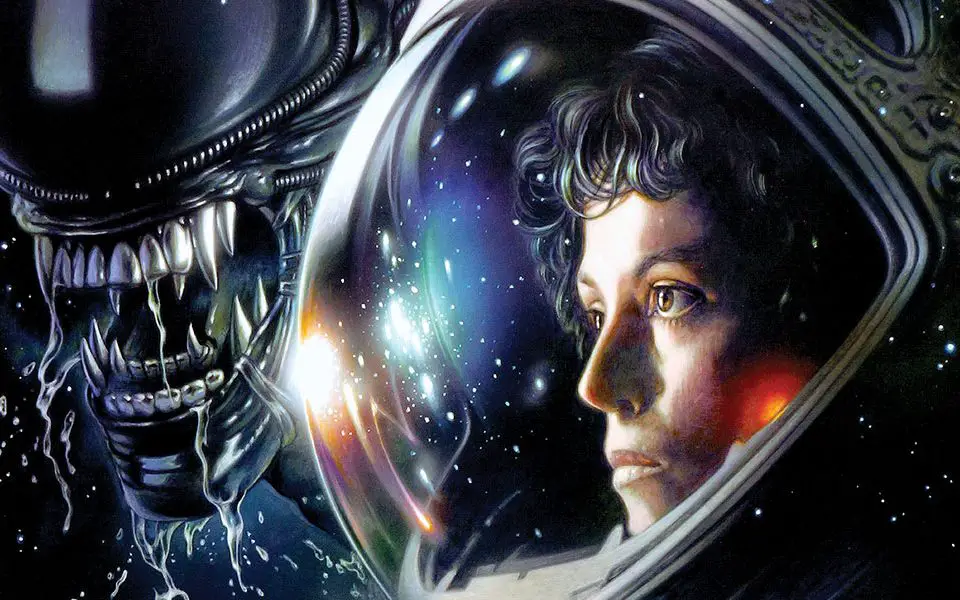 Alien is a science fiction film starring seven people, a cat, and an alien. That might not sound like much, but it took me back slightly when I found that it came out in 1979. Director Ridley Scott and his team created practical effects to generate a fully-fledged space film, among other remarkable things. However, the story and character development do even more wonders, especially considering the development of the franchise later.
To know that screenwriters Dan O'Bannon & Ronald Shusett intentionally wrote each role with no specific person in mind is powerful. This comes to the forefront in one scene where Ellen Ripley (Sigourney Weaver) tells Joan Lambert (Veronica Cartwright) and Arthur Dallas (Tom Skerritt) they have to stick with the quarantine protocol. In most movies of the 70s, a male would have the chance to play Ripley. After all, women are more typecast as following their emotions when people they know are in danger. So to see Scott cast Weaver in the role makes Ripley more special than what is on the page. Honestly, it transforms a fairly simple moment into the film's most jaw-dropping scene.

Weaver is the best casting in this movie, besides maybe Bolaji Badejo as the Alien itself.  The whole cast is believable as the mining crew, but Weaver pushes forward as the honest to goodness rule follower she is. It's impressive how far she takes the role considering this was her first major role. She doesn't force anything. The script doesn't force anything. Instead Ripley thrives as a strong character all on her own. The fact she's female has nothing to do with it either. She's still scared out of her mind when she faces the alien, she's vulnerable. But despite these factors she rises to the occasion and is better for it.
I have avoided Alien for years, as a strong proponent of not watching horror films. But on an actual watch, it actually leans more towards a psychological thriller. Scott's direction took turns I was expecting, but it did them well enough to where they weren't over pushed attempts at scaring the audience. Any time I jumped – and believe me, I jumped several times – the scares were not just for scare's sake. Instead, Scott artfully applies the thriller aspect, building up over the course of the film so it takes its toll in the final scenes. The pacing is pristine, so much so it'll kill you when Ripley gets on the escape shuttle and you find out there are still more than 20 minutes left in the movie.

The fact that the Alien continues to change over the course of the film is astounding, and it adds yet another layer to the film's thriller aspect. Scott said he cast Badejo as the Alien as his height made him look unreal. He thought it would make the monster look more incredible, as no one would believe a person was in the costume. But the fact that the Alien takes many shapes can invite you to feel helpless. Because you have no clue what will happen next.
Alien is 41 years old, and yet it doesn't look a day older than a film made in this decade. It's royally impressive, and sets a standard that is still clear today in terms of its legacy to science fiction films and thrillers. I can't wait to watch the rest of the franchise. – Katie Gilstrap
Alien is available on Blu-ray and Digital HD.
The film stars Sigourney Weaver, Tom Skerrit, Veronica Cartwright, Harry Dean Stanton, John Hurt, Ian Holm, and Yaphet Kotto.
---
Trending Now