'Blood Machines' Review: "Style As Substance"
---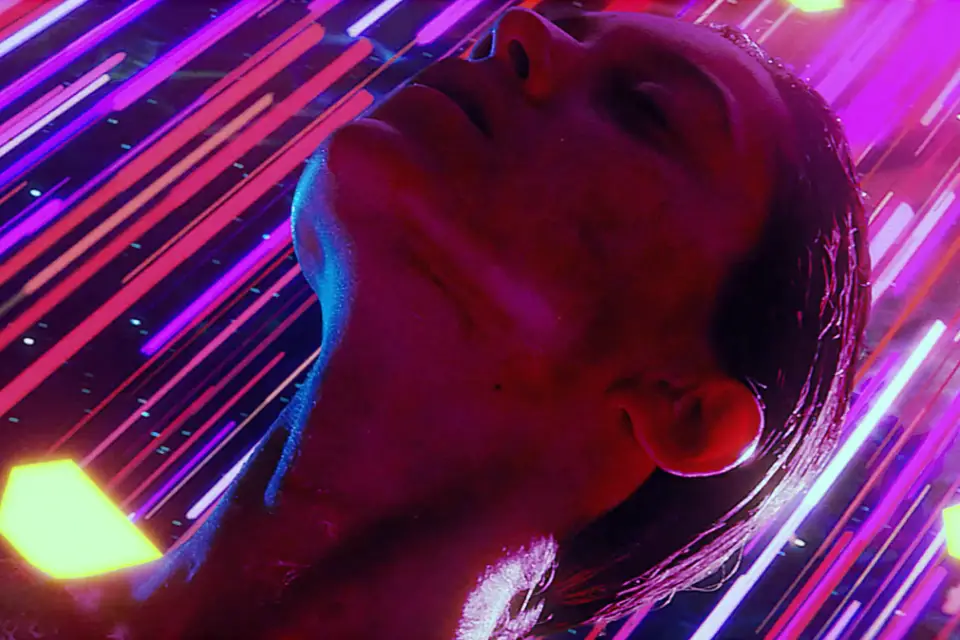 Style or substance. Which is more important? I guarantee you in some corner of social media film enthusiasts are having this debate. It's one that's become increasingly dominant of late, as any project with a strong sense of visuals will immediately start the conversation. However, the two are not mutually exclusive. If Blood Machines proves anything, it's that style can be the substance.
A 50-minute short film broken up into three episodes, something like Blood Machines is right at home on Shudder. The film began its life as a music video for the Carpenter Brut song "Turbo Killer". The video – featuring imagery of inverted crosses, saturated colors, neon '80s imagery, the works – found its audience and it found it quick. Personally, I'm probably in the hundreds of views for the video myself. It was only a foregone conclusion that director Seth Ickerman would reteam with Brut for an expanded follow-up to the video. Backed by a Kickstarter campaign, they quickly got to work. And here we are.
Trying to explain the story of Blood Machines is an exercise in futility. Ickerman's film is an audiovisual experience meant to be interpreted through the senses. Since that's not much of a logline, I'll do my best. Blood Machines begins when bounty hunter Vascan (Anders Heinrichsen) and his partner (Christian Erickson) track down a machine "trying to free itself". Out of the machines comes the ghostly form of a young woman, Mima (Joëlle Berckmans), who rockets off into space. As they try to catch up to her, a cult led by the mysterious Corey (Elisa Lasowski) attempts to do the same.
That's as far as can be explained through my own interpretation. If you're the type of viewer that needs some kind of narrative to hold onto, Blood Machines isn't for you. Ickerman and Brut are out to do exactly one thing: recreate the sights and sounds the '80s that inhspire them. Thankfully, they succeeded, pushing their influences to forge an aesthetic that goes above and beyond them.
Visually, there is nothing like Blood Machines. The closest comparable is probably Panos Cosmatos' Mandy, but even that had some grounding in reality. Other than the familiar imagery of spaceships and the inverted cross, Blood Machines is a purely escapist experience. After Mima arrives at the beginning, all bets are off. The stunningly beautiful "ghost" dissolves the film around her into a miasma of saturated color, flashing lights, and otherworldly goodness. It has the potential to turn others off, but for the right crowd it's pure euphoria.

The unhinged visual style is complemented by the blaring synths of Brut's original score. Retro yet also daringly original, the score makes the film something of a musical. Specifically, songs that can only be described as "absolute bangers" underscore performances that are in complete service to the story.
Heinrichsen, Berckmans, and Lasowski are like ballet performances, spinning in seeming hysteria. Yet the watchful eye of Ickerman always keeps them from going out in control. As the cosmic chaos comes to a bombastic end, it's hard not to feel left shaken and utterly exhausted. Sure, it rarely stops being an over-stimulation. Luckily for Ickerman and Brut, I happen to love that feeling.
In almost every way, Blood Machines is the definition of niche. Audiences who need an anchor for their stories – or just a story period – will likely not find much to enjoy here. Yet, Ickerman and Brut's collaboration gave me an experience that rocked my senses and showed me something I haven't seen before. Whatever they do next, I'm in. – James Preston Poole
Rating: 7/10
Blood Machines is now streaming on Shudder.
---
Trending Now