'The Lovebirds' Review: "Endless Bickering, No Fun"
---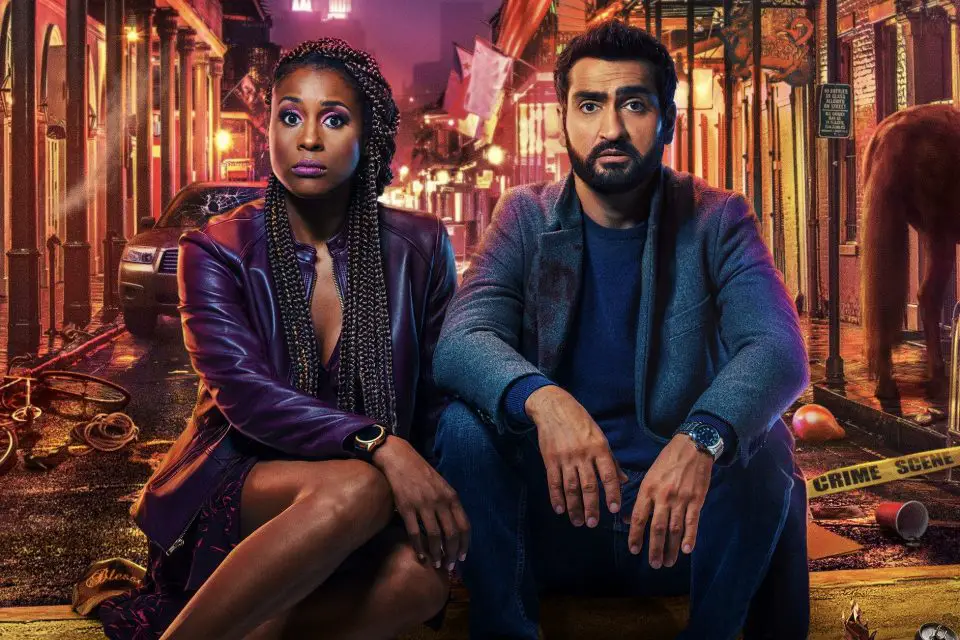 With most new movie releases, it is unwise to immediately declare their legacy. After all, time has to pass before one can state a film's cultural impact with confidence. But in the case of The Lovebirds, it looks like we have an exception to that rule. Simply put, it is a film whose release history is its most compelling aspect. For one thing, it is another 2020 title to have a delay due to the COVID-19 pandemic. More importantly, it is the only one so far to transition from a theatrical release to a Netflix one. As such, it contrasts with the release strategy of movies like Scoob! that premiered on various VOD platforms and required audiences to pay upfront.
That said, it feels more accurate to say that the release history is the only compelling aspect of The Lovebirds. As it turns out, this is a film that incessantly operates on the register of "hey, isn't a bickering couple funny?" This approach would be fine if it had tons of amusing gags or a solid visual aesthetic. However, since the film only has them in scarce amounts, it instead feels like a long and tedious improv session than an actual movie. So while it reteams director Michael Showalter with star Kumail Nanjiani, rest assured there is almost no Big Sick Energy™ this time around.

What makes this reteaming more disappointing is how apparent the "almost" is in the film's opening scenes. In fact, it starts with a blossoming relationship between Leilani (Issa Rae) and Jibran (Nanjiani) that captures love in a naturalistic way. In addition to Showalter getting nuanced work from his actors, cinematographer Brian Burgoyne uses a low-contrast color palette to nicely ground the world in reality. Furthermore, this is where the angry banter feels appropriate, as this section soon shows them on the verge of a break-up. In these few minutes, it seems like the movie is presenting itself as a solid romantic comedy.
Too bad it is here where the actual story arrives and squashes all of the film's potential into the ground. On the surface, watching Leilani and Jibran witness a murder they soon have to solve is not a bad way to branch out into something more genre-based. Besides, this event subsequently forces them to work together in a time where they want to do the exact opposite. However, the real problem lies in its unwillingness to lean into genre tropes. Sure, it has vehicle chases and police interrogations common in action movies. In spite of that, the filmmakers maintain a light-hearted tone that always undercuts the wild things happening to the two leads.

The annoyingly light tone manifests in several key areas, though Aaron Abrams & Brendan Gall's screenplay is the first to suffer. Among other things, it gives itself too many chances for the leads to do nothing but bicker. Again, this would be fine if the story was of a smaller scale. However, since that is not the case, every argument scene with Leilani and Jibran is more monotonous than amusing. Even with the likes of Rae and Nanjiani as the leads, their hostile interactions rarely change between scenes. Elsewhere, we have Burgoyne refusing to commit to a bold visual aesthetic, with many scenes looking as flat as most modern sitcoms. And keep in mind, one of these scenes involves a cult that treats orgies like some sort of ritual!
This leads to the other big problem: many scenes with the potential for effective comedy often settle for one-note payoffs. About that crazed cult scene, the concept is largely there for Abrams & Gall to riff on the Fidelio sequence in Eyes Wide Shut. Except here, it barely capitalizes on how surreal it is. I suppose it peaks with Leilani and Jibran reacting to one orgy with shock, but that peak is quite small. It would have been easy for The Lovebirds to turn this into a delightful, unhinged parody. But instead, it turns one of its potential highlights into yet another unfunny bit.

Quite honestly, it gets to the point where even tiny scraps of good humor are much appreciated. Thankfully, the movie decides to offer these scraps as it enters its second half. This is arguably most apparent when Leilani and Jibran interrogate a drug supplier about a particular suspect. With this scene, the bickering takes a back seat in favor of people trying to act intimidating. Thanks to Rae and Nanjiani's comical attempt to act tough, it finally captures a sense of humor that is absent elsewhere. Moreover, the final sequence provides a solid punchline to a character arc established earlier in the film.
Still, The Lovebirds accomplishes a feat that never brings me joy: it turns its trim 86-minute runtime into a slog. I could forgive it for casting actors better than the material and not being sophisticated in its comedy. I could even look past the fact it references media that I would much rather watch! What is less forgivable, though, is how little it takes advantage of a decent premise. No doubt are there more unpleasant comedies than this, and I am at least grateful to not pay to see this in a theater. But when that statement counts as a compliment, you know something is not right. – Mark Tan
Rating: 4/10
The Lovebirds is now available on Netflix.
The film stars Issa Rae, Kumail Nanjiani, Paul Sparks, Anna Camp, Nicholas X. Parsons, and Kyle Bornheimer.
---
Trending Now