RUMOR: DC Potentially Considering Justice Society Of America Film
---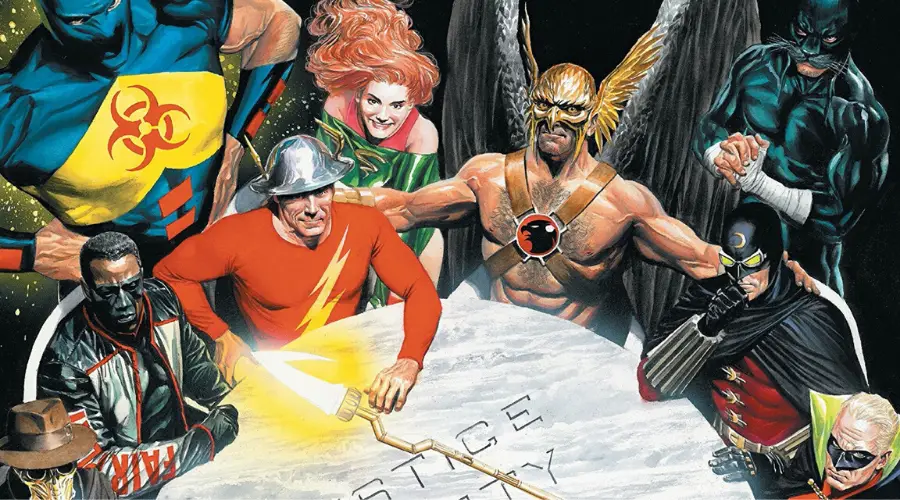 Based on a new rumor, it seems Warner Bros. is looking to expand their slate of films with some classic characters. According to The Illuminerdi, the Justice Society of America may get its own movie.
The classic team of superheroes will make its big-screen debut in Dwayne 'The Rock' Johnson's Black Adam. But this may not be the last time fans will see these characters according to this new rumor. The Illuminerdi claims the studio will pay attention to the critical, commercial, and fan reception towards the JSA. If it is mostly positive, the team could receive its own franchise.
It should be noted the film is nowhere near development as no one has been cast, nor is there a creative team attached. However, as pre-production on Black Adam continues, Warner Bros. is keeping the JSA in the back of their minds.
READ: 'Black Adam' Production Delayed To Late August Or September
The Justice Society of America first appeared in All Star Comics #3 in 1940. They were first introduced during the Golden Age, making them the first team of superheroes in comics. Original members of the group included Doctor Fate, Hour-Man, the Spectre, the Sandman (Wesley Dodds), the Atom (Al Pratt), the Flash (Jay Garrick), Green Lantern (Alan Scott), and Hawkman (Carter Hall).
Johnson's Black Adam is reported to feature two iterations of the team, including the original lineup and a modern take on the team. The original group is rumored to be featured in the first half of the film, with the modern team making up the second half. Depending on which version is better received by audiences, this could determine which iteration is featured in a solo film.
For now, though, it should be noted that this is a rumor until confirmed by Warner Bros. or DC. Hopefully, as production on Black Adam draws closer, fans will learn more about the DCEU's Justice Society of America.
Would you like to see the Justice Society of America appear in their own film? Are you excited about Dwayne 'The Rock' Johnson's Black Adam? Let us know in the comments below!
Black Adam is set to hit theaters on December 22, 2021.
—–
Did you enjoy this article? If so, consider visiting our YouTube channel, where we discuss the latest and greatest in pop culture news.
---
Trending Now