DC Universe's 'Swamp Thing' Will Air On The CW This Fall
---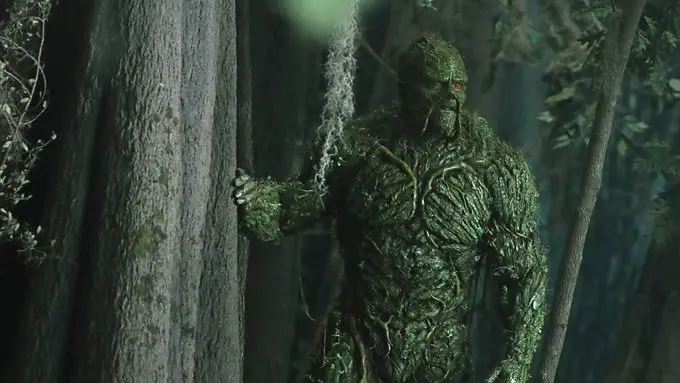 Shortly after its first episode premiered on the DC Universe streaming service, Swamp Thing was canceled. The James Wan-produced series was cut off at the legs and left to run for one, shortened season. However, as first reported by THR, hope for the show's series remains alive as the television rights to the show has been picked up by and will air on The CW. Premiere dates are likely to surface this week.
Per the initial report, the CW picked up the show along with a bevy of other projects to bolster is an upcoming slate of shows. Amidst the coronavirus pandemic, all shows are halted. Understandably, the upcoming TV season appears to be lighter than viewers are used to. However, with the CW picking up Swamp Thing's first and only season, it added yet another DC show to its already impressive Arrowverse.
Swamp Thing follows Dr. Abby Arcane, played by Crystal Reed. As she investigates what seems to be a deadly swamp-born virus in a small town in Louisiana, she discovers a mysterious creature and comes face-to-face with the supernatural world. Fans of the series eagerly await to see if the CW chooses to expand the series. Following the events of the wildly successful Crisis on Infinite Earths event, a crossover between shows produced by DC Universe and the CW was heavily teased.
Up next for DC TV is the highly anticipated Stargirl. The series, which was originally set to premiere on DC Universe exclusively, will now air simultaneously on the CW. Additionally, season 2 of Doom Patrol will premiere on the upcoming HBO Max streaming service.
What do you think? Would you like to see Swamp Thing live on with the CW? Let us know our thoughts in the comments below!
Swamp Thing season one is currently streaming on DC Universe.
The series stars Crystal Reed, Maria Sten, Henderson Wade, Jeryl Prescott, Virginia Madsen, Will Patton, and Jennifer Beals.
—–
Did you enjoy this article? If so, consider visiting our YouTube channel, where we discuss the latest and greatest in pop culture news.
---
Trending Now