Stay At Home Movies: What To Binge (April 26th)
---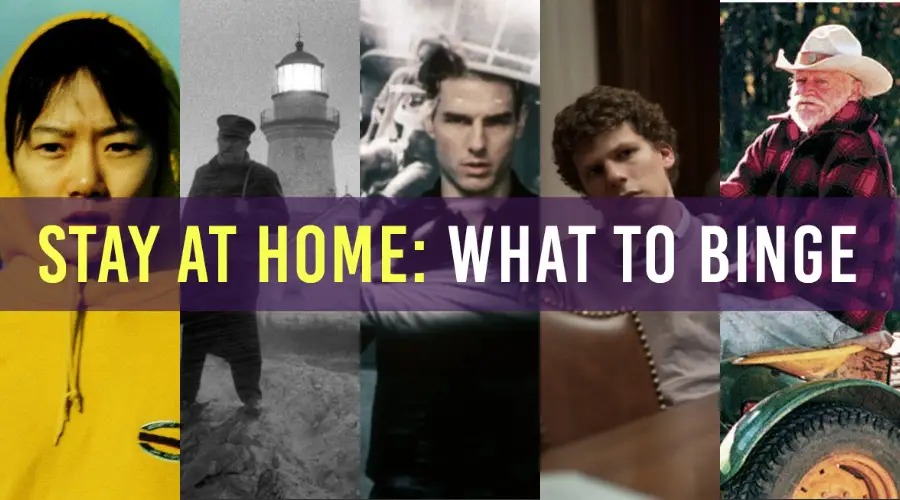 Now that many of us have been under "stay at home" orders for at least a month, binging shows and films is almost as ubiquitous as eating or sleeping. Whether that involves watching a beloved classic or an underseen gem, consuming content is now at an all-time high. This brings us to the big question: which shows/movies should I watch first? In this installment of "Stay At Home Movies", here are five films on streaming that are worthy of your time.

Barking Dogs Never Bite (Hulu)
At this point, it's easy to see what defines Bong Joon-ho's storytelling style: an eagerness to not conform to just one genre. But while films like Parasite showcase his style at its peak, his first feature, Barking Dogs Never Bite, is what truly laid that groundwork. Sure, it starts out with a man "taking care" of a loud dog. But soon after that, it unfolds into a story that involves an odd set of characters. Veering between a total farce and a somber drama, it carves a niche for itself that's always interesting. And with the help of a jazzy score and dark humor, it feels exciting even in the calmer sections. Even with an overlong ending, seeing Bong work out the kinks of his style is enough to recommend this.

The Lighthouse (Amazon Prime)
What's most remarkable about The Lighthouse is how it is one of the purest two-handers in recent memory. It takes a simple premise involving two lighthouse keepers and surrounds it with an astounding sense of atmosphere. Admittedly, this is nothing new for director Robert Eggers. After all, he previously surrounded The Witch's family drama with striking horror imagery. Still, he finds a way to expand the story's claustrophobic nature into something far grander. As lead critic James Preston Poole puts it in his review, "each shot feels like looking into the past, while also peering into a fairy tale". Top that off with career-best performances from Robert Pattinson and Willem Dafoe and you get one of the most transportive experiences one can possibly have.

Minority Report (Netflix)
Despite Minority Report slowly reaching its 20th anniversary, it has not lost its luster one bit. From the technology that raises key moral questions to its sublime "wrong man thriller" narrative, it feels as vital now as it did in the early 2000s. There have been plenty of movies that use visual effects to build worlds. But almost none of them have a sense of physical and emotional weight as deep as this film. Furthermore, it marks the first of two delightful intersections between two big Hollywood names: Tom Cruise and Steven Spielberg. For Cruise, this continues his streak of projects that ask him to stretch beyond his usual charms. For Spielberg, this continues his streak of projects that ask him to strip away his aching sentimental worldview. As such, watching this culminate into a top-tier film for both of them is a pure sight to behold.

The Social Network (Netflix)
If there is a film from the 2010s that screams "modern classic" more than The Social Network, I sure have not found it. To describe it as nothing more than a Facebook origin story doing the film a disservice. It manages to capture early Internet culture in a way that only David Fincher and Aaron Sorkin could. Simply put, it depicts characters in the most selfish ways. At the center of that is Mark Zuckerberg, who spends more time caring about the final product than the people around him. In essence, it is a tragic tale about a man who loses his friends as he creates a site all about making friends. With Fincher's clinical direction in perfect sync with Sorkin's witty screenplay, we have a movie that will retain its power even decades from now.

The Straight Story (Disney+)
Episodic narratives often encounter the issue of individual segments leaving a bigger impact than the central subject participating in them. However, with The Straight Story, we have an exception to that rule thanks to its engaging protagonist. For one thing, Alvin Straight has the willpower to meet his estranged brother by traveling between states with a lawnmower. More importantly, though, the people he meets along the way give him opportunities to express kindness and words of wisdom. You would think a scene of two men recounting their World War II experiences would come off as trite. Thankfully, director David Lynch makes every second of that genuine. Although the film strays away from the oddball trappings of Lynch's other movies, it is unique in a way that could only come from him.
Do you have any movies you'd like to recommend while we stay at home? Let us know in the comments below, and happy binging! – Mark Tan
——
Did you enjoy this article? If so, consider visiting our YouTube channel, where we discuss the latest and greatest in pop culture news.
---
Trending Now