Black Country, New Road: "Fantasies in the Black of Ash"
---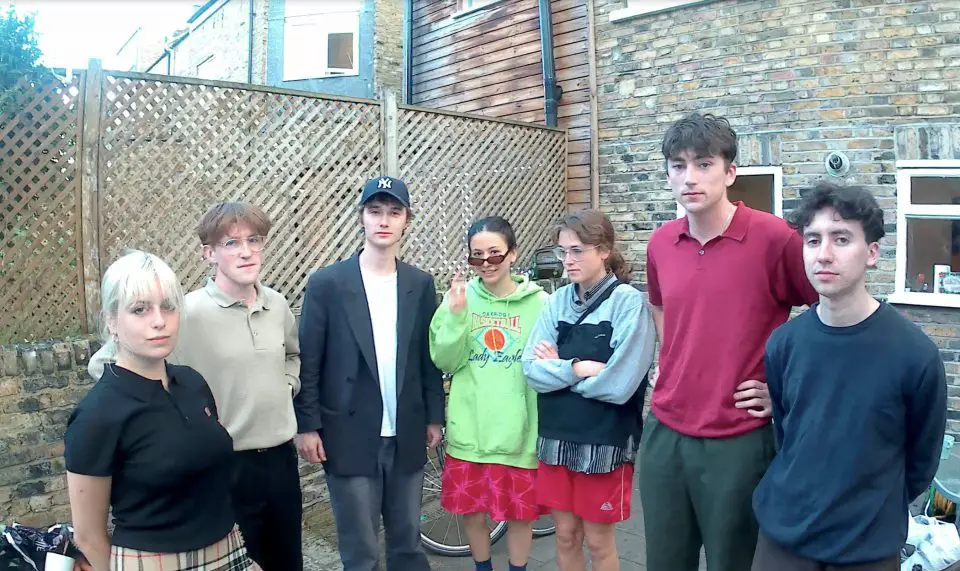 It is Black Country out there…  Here, things fall apart in the name of industry. Rocks crumble into dust with the plinks of pickaxes. Soot drifts along the sky like evidence of the paranormal. Always particles, an innumerable shower of pollutants to conceal any and all traces of life. All that is left is the remembrance that these particles once made up something solid. Now, all they lack is any sense of identity of their own.
Before we dive into this latest installment of analyzing the band Black Country, New Road, we have to talk about how the internet changed the ways we engage with celebrities. We do not have to wait for the next movie to see them. Instagram stories and Twitter tweets give us a more honest, truthful look into what they are doing. Sometimes those updates come out weekly, sometimes they come out by the hour. It is like taking a peek outside the observant eye of PR teams. It is like love. When we can see right through the privacy of somebody else's life, we come to know them most intimately. For better or worse, the airs they put on drift out from opened windows, leaving a pure depiction of life thought to be unobserved.
But social media is uncanny. While it may remind us of the humanity of celebrities, it also gives us the impression that we share this humanity with them… as if we know them. Knowing is not as simple as mere recognition. No, this goes beyond recognition into the realms of acquaintance. Not only can we follow celebrities with Instagram Live, but we can even fill in the gaps of their private lives with fan update accounts. Every movement is monitored, every outfit is captured with the click of a camera. Almost nothing is left to the public imagination, and as we become more and more intertwined in celebrity life, the more they intrude upon our own lives as well.

With all this in mind, let's take a look back at Black Country, New Road's music, particularly one of their earliest songs: "Kendall Jenner". From this name alone, you might already think of those controversial Pepsi commercials. Not to mention, the Kardashians like to ruffle feathers. They like to set the internet ablaze with controversy, eating up attention and views like fires devour oxygen. The spectacle is not always pretty, but you can leave it to them to always be entertaining. And despite the short half-life of viral hits, Jenner does not seem like she is going to lose relevancy anytime soon. She has a total grasp of our imaginations, sometimes a grip that tightens itself in nightmarish ways.
But these nightmares are devised by us alone. They belong only to us, only we can see them. And with this sense of belonging comes a peculiar feeling of comfort in knowing that we have complete control over all our fantasies. We may not be able to change reality, but we can find agency within our subconscious. However, this agency comes at the consequence of our fantasies relieving their own sense of selves. Our fantasies are only by-products of what we tell them to do in the stories we envision. In other words, they are only reflections of us. Since we will likely never meet celebrities in private settings, only we can imagine their 'human' sides.

With "Kendall Jenner", vocalist Isaac Wood tells the story of a narrator's descent into the ugly side of show biz. Featuring the randomness of a Kafka-like opener, a threatening stranger summons a narrator to meet Jenner at the penthouse suite of a Four Seasons hotel. There, he meets Kendall, desperately crying out her deepest feelings:
"Baby I'm all strung out on Netflix and 5HTP. My whole adolescence has been broadcast on TV. I can't feel a thing when anybody touches me. And I'm lighter than air when I take off all my jewelry."
Before the narrator has any time to react, Jenner kills herself, and the band breaks out into an instrumental closer. What is so strange about this narrative composition is that Wood plays both roles: the narrator and Jenner. He does not give any lyrics to the other members of the band, he takes on the whole story. Of course, this could simply be a matter of convenience for the author. But the fact that he does not change the tone of his voice between characters must signify something, especially within the noises of crowd cheers and mic feedback. It is like Wood has lost his identity, or if his identity is intact, it reflects itself in Jenner's character. He has become Jenner. Not from a material perspective, but from an emotional frenzy.
Despite Jenner's net worth and lavish lifestyle, many of her followers consider her the relatable one in the family. Besides, she is a 24-year-old without children or the attitude of the Kardashians. She's the kind of girl to sleep in a car during a family gathering. It may be safe to assume that she does not fit into her family's lifestyle. Whether it is family drama or the public's interest in it, she does not seem to be a willing participant. But no matter how much she distances herself from the spotlight, it only leaves Wood with more assumptions to make about her private feelings, to project his own in place of them.

In the last feature, I previously discussed another unreleased Black Country, New Road song called "Algorithm". If we were to compare the emotions behind that track with "Kendall Jenner", we would have two similar depictions of hysteria. Both performances are fraught with a desperate attempt to communicate before it is too late. However, both achieve this communication in different ways. One perspective looks from the outside in at celebrity life, while the other looks out. Despite these differences between followers and blue checkmark accounts, both sides of this proverbial coin feel equally tarnished. One song ends in death, the other concludes with a renouncement of life.
It might seem puzzling to think of social media as a pyre. A raging fire for the self-destruction of the Kendall Jenners of the world. But there is real tragedy underlining low-culture and our engagement with it. Personally, I believe people heighten this tragedy with low-culture because we are so quick to dismiss it as such. Not only do Wood's lyrics take on the airs of tragedy, but there is also something ironic about them. Pop cultural references always seem funny aloud. Keeping Up With the Kardashians. Jersey Shore. Joe Exotic. After all, when nothing can be taken at face value, what is left? I do not know. What I do know is that we are left all alone with fantasies of strangers that we have never even met. Fantasies as formless as phantoms in the Black Country. – Daniel Hrncir
Stay tuned for more!
---
Trending Now